Hilton Tokyo Odaiba
Mouthwatering delights await at seaside barbecue
Through Sept. 30, delectable barbecue and scenic views of Tokyo Bay and thecity are the order of the day at Hilton Tokyo Odaiba's Ablaze.
 Elegant seaside beer garden Ablaze boasts a mouthwatering selection of dishes, including pork spare ribs, thick sliced bacon and chicken kebabs, all to be savored at the beer garden's spacious terrace seating. Other dishes, including Caesar salad and tortilla chips with a spicy cheese dip, as well as sausages, scallops, red squid and angelic shrimp, complement the conventional barbecue fare. The barbecue setup uses smoke-free roasters, preventing the scent of barbecue from lingering on clothing and is perfect for dates or gatherings among friends and family.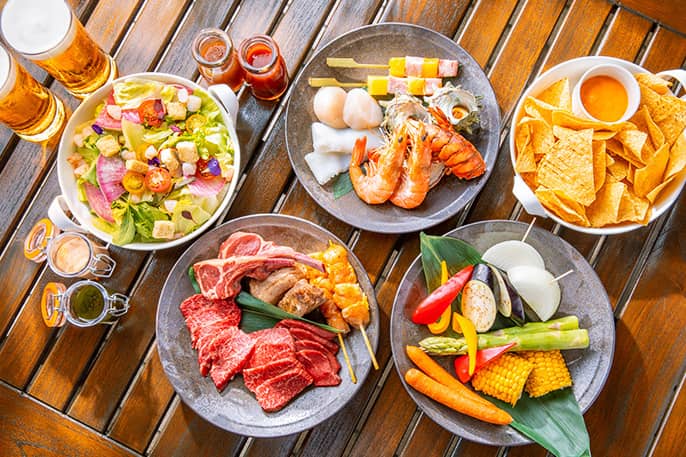 The lunch plan (¥4,000 on weekdays and ¥6,000 on weekends and public holidays) is available from 11:30 a.m. to 4:30 p.m. (L.O. 2:30 p.m.) and the dinner plan (¥7,000 on weekdays and ¥8,500 on weekends and public holidays) from 5:30 p.m. to 9:30 p.m. (L.O. 8 p.m.) Two free-flow drink plans are available. The silver plan (¥3,000) includes draft beer, red and white wine, whisky as well as a wide selection of soft drinks, while the gold plan (¥3,500) features sparkling wine and sparkling cocktails on top of the silver plan's offerings.