Global experience brings opportunity
Octogenarian continues legal journey with appointment to newly created Singapore International Commercial Court
August 18, 2015
By Chiho Iuchi
Staff writer
Although it would be well past retirement age for many people, Yasuhei Taniguchi, professor emeritus at Kyoto University, assumed his post as International Judge on the Singapore International Commercial Court (SICC) at age 80.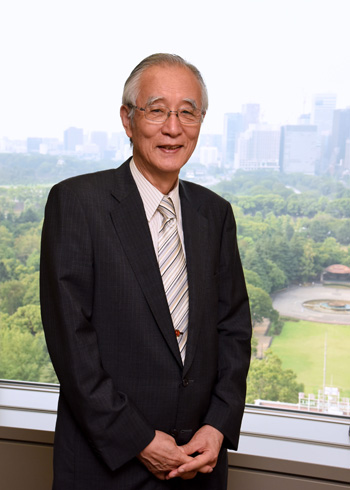 Yasuhei Taniguchi, professor emeritus at Kyoto University poses in his office overlooking Hibiya Park in Tokyo. SATOKO KAWASAKI
Singapore's endeavor
Singapore has promoted its arbitration sector since the 90s, as seen in the remarkable success of the Singapore International Arbitration Center. In addition to this, the SICC was inaugurated in January.
"The SICC offers legal services within the court system, such as open hearings, appeals and qualified judges, which may cover the demerits of arbitration," explained Taniguchi, who is one of the 12 new international judges. The court also has four British and three Australian judges, as well as one judge each from Austria, France, Hong Kong and the United States.
"It's amazing that an advanced nation like Singapore engages foreign judges for its court, something that required constitutional amendment," said Taniguchi.
As Singapore Supreme Court Chief Justice Sundaresh Menon said in the court's annual report, the SICC will further enhance the nation's international standing as a key legal and business hub in Asia, as well as a prime center for international commercial dispute resolution.
It was not without reason that Menon offered the post to Taniguchi, and Taniguchi's reaction was positive as it has always been throughout his lifelong journey around the world.
Career in academia
Born in 1934 in Kyoto, Taniguchi studied law at Kyoto University. As an excellent student, he passed the national bar exam before graduation, obtained his qualification as a full jurist and was on his way to becoming a judge.
However, accepting an offer from Junichi Nakata, then a professor of civil procedure at Kyoto University, Taniguchi eventually chose academia. His decision was partly influenced by his father Tomohei Taniguchi, who was a renowned civil law scholar teaching in Osaka.
Building friendships with many legal scholars around the world, his father often played an instrumental part in Taniguchi meeting scholars from abroad. In the summer of 1961, his father welcomed a young and promising American professor named Jerome A. Cohen, who had spent a year studying in Hong Kong and visited Kyoto on his way back to the U.S. As a pioneering scholar of Chinese contemporary law, Cohen conducted investigations in Hong Kong into those evacuated from mainland China, as it was impossible for an American to enter the country those days.
"When I showed him around Kyoto University, Cohen was surprised to see books and magazines on Chinese legal situations written by left-wing scholars of Japan in the library," Taniguchi recounted. "They were great resources for his studies."
Cohen invited Taniguchi to the University of California at Berkeley and asked him to translate the Japanese documents on China into English, while providing him a scholarship to study there.
Study in the U.S.
In 1962, Taniguchi went to California with his wife and worked for Cohen from April to August translating the Japanese text into English before starting his master's of law (LLM) course in September.
Like many Japanese students, the language barrier was very difficult for him. Actually, most Japanese students were just "visiting scholars" not really pursuing specific degrees.
"But my scholarship naturally included an obligation to make an effort to obtain a degree," said Taniguchi, who studied hard and obtained his LLM in 1963.
His Austrian professor at Berkeley, Albert Ehrenzweig, advised him to further study at Cornell University under his friend, Professor Rudolf Schlesinger, and "my professor suggested that I obtain my doctorate in one year!" Normally it takes around three years, but he only had one more year of leave from Kyoto University.
After moving to Cornell in Ithaca in central New York, Taniguchi worked extremely hard in order to finish his doctoral dissertation within a year. He describes his days as going to university at 8 a.m.; writing until noon; coming home for lunch; handing his manuscript to his wife to type while spending his afternoon revising the work she had typed in the morning. This was followed by more writing before returning home for supper; handing the afternoon's work to his wife with more writing until midnight before going to bed.
"Day after day, I worked very hard as my wife became an expert typist," Taniguchi recalled.
In September 1964, Taniguchi successfully defended his dissertation on the comparative study of shareholders' judicial remedies in the U.S. and Japan, earning his doctor of juridical science by the end of his two-year study in the U.S.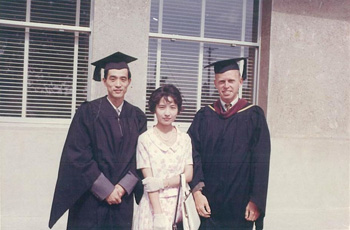 Taniguchi at his graduation from the LLM course at the law school of the University of California at Berkeley with his wife, Akiko, and his friend, professor Jerome A. Cohen, in June 1963. COURTESY OF YASUHEI TANIGUCHI
The hard studies abroad formed the foundation of his later work. "I was very well trained in writing English," Taniguchi said.
Taniguchi's father was regarded as a "language genius," often submitting articles in English, French and German to foreign academic magazines with the help of native checkers around Kyoto.
"But after I came back from the U.S., my father asked me to check his English," said Taniguchi. "I was shocked, as it was completely a text in 'English' written by Japanese."
Work around the world
In 1967, Taniguchi was invited to Bermuda. There his friend Cohen organized a conference bringing together scholars from various countries who were working on modern Chinese law, and Taniguchi critically presented the Japanese scholars' ideological approach in the research of Chinese law.
On the way back from Bermuda, Taniguchi traveled to Florence at the invitation of Italian jurist Mauro Cappelletti (1927-2004), who was the chief editor of the volume of Civil Procedure within the International Encyclopedia of Comparative Law compiled by the Max Planck Institute for Foreign and International Private Law. Cappelletti offered Taniguchi a one-month stay in Florence with a request to provide him with information on Japanese civil procedure law.
"I found it impressive that a European scholar of civil procedure had an interest in Japanese law, which indicates his breadth of vision and organizational skills," Taniguchi said.
According to Taniguchi, there are three types of scholars. The first are those who organize projects involving other scholars; the second are those involved in the projects by the organizers; and the third are those who toil on their own, neither organizing nor being organized.
"I'm simply the second type. I've always been involved in interesting projects launched by good organizers," Taniguchi said. "I was lucky."
For Taniguchi, Cohen and Cappelletti were two major organizers, who paved the way to various international jobs throughout his career. Cohen remains active as a professor at New York University's School of Law at the age of 85.
"Some may say they don't want to be involved too much in others' business. But basically I have always accepted such offers and traveled anywhere I've been invited," Taniguchi recalled. "Eventually it has been a big advantage for me, as these organizers provided me with opportunities for my own track record," he said.
While teaching at Kyoto University, Taniguchi was invited to teach at many universities abroad, including Michigan Law School, the University of California, Duke University, Georgetown University, Stanford Law School, Harvard Law School, NYU Law School in the U.S. and other universities in Australia, Belgium, China, Denmark, France and Hong Kong.
He also served as council member of the International Council for Commercial Arbitration from 1990 to 2010 and vice president of the International Association of Procedural Law from 1995 to 2007.
"I'm grateful for the generosity of Kyoto University, which allowed me to often go on long-term travels overseas," Taniguchi said.
Of course, Taniguchi was also active in Japan, serving as chairman of the Kyoto Prefectural Labor Relations Commission; an examiner of the national bar exam; a member of the Law Revision Commission for civil procedure at the Ministry of Justice; and a board member of Japan Commercial Arbitration Association.
Also, as a classical music lover, he served as president of the Kyoto University Symphony Orchestra from 1980 to 1995.
World Trade Organization
After retiring from Kyoto University in 1998, Taniguchi moved to Tokyo and became an
of-counsel at Matsuo & Kosugi law firm, while teaching at universities around Tokyo.
Before long, he got an offer from the government of Japan to become a candidate for the Appellate Body of the World Trade Organization (WTO).
"I was surprised by the offer, as it was completely out of my area of expertise," Taniguchi said. But as always, he accepted the offer. After campaigning, he was successfully elected as one of the seven members of the Appellate Body in May 2000.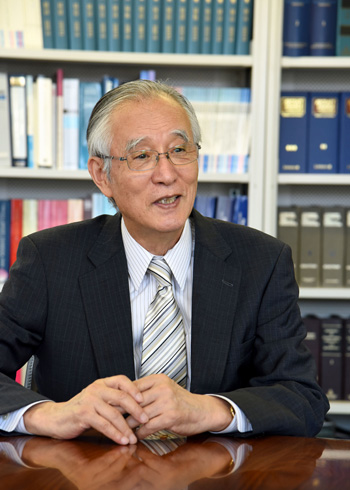 Yasuhei Taniguchi, who became an International Judge on the Singapore International Commercial Court in January, speaks to The Japan Times on Aug. 7 in Tokyo. SATOKO KAWASAKI
"Maybe it's because of my daring spirit, rather than being more circumspect, but if you accept the requests offered, you can broaden your abilities and personal network," Taniguchi said. "It's true that I had no knowledge about the substantive side of the WTO law, but as an expert on procedure, I found the WTO dispute settlement procedure very interesting and academically rewarding."
Taniguchi worked for the WTO in Geneva for just over seven years until 2007, with the experience providing him with a new outlook.
"It was a new discovery to see the unique atmosphere of an international organization that belongs to no country, comprised of diverse nationalities, using English as a common language," Taniguchi said.
"And more importantly, it was quite difficult for me to participate in the deliberations of the Appellate Body," he confessed. In the discussions, you should understand the issues, have your own opinion on the issue and extend your opinion properly at the right time.
"It was a completely different experience from teaching at foreign universities, where I talked to the students about what I knew," he said.
This may show the limit of Japanese culture, which appreciates "Speech is silver, silence is gold."
"We cannot develop internationally active human resources without reforming education from the elementary school level, taking a long-term view," Taniguchi pointed out.
"I don't mean that we should teach English or other languages to young children, but the more important thing is to train people in debate from a young age, I believe," he said, adding, "It's true there are many Japanese who are strong debaters, but many of them hate foreign languages because they are frustrated by the languages."
Never-ending journey
Since he went to study in the U.S. in the 60s, where he drove a lot, including around Mexico with his wife during summer holidays, Taniguchi has visited 80 countries around the world and is still thinking about the next visit to a country he has never been.
As for the SICC, Taniguchi only traveled to Singapore for the inauguration ceremony in January.
"There has been only one case so far. The SICC was launched in such a short period that we need to promote it by raising more awareness within international business and legal communities," Taniguchi said.
Partly due to the need to cut down on expenses, the international judges do not need to reside in Singapore, but they are encouraged to secure a videoconference facility.
While looking forward to his first videoconference for the SICC, Taniguchi continues to travel the world as curious as ever.