A career of art and business
March 9, 2015
By Chiho Iuchi
Staff writer
"Opportunistic" may sound like a somewhat irresponsible way of living, but it requires courage and determination to exploit opportunities, and things that are seemingly unrelated to each other sometimes lead to the next step.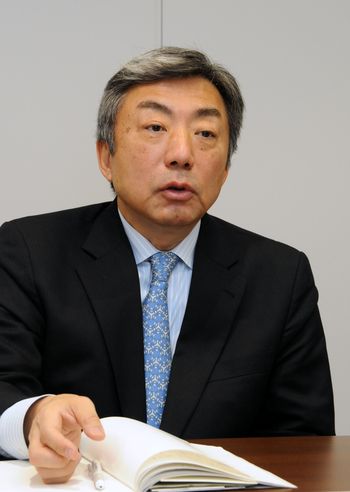 Tetsuji Shibayama, managing director of AG Holdings Corp., speaks to The Japan Times on Feb. 26. SATOKO KAWASAKI
Embodying a quote by the late Steve Jobs about not being able to connect the dots by looking forward, Tetsuji Shibayama has successfully run a consulting company specializing in art-related management. Shibayama, 58, has actively organized art programs and events since 2008, while also teaching the relationship between art and business at universities in Japan. However, he had no interest in art when he started his career 35 years ago at Mitsubishi Corp., one of Japan's major general trading companies.
Leaving Mitsubishi Corp.
After eight years working for the company, Shibayama quit his job to study at the Harvard Business School (HBS) in Boston. Although it was a big decision to leave his promising career, which had gotten off to a good start in the division handling mineral resources, his desire to study at an overseas business school was strong enough to spur him into action.
"The idea came from my time as an intern in the U.S. while I was a student," Shibayama said.
While majoring in economics at Hitotsubashi University in Tokyo, he spent a year in the U.S., working as an intern for a computer company near Boston through a program by the AIESEC, an international nongovernmental and nonprofit organization that provides young people with leadership development, cross-cultural global internship and volunteer exchange experiences around the world. Shibayama had contact with the AIESEC students from Boston University, who took care of him during his stay, and was deeply inspired by the U.S. higher education system and the potential career paths.
"American students mostly study liberal arts during their undergraduate days and work for a company for a couple of years. Then, many of them go on to graduate school to develop their expertise," Shibayama said. "It was very different from the Japanese system, in which many of the students decide their position for life as an undergraduate. I realized we can judge our suitability for a job only after working in the real world."
Shibayama's working experience led him to think about attending business school. Initially he wanted to attend graduate school through an in-house program, but he was unsuccessful in his attempt.
Shibayama, nevertheless, applied to and was accepted by Harvard. He quit his job and moved to Boston, followed by his wife and newborn son.
"Successful or not, you'll never know until you try. And if you worry about it too much before trying, you won't do anything," he said.
Harvard Business School
Studying at HBS was hard "beyond words."
The courses focused on the important and practical business competencies such as analytical ability, determination and leadership, to be acquired through discussions on case studies. To keep up in class, students were encouraged to prepare for the next class in study groups. "Additionally, I asked questions to my Japanese schoolmates, of whom there were about 20 back then," Shibayama said.
"I'd never studied that much in my life. I'm happy I had the experience of studying in the real sense of the term," Shibayama said. "Regrettably, I must say we cannot experience this in Japanese universities."
According to Shibayama, the summer job opportunities offered after his first year and the interviews for jobs during the second year were also valuable experiences, which Japanese students sent on in-house corporate programs missed out on because they were expected to return to their companies back in Japan.
"Even though it's a lot of money to save or borrow, I'd recommend studying at HBS as an individual so that you can fully benefit from what is offered there. The two years of hard study and job hunting can help expand opportunities for your career," Shibayama said.
Art at Rockefeller
After earning his MBA and interviewing with many first-class companies in the U.S. and beyond, Shibayama started working in 1990 as a member of the investment team for Rockefeller & Co., a private investment office for the Rockefeller family assets and the Rockefeller institutions, which have been involved in various charitable enterprises in the social, economic, medical and environmental fields. The company has developed into a diversified financial services firm today.
Located in the center of Manhattan, New York, there were many paintings in the Rockefeller building hanging in reception, the halls, the cafeteria and even in each section department and staff member's offices.
"But when I joined the company, I didn't pay any attention to the paintings. I didn't even think of them as paintings," Shibayama said. "I just looked at them as wallpaper and didn't even know the word 'curator' when they came to my office from time to time to replace the paintings with new pieces."
After working for a year or so, he began to take notice of the paintings in his office.
"Thinking back, I realize there were many contemporary artworks throughout the building. We can recognize pieces as art only as our own art appreciation develops," he said.
That was Shibayama's initial encounter with art, and was his "formation of taste." His days in the office surrounded by art and conversations with curators helped transform him into an art lover.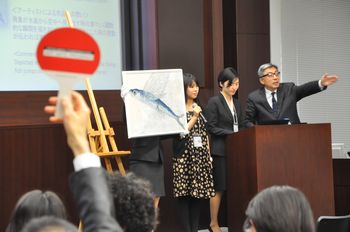 As part of the Mitsubishi Corporation Art Gate Program, sponsored by Mitsubishi Corp. and organized by AG Holdings Corp., Tetsuji Shibayama (right) serves as auctioneer at a charity auction in Tokyo on Dec. 6. MITSUBISHI CORP.
Auctioneer at Sotheby's
In 1994, he made another career change to serve as the head of Japan branch of Sotheby's, one of the world's largest brokers renowned for its auctions of fine and decorative art, jewelry, real estate and collectibles. The company's services range from corporate art services to private sales.
"Sotheby's organization and management were similar to those of a general trading company, making my experience at Mitsubishi Corp. very useful. Also, thanks to my expertise in investment at the Rockefeller, I was able to talk about business and finance with clients, who were mostly entrepreneurs," Shibayama said.
"One of the benefits at Sotheby's for me was that I was trained as an auctioneer," said Shibayama, who has become one of the best and most experienced auctioneers in English and Japanese bilingual auctions.
About 10 years working for Sotheby's made Shibayama aware of the situation of the art market specific to Japan.
"While we have clients who buy and sell established pieces for over ¥1 billion, there is no market for contemporary art by young artists," Shibayama pointed out. "As the country with the third largest gross domestic product in the world and around 20,000 art majors graduating from college every year, something is wrong with that."
Value rises over time
A known piece priced at ¥1 billion today did not start out that expensive. Its price grew over time through people's appreciation for the work.
"All art was fresh and contemporary when it was created and was available cheaply. And only art can symbolize an era and survive the test of time," Shibayama said. "Of course, there may be only one or two pieces among a million works that will endure for centuries. However, if there are no market for these million paintings now, there is no chance any will last into the future."
To address this situation, Shibayama founded AG Holdings Corp. in 2005.
"I thought I should create an art market rather than complaining about the lack of one," said Shibayama, who recalled the way Rockefeller, a pioneer in corporate art collecting, purchased works by unknown young local artists in large quantities and used them to decorate company offices.
"It helps support the artists, while at the same time expanding the art appreciation of the staff members, including me. That may lead to further creativity within the company," Shibayama explained.
Old ties renewed
Although it was not easy to make his idea clear to potential clients, it began taking shape when he shared the idea with former colleagues, which created the Mitsubishi Corporation Art Gate Program, one of the company's signature corporate social contribution activities.
Launched in 2008, the program has provided young and emerging artists in Japan with opportunities to present their work to the art market. The program publicly seeks artworks, including paintings, drawings, nihonga (Japanese-style paintings) and prints, of which about 200 works a year are purchased by the program at ¥100,000 each. After being on display inside the company's offices as well as outside galleries, the pieces are sold at charity auctions. The auctions offer an extraordinary atmosphere, where buyers can enjoy direct interaction with these up-and-coming artists, while supporting them by purchasing their recent works. Bidding starts at ¥10,000 and proceeds are donated to scholarship funds for individuals aspiring to become professional artists. The 26th charity auction took place in Tokyo on March 7.
"It is remarkable that Mitsubishi Corp. and I should share the same passion for promoting art and that the program has continued for eight years so far," Shibayama said with appreciation for his former colleagues.
Art and business
Today, AG Holdings is engaged in consulting services for companies, educational institutions, NPOs and governmental organizations in their social responsibility activities as well as art and culture programs, including planning and managing corporate art collections, art support programs and auctions in various forms.
In addition, Shibayama, who became keenly aware of the weaknesses of Japanese higher education through his experience in the U.S., is currently teaching a cross-major art management program at Yamanashi Gakuin University in Yamanashi Prefecture; art industry and its practices at Hitotsubashi University in Tokyo; and art business at Doshisha University in Kyoto.
"On the one hand, students majoring in social science need more appreciation for art and on the other, students majoring in art need more exposure to management," Shibayama said. "Also, it's detrimental to divide the students into groups along such lines as humanities and sciences. Art, science and management are closely connected with one another. I believe liberal arts education in Japan needs improvement."
Shibayama's questions and ideas about art and business keep evolving: How to cultivate art appreciation among businesspeople? What is the value for a company to appreciate art? What is the best balance of art appreciation and desire for profit for a company? Shibayama expressed his willingness to conduct research on these subjects, which has not yet been done.
Looking back, Shibayama said, "Things that I used to have no interest in and regarded as useless have turned out to be very useful for my career."
"So I encourage young and ambitious people to have a wide range of interests, especially in art that transcends time," he said.