Global experience can lead to local startups
August 18, 2014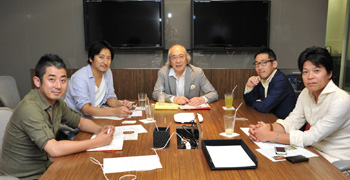 Kiyohiro Sugashita and four entrepreneurs pose at a conference room in his office in Tokyo on July 18. YOSHIAKI MIURA
Global education and other experiences can be used not only in large corporations, but also young venture companies. In a sense, working for startup companies can be an opportunity to experience the global job scene.
What skills are needed for entrepreneurs and employees of startups? How global are their businesses? Kiyohiro Sugashita, CEO of venture capital firm Sugashita Partners Ltd., spoke with four entrepreneurs - Viva Japan CEO and Master of Wagyu Hisato Hamada; Enigmo Inc. CEO Shokei Suda; Shift Inc. CEO & Founder Masaru Tange; and Imio Corp. President Keishiro Kurabayashi.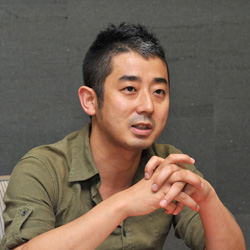 Hisato Hamada, CEO of Viva Japan: Hamada went to high school and university in Alabama and returned to Japan to work for Sony Corp. at the age of 20, making him the youngest employee in Sony history. He left Sony to establish Cafegroove Inc. He also set up Viva Japan in 2010, through which he promotes wagyu Japanese beef to the world at wagyudirect.com.
Sugashita: Mr. Hamada, do you want to briefly talk about Viva Japan's business?
Hamada: We sell wagyu Japanese beef around the world. Japanese beef is delicious and the safety standards in its production are very high. The ability to know the provenance of the meat is exceptional. You can find information such as where the cows were bred and slaughtered, going back several decades. You'll never see anything like that anywhere else in the world.
To help with sales overseas, we have a partner in Antwerp. We also have partners in America and Asia to fulfill our overseas strategy.
Sugashita: It's important to have overseas partners to do global business. How did you learn English? Also, what kind of people would you like to hire as your No. 2?
Hamada: English ability is an absolute must. I went to elementary school for four years in Australia and high school and university in the U.S., so I have no problem with English. Japanese are the only ones who say they need to learn English because they must be global.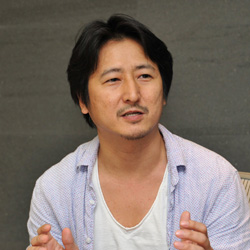 Shokei Suda, CEO of Enigmo Inc.: Holder of a master's degree in engineering from Keio University, Suda entered major advertising agency Hakuhodo Inc. in 2000. He established Enigmo Inc., which launched the online shopping site Buyma the following year. Suda was named a Young Global Leaders by the World Economic Forum in 2012.
Does my No. 2 need to be Japanese? It seems like Japanese people have Japanese traits imprinted on their DNA and they are stuck with it. This is both a positive and a negative about Japanese. I need someone who understands how foreigners see wagyu. I'd like a person who, for example, can be based in the Netherlands to oversee operations in Europe. The person certainly does not need to be Japanese.
It may be faster to look for someone outside Japan who is "Japanized," than to look for a Japanese person who is globalized.
Sugashita: Viva Japan is truly a global company selling a unique Japanese product to the world. Another interesting company is Enigmo that runs the Buyma website where Japanese people living overseas sell foreign products to people in Japan. How's business?
Suda: It's going well. Sellers and buyers are both on the rise. We carry the risk of collecting money and our sellers can sell without having inventories.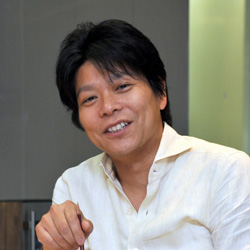 Masaru Tange, CEO & Founder of Shift Inc.: After Tange graduated from Kyoto University with an engineering degree in 2000, he began working for electronic component maker imcth Corp. and turned its three-person consulting division into a 140-person, ¥5 billion a year operation in five years. In September 2005, he established software test services company Shift Inc.
As to the kind of people I want to hire, I want people who can lead a team. What a single individual can do is very limited. Learning can be done quickly on the Internet, and I don't think great skills are necessary. Rather, I want people who can judge other people's skills and make the best use of them.
Sugashita: Mr. Kurabayashi's Imio Corp. makes soccer balls in Pakistan and sells them in Japan. How did you start your business?
Kurabayashi: My company also sells soccer clothes and operates futsal fields in Japan. I founded it 10 years ago. I was working for mobile game maker DeNA Co. for about a year and a half while I was a university student, but I really wanted to do something completely different, such as manufacturing. I happened to read an article that soccer balls are made in Pakistan. I found that there were few makers, so I thought there is a chance for me. That's how I started the business.
This year, we'll produce 100,000 soccer balls. We made about 90,000 last year.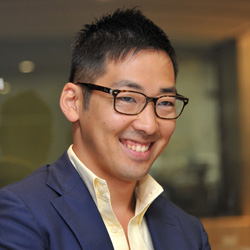 Keishiro Kurabayashi, President of Imio Corp.: While majoring in economics at the University of Tokyo, Kurabayashi was working at major mobile phone game company DeNA Co. in 2003. He established Global Trading in 2004 and graduated from the University of Tokyo in 2005. He began importing soccer balls and established Imio Corp. the same year.
Sugashita: All of you are doing business on the global stage. What do global human resources mean to you?
Tange: I personally feel global skill has become very much commoditized. For example, lots of people nowadays can speak English. English and math are must-have skills in any business and excelling in those is no longer considered an advantage.
Only culture, religion and other such things can be distinct factors. I think Japanese cultivate what they can be proud of for being Japanese. We should become Japanese respected by foreigners.
Japanese sensitivity may be something to be proud of. For example, the otohime bathroom sound-blocking device was originally unpopular in the U.S., but American women understood how Japanese women found the sound of urination embarrassing and the device became popular.
I think Japanese should become more extreme. A Japanese restaurant chain that didn't localize its recipes in New York is also doing well. Maybe the world is finally catching up with Japanese sense.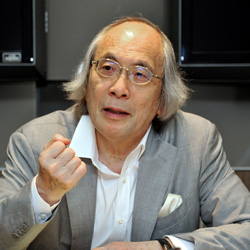 Kiyohiro Sugashita, CEO of Sugashita Partners Ltd.: Having worked for several investment banks, including Merrill Lynch, he became president of Lazard Japan Asset Management in 1989. He left the company in 1998 and founded Sugashita Partners, a venture capital firm that also provides various advisory services to financial institutions and venture companies.
Shift has developed a smartphone application to make phones emit odors. This is a very unique technology and perfume makers such as Channel, Estee Lauder, L'Oreal and Victoria's Secret have asked us to use their scents.
Hamada: That's globally fun. It must have started with an idea that odor-emitting mobile phones would be fun. Having a global sense of humor can lead to global business.
In that sense, everything can be global. If you start your business, you can be global right away. Selling meat to people outside Japan is very global. Then you need passion. If you have passion, people in the world are interested in what you have to offer.
Suda: Yeah. Interesting people are like magnets for other interesting people. We should have our own, unique business card. Get out of Japan and do something interesting, then you will be friends with people all over the world. Foreign business elites have a lot of experience going to many places, so conversations with them are interesting. Overseas experience itself may soon become an asset.
Career development advice for women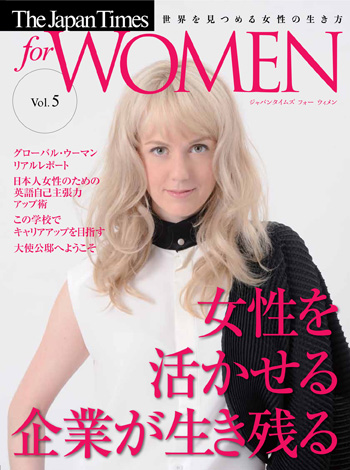 The Japan Times will publish the fifth volume of the magazine The Japan Times for WOMEN this month.
The target readership of the Japanese-language magazine are Japanese career-oriented women who are interested in international issues, have lived or worked overseas or have jobs requiring communication in foreign languages.
Readers of The Japan Times, the nation's largest and oldest English-language newspaper, are mainly foreign and Japanese business executives. This magazine broadens the company's scope, giving women their own publication filled with timely information.
Bilingual businesswomen are among the target readership for The Japan Times for WOMEN. The magazine seeks to meet demand from a growing number of globally minded Japanese women.
The cover story for volume 5 features Charlotte Kate Fox, from New Mexico, who will be the first non-Japanese actress to play the main female character of an NHK morning drama starting in September. The drama, "Massan," is a story about a Japanese man, Masaharu Kameyama, who devoted his life to making whiskey in Japan. Fox plays his Scottish wife, Ellie. She studied dance and theater in university and graduate school and has performed in several musicals and films.
One of the magazine's most popular features, Global Women Real Report, offers dialogue-based stories of two women working in foreign companies or language-related fields in Japan talking about their careers. The women speak about their careers and work-life balance, including turning points in their lives as well as how their overseas experiences have helped their current careers.
In another popular feature, female ambassadors and the wives of ambassadors in Japan, including Israeli Ambassador Ruth Kahanoff; acting Haitian Ambassador Judith Exavier; Fahmida Shoma Jabeen, the wife of the Bangladeshi ambassador; and Galina Meiluniene, the wife of Lithuanian ambassador, talk about their careers and lives in the embassy alongside photos of their official residences.
Volume 5 also has special features with articles about how having female staff and women in leadership roles correlate to company earnings. Other articles include interviews with think tank researchers and female company executives.
Additionally, readers can gain valuable information on business English useful for meetings or presentations, while in another section, four female reporters at The Japan Times reveal some English words that have been trending in recent news to help readers understand the news in English.
The Japan Times for Women, volume 5, will be available for ¥980 (excluding tax) at major bookstores in Japan or through http://bookclub.japantimes.co.jp. For more information, visit The Japan Times publications division website http://bookclub.japantimes.co.jp. Twitter: @japantimespub Facebook: facebook.com/japantimespub