Gain skills in growth fields
Global experiences also important for career success in any industry
Aug. 19, 2013
Special skills as well as experiences studying or working in a global environment are important elements for a successful career in any industry.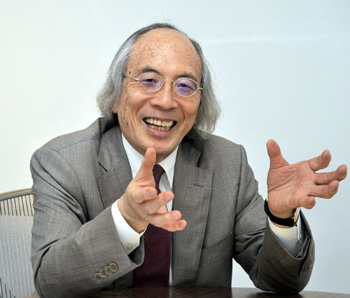 Kiyohiro Sugashita speaks to The Japan Times. YOSHIAKI MIURA
Kiyohiro Sugashita, CEO of Sugashita Partners, Ltd., speaks from his experience. He began his career at Daiwa Securities Group in 1969 and worked for several foreign financial companies, including Merrill Lynch. He founded his company in A pril 2009 to provide financial advice to small companies.
"For my company, for example, I want to hire people with special skills we specifically need and with global skills," said Sugashita, who is also the special advisor to the dean of Ritsumeikan A sia Pacific U niversity (APU).
Sugashita recommends that people obtain special skills in a field that has the potential to grow.
In the financial industry, he can think of two such areas — investment banking and private banking.
In investment banking, advice on financing methods for corporate clients will be in high demand, he said. The methods include issuing stock and bonds in places where clients can benefit most. Investment banking also includes M&A and management buyouts.
In private banking, services that manage money for wealthy individuals in Japan and Asia will be in high demand, he said. Japanese financial companies probably do not have much chance in the business elsewhere as European and U.S. counterparts are strong in their domestic realms, he said.
Sugashita said private bankers should design a lifestyle for their clients. For example, bankers should work with accountants savvy with inheritance taxes.
People with skills geared toward investment banking or private banking will have great career chances because Japanese financial companies lack specialists in both, he said.
Meanwhile, old-fashioned financial work, such as selling ordinary financial products over-the-counter at banks or securities company branches, will become obsolete, Sugashita said.
"Things like that will be replaced by banks and securities companies that operate only on the Internet," he said.
"It's not a bad thing for Japanese companies to train their employees to be generalists. But training them to be specialists is also important, and Japanese companies are not good at it," Sugashita said. In America, CEOs of financial institutions also were specialists when they were young, he added.
In non-financial industries, Sugashita said the Internet business, information technology and services in various fields, including food and retailing industries, have potential to grow.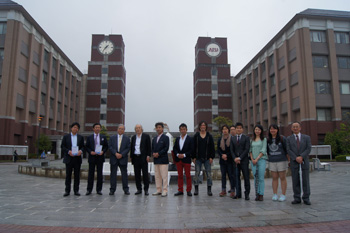 A forum of directors of entrepreneurial ventures was held in May at Ritsumeikan Asia Pacific University in Beppu, Oita Prefecture. Sugashita (fourth from left), who is a special advisor to the dean, five entrepreneurs and some 200 APU students attended. APU
The services industry has been losing good human resources to manufacturers because Japan Inc. has been focusing on manufacturing for the past few decades, he said.
Advice for students
Sugashita's advice for students is for them to aim to be global leaders. APU, he said, is a really good university to foster such goals because it is almost like being in a different country, with half the students foreigners and they are very smart.
"From now on, rather than universities of great renown, universities giving students global experiences can give young people better chances for career success," Sugashita said. "I also think graduating from such universities will let you have a better lifestyle."
Sugashita stressed the point that Japanese students currently lack the will to work globally more than anything.
"We hear young people do not like being transferred to foreign countries even though they enter large trading houses," he said. "If we leave such a situation unfixed, Japan will go into a decline."
The Ministry of Education, Culture, Sports, Science and Technology knows the globalization of Japanese universities and educational institutions is necessary, he said. He demands that the ministry step up efforts to promote this globalization.
For example, the education ministry should start making it mandatory for university students to study abroad for at least one year. Also, course credit exchange should be made possible between universities in and outside Japan so that Japanese students who study abroad and foreign students who study in Japan do not have to postpone their graduation in order to gain study abroad experience.
"Why are the University of Tokyo and Kyoto University not top-level universities in the world?" Sugashita said. "It's not because they are not academically good enough. It's because they are not global."
Increasing the number of foreign students is also important to globalize universities in Japan. Sugashita would like foreign students to actively provide their opinions on the strengths and weaknesses of the Japanese that Japanese may not realize.
"For example, the number of Ritsumeikan APU alumni reached 100 in Myanmar and they had a reunion there. They still get along even after graduation and have important positions in business and politics," Sugashita said. "Wouldn'tit be great if, in the future, a Ritsumeikan APU alum becomes the prime minister in Myanmar?"
Early days in his career
Sugashita has obtained both special skills and global experiences in his career. He always tried to be an expert in whatever he was doing.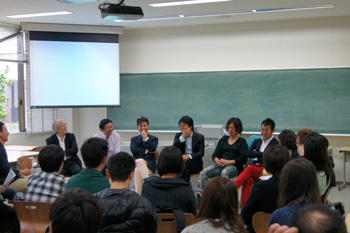 After the forum, a small conference was held with some 25 students listening to the entrepreneurs in earnest. APU
"When I was at Daiwa, I tried to be a securities sales expert," he said, "and I achieved quite a good performance."
But the move from Daiwa to Merrill Lynch was not his original intention. After five years, he quit Daiwa to join a small brokerage house in Osaka. But his boss at Daiwa scolded him for "making a decision based on short-term money," Sugashita said.
"The boss called me stupid and told me to go to the world's largest securities company. So he made a phone call to Merrill Lynch," he said. "I was lucky to have such a boss."
Thanks to the boss at Daiwa, Sugashita was given a chance to have a global experience. He joined Merrill Lynch Japan Inc., which sent him to New York for a six-month training program.
"I was really lucky I did that," he said. "It was like studying abroad."
During training, he studied with about 60 other newly-hired colleagues for three exams mandatory to engage in financial work in the U.S. He was the only Japanese and about 10 of the others were non-Americans.
The training was hard because failing the exams meant being unable to work for investment banks. The company fired the bottom 5 percent of the 60 after the six-month training, he said.
During the training, the 60 students took tests every week about what they had studied the previous week. The results were displayed for all students to see and Sugashita was always about 10th from the bottom, he said.
So Sugashita managed to make it through training and pass the three exams. He said he was never afraid of failing them.
"I had no Plan B then," he said. "I thought I would definitely pass because I had lots of financial knowledge from Daiwa and had learned a lot of English."
Post-bubble days
The next turning point came in January 1989 when he left another major brokerage, Kidder Peabody & Co., which is now part of UBS AG through several mergers. This was 11 months before the Nikkei 225 stock index hit its peak in December that year.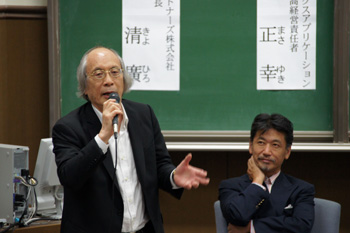 Sugashita, an alumnus of Ritsumeikan University, summarizes the entrepreneurial forum. APU
"It was a crazy time. Everybody thought stock and land prices would go up forever and not buying them would be stupid," he said. "But I was so tired from working hard and wining and dining with clients. I felt the stock market was near its peak.
"I was told later, 'You were so smart to predict the bursting of the bubble.'"
Luckily, Sugashita's next job had very little impact from the bubble bursting. He had been working for Lazard Japan Asset Management K.K. from May 1989 to January 1998.
His role was to cultivate new clients for Lazard Japan and the company did not have a heavy position in Japanese stocks in its portfolio.
When he entered the company, the headquarters of Lazard was looking for a person who would later head its Japan unit. "So, I was told they were looking for an owner-like person, not a salaryman-like person," he said. "I loved what I was hearing."
In 1998, he decided to truly be an owner when he founded SugashitaFinancial Services K.K., the predecessor of SugashitaPartners. In April 2009, Sugashita, an alumnus of RitsumeikanUniversity, became the special advisor to the dean of APU. In the same month, he founded Sugashita Partners.
Sugashita Partners' businessis roughly divided into three areas. The first is to provide mainlysmall to medium-size companies with advice on how to financetheir business operations.
The second is to collect membership fees from corporate and individual members through the holding of seminars on finance and other activities that provide information and financial knowledge.
The third is to publish books and make speeches on financial topics.
The best time in life
Looking back, the best time in his life was the six months of training at Merrill Lynch in New York when he was in his late 20s.
The 60 colleagues in training were put up in a hotel-like apartment in New York. His roommates were a white person who left IBM for Merrill Lynch and a black person who used to be a banker.
"Everyone called us 'The U nited N ations,'" he said. "Of course, we partied hard after exams."
He sat in the front row of the classroom every day. His classmates were from many interesting backgrounds, he said.
For the lecturers, Sugashita's Asian background was interesting, and they often wanted to talk to him and two other students who also especially stood out from the interesting bunch of people.
Sugashita said that the other two were a former Detroit Tigers pitcher and a famous survivor of the Vietnam War.
Career development advice for women in the latest Japan Times magazine
The Japan Times will publish volume 3 of the magazine The Japan Times for Women in September.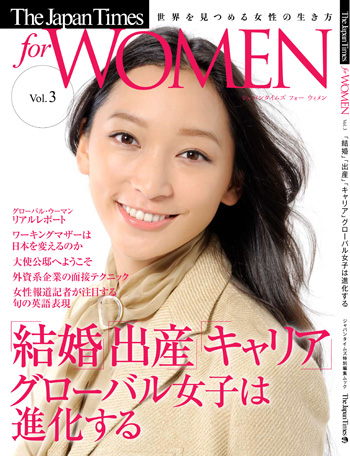 The target readership of the Japaneselanguage magazine is Japanese careeroriented women who are interested in international issues, have lived or worked overseas or have jobs requiring communication in foreign languages.
Readers of The Japan Times, the nation's largest and oldest English-language newspaper, are mainly foreign and Japanese business executives. This magazine broadens the company's scope, giving women a special publication filled with timely information.
Bilingual businesswomen are among the target readership for The Japan Times for Women. The magazine seeks to meet demand from a growing number of globally minded Japanese women.
The cover story for volume 3 features Anne, a Japanese actress and model and daughter of actor Ken Watanabe. She debuted as a model at 15 and has built a career in Japan and internationally. When she was 21 years old, she debuted as an actress. In the story, Anne talks about her career and passion for her job as a Japanese woman working in fields filled with global possibilities.
One of the magazine's most popular features, Global Women, offers interviewbased stories on career women working in foreign capital companies or languagerelated fields in Japan. Photos show the daily items they need for work or their private life and what their life is like. The women introduce their careers and worklife balance, including the turning point in their life as well as how their overseas experiences help their current careers.
And in another popular feature, about female ambassadors in Japan, Croatian Ambassador Mira Martinec, Indian Ambassador Smt. Deepa Gopalan Wadhwa and Tanzanian Ambassador Salome Thaddaus Sijaona talk about their career and daily life in the embassy with photos of their official residences.
Volume 3 has interviews with leading Japanese women such as Kathy Matsui, managing director and chief Japan strategist of Goldman Sachs Group Inc., Merle Aiko Okawara, chairman of JC Comsa Corp., and Yoshie Nakatani-Otsuka, former head of the OECD office in Tokyo and current counselor at the Japanese Embassy in Mexico. These three highranking women talk not only about how they could reach their positions and manage their lives, but also give some advice to the next generation of women from different points of view.
In addition, the new issue focuses on the lifestyles of having a global career with a family. Through multiple interviews and indepth research, readers can find out how working women manage their time to fill numerous roles at work and home, as well as see the comparison of situations of working mothers in countries around the world.
Also, readers can gain valuable information on business English useful for meetings or presentations, while in another section, four female reporters at The Japan Times reveal some English keywords that have often been used in recent domestic news to let readers understand the news in English.
----------------------------------------------------------------------------------------------------
The Japan Times for Women, volume 3, will be available at ¥980 (tax included) at major bookstores in Japan or through http://bookclub.japantimes.co.jp. For more information, visit The Japan Times publications division website http://bookclub.japantimes.co.jp. Twitter: @japantimespub Facebook: facebook.com/japantimespub
----------------------------------------------------------------------------------------------------