Find out what it takes to suceed from people working in the interconnected global business community.
September 8, 2010
Responsibility, self-discipline are needed to work in the many sectors of Johnson & Johnson
Supporting doctors to help patients
By CHIHO IUCHI
Staff writer
Mitsuyo Oka is one of the pioneering female sales professionals in the medical industry in Japan. She has spent 23 years in the medical sector within Johnson & Johnson (J&J) in Japan after graduating university, but she did not particularly decide her field of work when she was a student of English literature.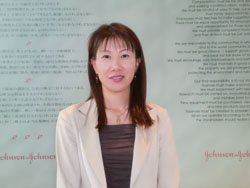 Safely and effectively: Mitsuyo Oka is a general manager of the medical sector within Johnson & Johnson in Japan.
As part of the generation of new recruits after the implementation of the Equal Employment Opportunity Law in Japan in 1986, Oka wondered if companies really treated men and women equally. According to Oka, J&J was the only company that assured some amount of room rent subsidy equally for men and women.
"It's a fair company, I thought," she said.
The Johnson & Johnson Family of Companies is the global American pharmaceutical, medical device and packaged consumer goods manufacturer that consists of 250 operating companies in 60 countries, employing approximately 114,000 people worldwide. While well-known for adhesive bandages, baby products and contact lenses for consumers, J&J has also provided doctors and nurses with innovative technologies and equipment developed by its medical sector.
"The J&J sales staff supports doctors in using our products safely and effectively. In the case of new devices, we have to answer questions from doctors who might not be used to them," said Oka, who has worked in sales and marketing for new products, including devices used in endoscopic surgery and the early diagnosis of breast cancer.
During her career, there was a period in which she thought about quitting her job due to her personal life plan, but her managers and colleagues have been supportive and flexible enough to convince her to stay. And life does not always go on as planned.
"But I am really satisfied having continued working here," Oka said with a smile.
For the last eight months she has been the general manager of the Japan branch of Codman, a company within J&J's medical sector. Based near Boston, Codman serves neurosurgeons and neuroendovascular specialists. According to the company, J&J is like an assembly of small enterprises, each of which functions as its own business supported by a decentralized management structure.
"This morning, I attended a meeting for general managers, where we share the J&J's top decisions, and I am going to discuss our next business plan this afternoon," Oka explained with an air of confidence.
As a general manager in charge of around 80 employees, she described the expected qualities for the medical sector's sales staff.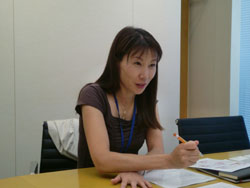 Medical sales professional: Oka explains the techniques and devices used to treat cerebral aneurysms.
"We want someone who can explain to doctors how to use the devices safely and properly with full responsibility," Oka said. As for medical science, common knowledge should be enough for potential hires, according to Oka. "In any case, it's impossible to follow all the details of the wide-ranging medical field in advance," she said.
Instead, each division of the medical sector within J&J in Japan provides rich and intensive professional education programs for newcomers.
"On the first day, you are handed a thick medical glossary for your respective field. You are required to memorize all the technical terms in both Japanese and English. Without that, we cannot even explain our job," Oka said.
"Self-discipline is another key," Oka added. "Basically, sales staff members rarely come to the office, but they go directly from hospital to hospital managing themselves. Rather than awaiting instructions, thinking and acting independently is the J&J style."
In 2006, Oka worked in Cincinnati for one year as a participant of J&J's International Development Program, which offered experiences and challenges for managers from different cultures who can later be promoted to a higher position in the company.
"It was my first experience to work abroad for one year with foreign managers and colleagues," Oka said.
Generally speaking, the U.S. market is more advanced than Japan's in terms of the introduction of new medical devices because of its larger population and more rapid approval system, according to Oka.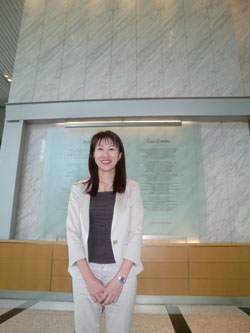 "Our Credo": On display in the lobby of Johnson & Johnson in Japan is the company's guiding philosophy shared by all workers at the J&J family of companies. The credo was written in 1943 by Robert Wood Johnson Jr., former chairman of the company.
"To introduce a new device from the U.S. to Japan, it is our responsibility to understand it correctly and to transmit that knowledge accurately to doctors. We must read all the related documents and reports, of course without Japanese translations," Oka said. "Before launching the device, the doctors should be informed how to use it. If necessary, we arrange training overseas for them to learn from expert doctors in the U.S."
In her role with Codman, Oka is involved with the recent introduction in Japan of the first available intracranial vascular reconstruction device assisting with the treatment of large cerebral aneurysms, which took several years of planning and testing.
"It is also an important part of our job to listen to the opinions and requests of Japanese doctors in operating rooms and to convey them to the U.S. manufacturer, such as Codman," she said.
"New medical devices can help detect diseases earlier and enable less invasive operations, which saves more lives and contributes to patients' quality of life. In collaboration with doctors and engineers, I feel that I am involved in changing the quality of the medical field. This is a great pleasure I get from this job," Oka said.
For more information, visit www.jnj.co.jp
This monthly feature, appearing on the first or second Mondays of each month (Tuesdays in some areas), aims to provide readers with career advice for the international job market via interviews with professionals in relevant fields.