Find out what it takes to suceed from people working in the interconnected global business community.
December 15, 2010
Red Cross Tokyo Office starts small to communicate a large global task to a 'peaceful' nation
Making Japan aware of human aid
By CHIHO IUCHI
Staff writer
For more than 150 years, the International Committee of the Red Cross (ICRC), the Geneva-based humanitarian organization, has been protecting human lives and dignity through activities, such as ensuring access to food, water and health care; visiting detainees; and reuniting families, in conflict-torn areas around the world.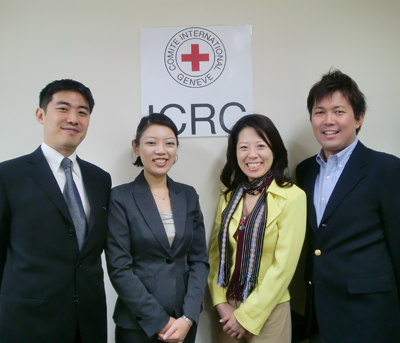 Young leaders: (From left) Yoshinobu Nagamine, the head of the ICRC Tokyo Office, Michiko Suzuki, the administrator and chancellery, Hitomi Makabe, the communication officer, and Daisuke Shibasaki, the political officer, make up the team.
The ICRC Tokyo Office opened in February 2009, the first time in 60 years since the organization was active in Japan from 1942 to 1949 during and post-World War II.
"In recent years, the ICRC has focused on Asia and it recognizes that Japan is one of the strategic locations from which to analyze world affairs, rather than looking at things filtered by a Western point of view," said Yoshinobu Nagamine, 32, the head of the Tokyo Office. "Our major mission in Tokyo is to raise awareness of international humanitarian support activities among the larger public in Japan and to strengthen ties with various Japanese institutions, including ministries, the Japanese Red Cross and the media."
Due to his father's job, Nagamine lived abroad most of his life, including in France, the United States and Switzerland, where he learned three languages — German, French and English.
Also, his time in Europe has made him feel close to the countries in conflicts, according to Nagamine. "Actually, many refugees came from Yugoslavia to Switzerland in my youth."
Nagamine's vision to work in human aid fields in developing countries took sharper focus when he was inspired by a lecture by a former delegate of the ICRC, during his student days in Geneva. Several years later, he was accepted as the first Japanese delegate of the ICRC.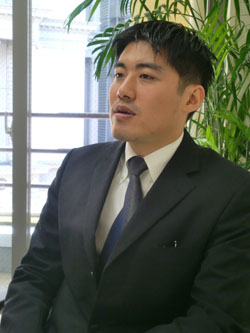 Yoshinobu Nagamine, the head of the ICRC Tokyo Office
For the moment, there are only three Japanese among around 1,500 ICRC delegates, half of whom are composed of non-Swiss members, according to Nagamine.
"One of the difficulties for potential Japanese candidates is that English and French abilities are required to pass the employment test," he explained. "We suggested that the ICRC headquarters should omit the French exams for Japanese candidates this year." This resulted in more than 120 applications and hopefully there will be five new Japanese delegates by the end of this year, according to Nagamine.
During his first two years as an ICRC delegate, Nagamine was sent to the Democratic Republic of the Congo and Afghanistan, where he faced dangers, including the threat of suicide bombers.
"We go through special training in Geneva before being dispatched," said Nagamine. "But of course, the reality is quite different."
After his mission in Afghanistan, Nagamine was assigned to the task of setting up the Tokyo Office. "It is rare within the ICRC to become a country representative at such a young age," said Nagamine. "But I was the only delegate who could speak Japanese at that time. Being supported by talented field officers, I am learning a lot while carrying out our mission."
One such officer, Hitomi Makabe, had been active as a journalist before joining the ICRC Tokyo Office as a communication officer. She studied journalism in the United States from 1989 to 1993 and worked for various media, including an industrial journal, a TV station, a webnews site and a monthly news magazine.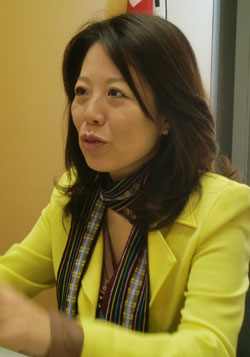 Hitomi Makabe, the communication officer
"Ever since I was impressed by the recorded speech of Dr. Martin Luther King Jr. during my studies in the U.S., I have dreamed about conveying such strong messages from a humanitarian organization," said Makabe. "But before sending messages from inside, I wanted to look at things from the outside as a journalist."
According to Makabe, it was just after she visited the International Red Cross and Red Crescent museum in Geneva, that she was told by a friend that the ICRC would open an office in Tokyo. Human networks led her to get a call from Nagamine, who was preparing for the new office.
The two share the difficulties of publicizing ICRC activities in Japan.
"It is not easy to pass on the importance of human aid in a 'peaceful nation' like Japan," said Nagamine.
Makabe talked about the lack of links with the general public as the ICRC is not supported by private sponsorship but by government funds of the member countries of the Geneva Convention. So the targets of ICRC activity reports have been government ministries, politicians, international law scholars and the media, according to her.
"But if we are to involve the Japanese government further as a strategic partner of the ICRC, it is necessary to raise awareness among the Japanese people," Makabe said. "Living in Japan at 'peace' and far from troubled areas, we Japanese, at least, need to be able to imagine what it is like for people who do suffer somewhere in the world."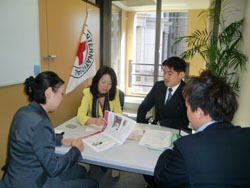 At the meeting
Makabe adds: "So we are suggesting that ICRC headquarters let us also target the general public. What I can do best is to inform more people about the situations in the conflict-torn areas through our bulletins and websites."
Nagamine, who has dedicated himself to establishing the Tokyo Office for two years, said that he would work again in troubled areas after his term in Tokyo ends.
"Within the job at the ICRC, there are field-based activities, working with people in need, as well as diplomatic missions analyzing international affairs and conveying messages," Nagamine said. "I think it is necessary to approach the task from both sides."
For more information, visit www.jrc.or.jp/ICRC
This monthly feature, appearing on the first or second Mondays of each month (Tuesdays in some areas), aims to provide readers with career advice for the international job market via interviews with professionals in relevant fields.
GLOBAL CAREER PATH
Columbia International School

March 2, 2011
The Embassy of the Republic of Botswana in Tokyo

January 19, 2011
JAC Recruitment

November 3, 2010
Tokyo Symphony Orchestra

October 6, 2010
Johnson & Johnson

September 8, 2010
Coca-Cola (Japan) Co.

August 4, 2010
Koyama Driving School, Inc.

July 14, 2010
Royal Park Hotel

June 16, 2010
Bandai Co., Ltd.

May 12, 2010
Hello-Global.com

April 5, 2010
NGO & NPO
Want to help out? Locate NPOs and NGOs accepting volunteers and interns in our new classifieds section
Interns/Volunteers
VOLUNTEER WANTED. Chance and opportunity for someone creative to help the future of children. NGO Africa Heritage Committee is looking for a secretary, coordinators, office workers. PC abilities and English speaking. Job-start from 10:00 a.m. at JR Sagamihara office. Good international environment. For more information email us at info@africaheritage.jp or call 042-724-6695 from 10:00 a.m. http://africaheritage.jp

PEACE BOAT is now looking for English-Japanese and/or Spanish-Japanese volunteer interpreters for its upcoming voyages. Professional interpreting experience is not necessary. Volunteer opportunities in Japan also available. Refer to our website www.peaceboat.org for details. Tel: 03-3363-8047.

BILINGUAL INTERNSHIPS. Skilled or experienced candidates in web development/
administration, communications/marketing/
media, energy conservation, economic development, research, office manager. Get references and travel reimbursement. Urban Documentation Project conducts original research into energy, economics, population trends, health; provides development assistance to businesses, NPOs. Tel: 03-6325-9010 or Email: info@urbandocproject.org

JEN is a Tokyo-based international NGO supporting the self-reliance of people in need, incl. those in Tohoku earthquake-affected Ishinomaki in Miyagi Prefecture and Haiti. JEN is currently seeking interns at its Tokyo HQ. The candidates must have fluent command of both Japanese and English. Tel: 03-5225-9352.
Email: info@jen-npo.org
http://www.jen-npo.org

BRIDGE ASIA JAPAN (BAJ) is a Japanese NGO providing developmental assistance in Myanmar and Vietnam. If you are interested in becoming an intern or volunteer (unpaid), please come to a BAJ cafe held every month. Please visit our website for more information.
(Note: BAJ cafe is conducted in Japanese.)
Tel: 03-3372-9777. Email: info@baj-npo.org
http://www.baj-npo.org

HUNGER FREE WORLD (HFW). Interns (unpaid) to work in Tokyo office for Uganda. Japanese proficiency, PC skills required. Transportation expenses up to 1,000 yen/day provided. Also, volunteer editor/translation checker (unpaid) with experience for English and/or French publication/website. Tel: 03-3261-4700.

Beyond Tomorrow seeks highly qualified bilingual (English and Japanese) student interns for implementation of various global leadership programs for students in Tohoku. An unparalleled opportunity to gain hands-on experience in unique global leadership training programs with leaders active in various fields. Visit our website for details:
http://beyond-tomorrow.org/en/about/career/
Email: jobs@beyond-tomorrow.org

THE RESEARCH COOPERATIVE (NPO ) seeks volunteer administrators and moderators. We are an international network for researchers, graduate students, editors, proofreaders, translators, illustrators and academic or educational publishers. Established in Japan in 2001. Tel: 06-6878-8344 (office). Email: researchcooperative@gmail.com http://researchcooperative.org

Interns (unpaid) to work in Marunouchi office. Skilled or experienced candidates in web development, administration, communications, marketing and health care to provide support to international patients. Get references and travel reimbursements. Tel: 03-6822-9702 Email: career@japanmedicaltourism.com

KIDS EARTH FUND. Interns and volunteers (unpaid) wanted. Work description: overall clerical work, general affairs, art workshop and English-Japanese and Japanese-English translation. Driver's license holders, bilingual, skilled PC users welcome. Tel: 03-5449-8161.
Email: info@kidsearthfund.jp
http://www.kidsearthfund.jp/ja/

HEALTH AND DEVELOPMENT SERVICE (HANDS) is offering a volunteer opportunity in our PR/Marketing department. HANDS is a nonprofit organization, currently implementing seven public health projects in developing countries. Volunteers provide assistance in event planning as well as daily administrative tasks. Candidates should have communication skills in Japanese. Please visit our website for details.
(Email: info@hands.or.jp)
http://www.hands.or.jp

HUNGER FREE WORLD (HFW). Interns (unpaid) to work in Tokyo office for Uganda, Benin & Burkina Faso. Japanese proficiency, PC skills for all positions, French for Benin & Burkina Faso. Transportation expenses up to 1,000 yen/day provided. Also, volunteer English-French translator (unpaid). Tel: 03-3261-4700.
Email: info@hungerfree.net
http://www.hungerfree.net/

Notice
The Japan Times concentrates its classified ads in its Monday papers (except for some areas). Classified ads on this Web site are some of those run in Monday's print edition of The Japan Times. Those who would like to see all of the ads should buy the print edition.
---
ジャパンタイムズは毎週月曜日付け(一部地域を除く)に求人広告を集中掲載しています。また、当ウェブサイトに掲載されている求人情報は月曜日付けのジャパンタイムズ紙面に掲載されているものの一部です。すべての求人情報をご覧になりたい方は紙面をお求め下さい。