Find out what it takes to suceed from people working in the interconnected global business community.
April 5, 2010
A world of experience helps set up a startup
By CHIHO IUCHI
Staff writer
Hello-Global.com is a one-stop consultation service for international businesses, launched in June 2009 by the Tokyo branch of Hello-G Co., Ltd., an infrastructure company based in Shizuoka Prefecture. It was another new endeavor for the firm, which for over 50 years has mainly provided water, gas and electricity to 20,000 clients. As Hello-Global nears its first anniversary, it seems the company has found the right person to be in charge.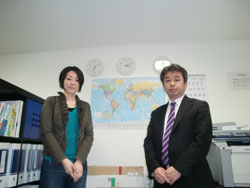 Sailing: Satoru Masai, executive director of Hello-Global.com (right), and his colleague Kanako Nakamura, the firm's chief editor, are exploring new business models for their clients.
"Supported by the president's vision, I set up the Tokyo branch based on the consultation services that I have been doing in my recent career," says Satoru Masai, who has executive responsibility for running Hello-Global.
Born in Kobe, Masai brings over 20 years of international business experience, including 11 years working in Seattle, to Hello-Global. After working for the national government in Tokyo for several years, he returned home to serve in Hyogo Prefecture's recovery project for the local IT sector after the 1995 Great Hanshin Earthquake.
His next post, as deputy director of the representative office of Hyogo Prefecture in Seattle, was a turning point. He worked to invite U.S. companies mainly from the IT sector to Kobe, the prefecture's capital, which allowed him to develop many executive-level contacts in the U.S.
Following his government job, he used his entrepreneurial skills to establish a consulting and distribution business in Seattle, first as a subsidiary of one of Japan's largest mail-order companies and then as his own company. He developed a wholesale business selling Japanese consumer goods (cosmetics, household items) to 20,000 customers, including major U.S. department stores, drugstores and online shops, while also introducing U.S. products to the Japanese market.
"Actually, a wholesale business has great financial potential but has its risks. What happens when you achieve good sales? What happens when you have trouble with sales? How do you manage disputes with U.S. stores? I learned from my real experiences in these different phases," says Masai.
"I was not at all good at English and was afraid of answering the phone at the beginning. Even now, I am not a very good speaker, but I was captivated by the dynamism of the American business style, which is tough yet simple to determine right or wrong," Masai says.
While living in Seattle, Masai met many small- and medium-size companies interested in the Japanese market but could not afford expensive market research fees. He thought he could fulfill their needs by offering a prompt and inexpensive consultation service, including essential information on the Japanese market, sales route development support and guidance on administration and operations. This has since evolved into the business areas of Hello-Global.
A notable example of the achievements of Hello-Global so far is with a European-based construction company. The initial step of market research persuaded the company that Japan was the right market to enter and now the second step has been undertaken to find suitable partners in Japan. This is Hello-Global's main business model whereby they not only provide market overview reports but implement the business strategy they have recommended to their clients.
Besides providing services for foreign companies planning to enter the Japanese market, Hello-Global also has begun supporting Japanese companies in developing an overseas market, such as in Russia or Brazil, by networking with counterpart companies and individual specialists worldwide.
"Since it is a small, startup business, we have to differentiate ourselves from major companies by exploiting rather minor, niche markets," says Masai.
"From my university days through my 30s, I did a lot of yacht racing. It was quite hard," recounts Masai. He believes that his experiences from making strategic plans for the races have built up his base. "All the skills which I mastered in the activities, such as ship preparations, climate forecasting, reading currents and building human networks within and outside the organization, are applicable to business situations," says Masai.
It may seem that providing consultation services for a client who might be a potential partner in a potential market like Russia is fraught with uncertainties. Especially in the case of a small, startup consulting company, the business might be regarded as a sort of pipe dream.
"I am interested in making clients' dreams a reality," says Kanako Nakamura, Hello-Global's chief editor, who also had 11 years of experience in the U.S. before joining the firm.
Nakamura studied linguistics and business administration at Ohio State University before she started working as an interpreter for a local subsidiary of a Japanese company in North Carolina.
"The advantage of being an interpreter is the access to all the levels inside a firm, which enabled me to observe the whole company even as an outsider," says Nakamura.
After three years of building strong translation and interpretation skills at the company, she decided to take another step further to explore the possibility of her career in a different field.
"At that time, I had a feeling that my vocabulary was richer in English than in Japanese," says Nakamura. "I wanted to rebuild my ability in my mother language. Also I wanted to establish Japanese business skills. So I decided to return to Japan and start working in Tokyo, where I met Mr. Masai."
Masai adds, "Actually, our potential hires are required to be bicultural, not bilingual. If you are seeking an international job in Japan, English proficiency is necessary, of course. But more important is to have a strong ability in your mother language of Japanese."
Another point that Masai expects of his staff is the completion of each job.
"We want to leave the task to a reliable person who will finish it whether it is translation, getting appointments, anything," says Masai. "We welcome motivated and self-disciplined workers to join our team."
For more information, visit http://hello-global.com/
This monthly feature, appearing on the first Mondays of each month (Tuesdays in some area), aims to provide readers with career advice for the international job market via interviews with professionals in relevant fields.