Find out what it takes to suceed from people working in the interconnected global business community.
August 4, 2010
Coca-Cola seeks many perspectives, close analysis, research to take its business forward
Global brand requires local strategies
By CHIHO IUCHI
Staff writer
Within the Coca-Cola system, Coca-Cola (Japan) Co. (CCJC) boasts the richest portfolio of beverages, comprised of sparkling drinks and still beverages such as juices, teas, coffees, sports drinks and water.
Although being under the umbrella of the giant American brand, beverages of which are drunk in more than 200 countries around the world, each of the regional business units has its own local approach. There are many original brands produced by CCJC, such as sports drink Aquarius, tea beverage Sokenbicha and canned coffee Georgia.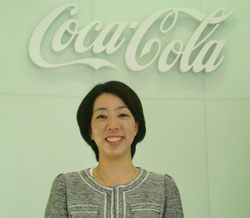 Planning and research: Yuri Tamori works at Coca-Cola (Japan) headquarters in Tokyo.
"The Japanese market is more mature than anywhere else," said Yuri Tamori, a group manager of the strategic planning division of CCJC.
Tamori's two major responsibilities are driving forward the business planning process of the company and conducting necessary research.
"During the process, our team provides analysis and insights for the management of CCJC, who are mainly non-Japanese, and organizes meetings for each brand, through which our business plans, including the new product lineups and the sales action plans, evolve step by step," Tamori explained. "Also, another important task I have is to report regularly to the U.S. headquarters and the Pacific regional group."
Born in Argentina, Tamori lived abroad for a total of 15 years, including her birthplace, Zimbabwe and Brazil, due to her father's work for a trading company. She studied international politics in the U.S. and then returned to Japan for further study at a graduate school.
"As a Japanese, I wanted to get a Japanese education as well," said Tamori, who has lived in Japan ever since. "Now I am fully Japanese."
On finishing her studies, she spent five years working for the Tokyo branch of a foreign investment bank. In the process of providing clients with strategic financial advice, she had opportunities to meet executives and listen to their business strategy for the whole company, according to Tamori.
"Gradually, my interest expanded to the wider business planning of a manufacturing company, which led me to work for Coca-Cola," said Tamori, who started working at the beverage maker five years ago.
Around 90 percent of CCJC's workers have worked in other companies, many in different fields.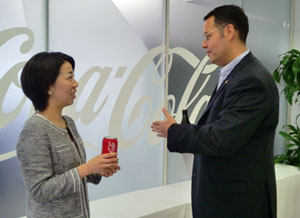 In the office: Tamori talks to Dino Troni, executive vice president for franchise operations of CCJC.
"Each member has different backgrounds and experiences in various fields, such as research and development, marketing, finance and sales. Things are analyzed from everybody's viewpoint. During our discussions, it often happens that everybody has a different opinion," Tamori said with a laugh.
"For instance, we are operating around 60 brands of beverages. I am often asked by other regional business units how CCJC can manage so many brands," Tamori said. "I think the key is carefully observing the opportunities in the market and deciding which of our brands to leverage. It is impossible to satisfy various needs of our mature consumers with one or two products."
Another key is to find out the most suitable location to sell products. Recently, shopper insight-driven merchandising is getting more attention from market researchers, according to Tamori.
"In short, the aim is to have a better understanding of buying patterns of the people who actually go shopping," said Tamori.
This approach was actively employed at The Coca-Cola Company's headquarters in Atlanta, so it was introduced to CCJC and led to the integration of the business planning division and the commercial research section last year.
Tamori explained the process: "We use a method where we follow a person shopping in the supermarket. For example, at the meat or fish corner, the subject might be concentrating too much on examining the freshness of the products to care about beverages, but in front of the cash register, the subject might pick up a bottle to take home."
Tamori learned about the new research method during her training at the headquarters in Atlanta last year.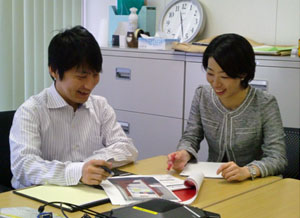 Meeting: Tamori talks with a member of her group.
"I stayed at the strategic planning division there for three months," Tamori said. "It was a section responsible for reviewing financial targets for each country. Having been exclusively in charge of the Japanese market, I had never observed the situation in other countries until then. For example, in China, the GDP (gross domestic product) and beverage market growth rate is around 10 percent. How much is the rate in Japan today?"
In Japan, the recent economic conditions and demographic trends have not been so positive.
"But people at headquarters and other regional business units seem to look at all the countries with the same perspective," Tamori said. "It was not easy for me to explain to them the particular situation that we face in Japan. It led to some heated arguments."
Tamori struggled to convince others how challenging it was to increase sales in such a tough, competitive environment as the Japanese market, with its declining population and mature consumers.
"What is the current situation and trends in Japan? How are they changing? Based on our analysis, I have to convey CCJC's strategy to headquarters as effectively as I can. This is my mission," Tamori said.
For more information, visit cocacola.co.jp
This monthly feature, appearing on the first or second Mondays of each month (Tuesdays in some areas), aims to provide readers with career advice for the international job market via interviews with professionals in relevant fields.