Find out what it takes to suceed from people working in the interconnected global business community.
November 3, 2010
JAC Recruitment Japan uses experienced staff to deliver matches for clients and candidates
Understanding both sides of HR
By CHIHO IUCHI
Staff writer
JAC Recruitment, one of Japan's major employment agencies, was established by Japanese woman Hiromi Tazaki, the company's president, in London in 1975. Originally specializing in recruitment consultancy for Japanese companies setting up business in the United Kingdom and for Japanese-speaking professionals seeking jobs in the U.K., its global expansion started with its first overseas office in Singapore in 1987, closely followed by Tokyo in 1988. Today, it has developed into an international employment agency, connecting a team of over 580 consultants within its group companies in the U.K., Japan, Singapore, Thailand, Indonesia, Malaysia and China.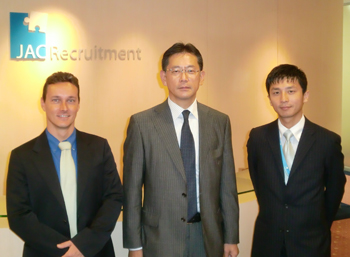 Experienced: Mitsuru Arakawa (right), his colleague Christian Moser (left) and Senior Director and COO Takeshi Matsuzono, work within JAC's global network of career consultants.
With this unique background and supported by its global network, JAC Recruitment Japan (JAC) — reimported from the U.K., so to speak — has made a strong showing in matching Japanese job seekers with international businesses.
JAC, with 354 employees, 250 of whom are consultants, is composed of diverse human resources, including new graduates and experienced professionals from the recruitment industry and other businesses.
Mitsuru Arakawa joined JAC after graduating from university in 2002 and has been the manager of the international division of JAC.
"When matching candidates to a Japanese company that seeks to expand its global business, I listen to the client company's reasons that they want to acquire personnel from outside rather than cultivating staff from inside, and try to understand the background factors of its talent shortages. Also, I understand what it is like to be assigned to work in an office overseas," said Arakawa, who in 2005 was sent to London, where he spent more than four years working as a manager and then as a director of JAC U.K. "Careful listening and analysis enable me to inform the candidate of the essential conditions. This is my mission and it's difficult without one's own overseas experiences."
Within the JAC international division, Christian Moser from Switzerland has worked for three years as one of the company's eight non-Japanese consultants. He serves as an assistant manager in charge of foreign companies.
"The working style of foreign companies is quite different from that of the Japanese," Moser said in fluent Japanese, his fifth language after Italian, German, French and English, with which he often supports other consultants in communications. "Many Japanese workers are used to working in a system with top-down instructions and orders. Once you join a foreign company, your job is just suggested, to be done in a self-managed and self-disciplined way, which might embarrass Japanese newcomers. Our consultation includes supporting Japanese workers in setting their minds as well as listening to the companies' problems, even after matching them."
Takeshi Matsuzono, who joined JAC as a senior director and COO in 2008 after working more than two decades in the Japanese recruitment industry, added: "Comprised of members with diverse backgrounds and various experiences, our consulting team provides information and suggestions based on real experiences. We judge our candidates' actual skills and abilities through interviews and carefully reading their resumes. What the candidates have experience in does not always equal to what they can actually do."
The collapse of Lehman Brothers in 2008 was a big blow to the recruitment industry, decreasing sales by half and forcing many companies to downsize, according to Matsuzono.
"At this difficult moment, we went back to our starting point. During our expansion phase, we divided our consultants' roles, so some were in charge of only candidates or only clients, but it resulted in a team comprised of members who know only half of the job. So we went back to the original way. We should be a team of professional consultants who seek the best match of the candidates and the client companies, taking care of and really understanding both sides," Matsuzono said.
For this purpose, JAC established the JAC Academy to provide its consultants with professional training programs besides their on-the-job training.
"Since the recession has likely bottomed out, we are going to have more consultants who are multicultural, as we would like to get a higher share of the foreign company market as well as to help the increasing number of Japanese companies that are seeking globalization," Matsuzono added.
As for the potential human resources for the international market, each of the three answered as follows.
Arakawa said: "English language ability is no more than a prerequisite. The keys are adaptability and acceptability of diversity. In addition, it is important to have one's specialty besides language."
Moser said: "I think an 'active' person who has the motivation to do something different and something new would be successful."
Matsuzono said: "The key is if they want to expand their possibilities. For example, if they limit their field inside Japan, they would not be interested in adaptability abroad. There are many people who speak good English but do not globalize themselves, remaining so conservative.
"It is a pity that fewer and fewer people, including younger workers and executives, want to work overseas even if there is a good opportunity, while people from emerging countries are so active traveling around the world. I think Japanese people should use their own advantages more in the global market. Our role is to give them a supportive push."
For more information, visit www.jac-recruitment.jp
This monthly feature, appearing on the first or second Mondays of each month (Tuesdays in some areas), aims to provide readers with career advice for the international job market via interviews with professionals in relevant fields.