Find out what it takes to suceed from people working in the interconnected global business community.
June 16, 2010
Royal Park Hotel embracing traditional values while continually expanding its horizons
Pioneering approach paying off
By CHIHO IUCHI
Staff writer
Situated next to Tokyo City Air Terminal, an important transfer point for Haneda Airport and Narita Airport, Royal Park Hotel (RPH) in the Nihonbashi district is in a very convenient location for foreign travelers. Since it opened in 1989, the RPH has established a strong brand image in just 20 years and continues to strive to uphold its high standards as a first-class hotel.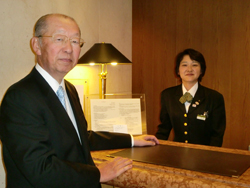 Hands-on hospitality: Yutaka Nakamura (left), former general manager and president of the Royal Park Hotel believes close contact with guests is essential to a hotel's success.
"It's my belief that a combination of Western business methods and traditional Japanese hospitality makes for the best hotel," says Yutaka Nakamura, 70, who served as the RPH's general manager and president before becoming an advisor to the hotel's operating company, Royal Park Hotels and Resorts Co., Ltd.
Before joining the RPH in 1988, Nakamura spent 25 years working for Hilton International, one of the largest hotel operators in the world.
"To be honest, I had no idea about hotel business when I was a student, but when I heard the news about Hilton to land in Japan, it grabbed my attention, as I was keen to work using the English language," recounts Nakamura, who was a member of an English-speaking club during his college days.
At Tokyo Hilton Hotel in the 1960s, many of Nakamura's colleagues and bosses hailed from overseas, as did 90 percent of the Hilton's guests.
"Naturally, we had to speak English. Little by little, I learned to communicate with guests, and serving them became a pleasure in itself. I came to think about what our patrons would like and how I could help them enjoy their stay," Nakamura says.
Nakamura's first overseas assignment came in 1972, when he helped establish the Guam Hilton, where he served as sales manager for two years.
"Due to a shortage of staff there, I also worked in the hotel's restaurant in the evening, acting as both a waiter and a sommelier," he laughs. "In time, I learned all about food and beverage operations. It was a great experience."
After returning to Japan, Nakamura worked for 15 years under his mentor Richard E. Handle, the fourth general manager of the Hilton Hotel. Meanwhile he was also involved in setting up other Hilton hotels in such locations as Okinawa, the Philippines and Seoul. In 1987, he became general manager of Tokyo Hilton International, becoming the first Japanese GM within the Hilton hotel group.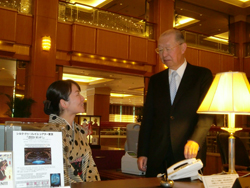 In the lobby: Nakamura talks to one of the RPH's guest-relations officers, who sometimes wear a kimono on duty.
"Back then, I often traveled around the world on business trips. But I couldn't bear to become a 'stateless person.' I wanted to be based in Japan. Also, I believed my experiences could benefit the Japanese hotel industry," Nakamura says.
"For example, Hilton uses the Uniform System of Accounts for Lodging Industry, an internationally standardized accounting system for its hotel businesses, enabling departmental control. But the system wasn't in use at other Japanese hotels until I adopted it at the RPH. Japanese hotels monitored their departmental costs and benefits using rough estimates," he says.
The RPH also was the first hotel in Japan to create a centralized reservation system (CRS). The system combines the four major reservation channels used by hotels: the global distribution online system (GDS), the domestic online system, Web sites, and telephone call centers.
"Today, globalization and IT are indispensable. A hotel can't survive with domestic, isolated management methods," Nakamura says. The RPH has expanded to a six-hotel group with facilities in Tokyo, Yokohama, Sendai, Chiba and Nagoya. In an effort to become even more efficient, the group has become a chain, which operates under the same accounting system and CRS.
Nakamura believes that he learned a global way of looking at things while working at Hilton. So he is an advocate of overseas training, particularly for the younger staff. Every year, four selected staffers undertake a year of training at the Shangri La Hotel in Hong Kong. Also, many staff members at the food and beverage sections have trained at Japanese embassies as resident cooks or butlers. In addition, all guest-relation officers — a position that entails both secretarial and concierge responsibilities on the executive floor — undergo training at overseas hotels. Many young female staff dream of working in this post, according to Nakamura. "Some of them obtained almost perfect scores in the Test of English for International Communication, often as a result of study undertaken after starting work."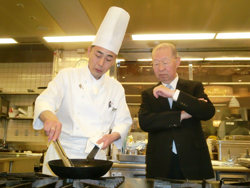 In the kitchen: Nakamura observes an RPH chef cooking one of the day's specialties.
Nakamura says students often ask questions like, "Is it crucial to be able to speak English?" or "What kind of personality must a potential hotel worker have?"
"Our primary criterion when employing someone is whether he or she likes to interface with other people," Nakamura explains. "Talking with people with a smile on your face is the most important factor. English skills are an advantage, but not a must."
"However, it's important to have an international outlook, as we conduct a lot of international business. So those in management must lead the way for employees in this regard. But it's a pity that there are fewer younger people wanting to work abroad," he says.
"In order to please guests, we need to be able to quickly sense their needs. That's why we need to communicate with them. To this end, we need language skills," Nakamura says.
"What would the guests like? The answer to this question can always be found on the floor of the hotel. Everything is done for the benefit of the guests. That's the spirit of hospitality — the very foundation of our job," he says.
For more information, visit www.rph.co.jp
This monthly feature, appearing on the first or the second Mondays of each month (Tuesdays in some areas), aims to provide readers with career advice for the international job market via interviews with professionals in relevant fields.