August 14, 2019
Report reflects upswing in global demand for graduates
Rising global demand
The recently published edition of the QS Jobs & Salary Trends Report 2018, which summarizes research into global education and hiring trends, reveals that demand for MBA graduates has risen by 13 percent worldwide year-on-year. Employer demand is particularly strong in the Asia-Pacific, where it rose by 18 percent, surpassing every other region. Driven by, but by no means limited to India and China, and along with the established markets of Japan, Australia, Singapore, Hong Kong and the up-and-coming Association of Southeast Asian Nations countries, there appears to be an ever-growing demand for MBAs in the region. Western Europe and the U.S. each showed a 10 percent increase.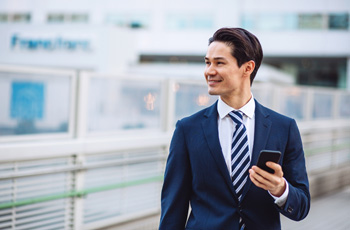 Employer demand for MBA graduates is growing, especially in Asia where it rose 18 percent. QS
Compensation packages are also on an upward trend, increasing globally. The average Asia-Pacific MBA salary sits at $71,300, rising to $85,900 when bonuses are considered. The highest compensation for graduates remains in the West, however; workers in Western Europe command $101,300, while those in the U.S. earn $116,300.
Also reported are traits employers typically look for in MBA recruits and the extent to which expectations are currently being met. Employers show a strong interest in soft skills, with interpersonal and leadership abilities being the most heavily in demand. While employers are generally satisfied with candidates' technical expertise, their soft skills often fall short of expectations.
These factors are also reflected in preferences for MBA specializations. Leadership and strategy are the most in-demand among employers, with innovation also proving popular.
Work experience is also valued, with employers appearing to prefer candidates familiar with the workplace, but not yet set in their ways. Three to five years is the optimal amount, while those with either one to three years or five to eight years of experience are also drawing attention.
The report is based on responses from over 3,000 leading graduate employers. Industry-wise, both technology and consulting have seen double-digit increases in MBA hiring. The largest increases, however, can be seen outside of the traditional MBA destinations of finance, tech and consulting -- indicating an increased diversity of employers looking to draw from the skills of MBA graduates.
This diversity of opportunity is also reflected in the roles MBA holders are hired into. Strategic planning proves to be the most popular area of responsibility, with other wide-ranging positions such as consulting and general management also featuring highly.
Are they worth the money?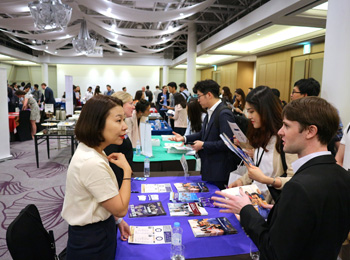 Tokyo residents who want to attend an MBA program can go to the QS World MBA Tour to collect information and speak with various schools. QS
A frequent concern tied to MBAs is the high cost of programs, with average tuition for a two-year program surpassing $60,000 and rising to six figures for the most prestigious institutions.
The QS Return on Investment Report 2018 suggests, however, that graduates typically recoup their investment more quickly than expected, using data from 235 full-time MBA programs.
In the 10-year period after graduation, the average MBA will earn $390,751 more than they would otherwise, taking into account the initial MBA expenditure. Stanford, the top-ranked school, offers a return of over $1 million in this period. For graduates from Asia-Pacific institutions this return sits at $268,934. However, there is a large disparity between the highest and lowest returns -- five schools from the region offer a return of more than $500,000.
The global average time taken for graduates to recoup their tuition costs sits at 51 months. This increases to 61 months for Asian institutions, but graduates from some schools in the region can expect to do so within three years. European programs offer the quickest returns, with average payback time at 39 months, with this partly due to the popularity of the one-year course.
Commanding a higher salary is a common motivation for MBA study, and one that is supported by data. Graduates on average see a 64 percent salary increase on completion of their MBA, with a large number of schools offering increases of over 100 percent. Graduates from Asian institutions experience an average increase of 56 percent, while some schools also offer raises of over 100 percent. North America offers the highest increase at 74 percent, though the highest returns are from schools outside of the expected elite, affirming the potential value of an MBA from outside the top 20 schools.
Salary increases from other postgraduate business programs are also reported. Globally, Master's of Finance graduates experience a 55 percent improvement on their previous salary, Master's in Business Analytics sees salaries improve by 46 percent on average, with a 66 percent increase for those studying a Master's in Management.
MBA programs visit Tokyo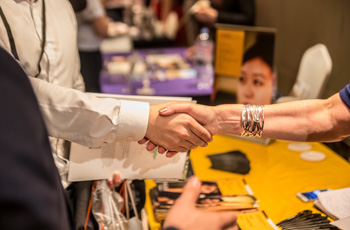 Tokyo residents who want to attend an MBA program can go to the QS World MBA Tour to collect information and speak with various schools. QS
Tokyo residents considering an MBA can take advantage of the strong market by attending a local event on Aug. 20. More than 40 global business schools will be attending the QS World MBA Tour at the Westin Tokyo.
The event takes the format of an open fair where candidates will have the opportunity to speak with admissions directors from each MBA program to discuss each school's offerings and their own educational goals.
Global MBA alumni will also attend the event and will be available to share their experiences and insights with attendees.
They will also be able to attain a vital advantage for their application by attending admissions seminars and GMAT strategy sessions designed to prepare them for the business school application process.
Schools participating include Michigan Ross (Ranked 15th in the latest QS Global MBA Rankings), UC Berkeley (Haas) (17th), Imperial College (19th), Duke (Fuqua) (20th), Cornell (Johnson) (38th).
Event attendees will be eligible to apply for a pool of scholarships worth over $7 million.
The fair is free to attend, though candidates will need to register beforehand to reserve their place.