School of International Liberal Studies (SILS), Waseda University
Tokyo
Private institution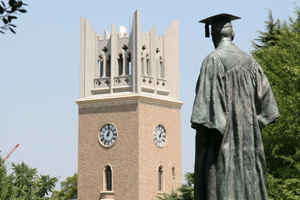 SILS website (General information, students & faculty statements etc.)
For Applicants (Admissions Overview etc.)
Address
1-6-1 Nishi-Waseda, Shinjuku-ku, Tokyo, 169-8050
Total number of students
3,134 (959 from overseas) as of 2013
Fee
Admission fee: 200,000 yen for 2014
Tuition fee: 1,162,000 for 2014
Other: 253,000 for 2014
Facilities and support programs for international students
SILS "Sempai" Project
SILS has many "sempai (seniors)" who have been through what you have. So they'll understand the challenges that you face during the course and will do their best to help you in any way they can as your student buddy.
Academic Advisor System
You'll have a member of the resident faculty as your academic advisor. They'll assist you in your student life, including helping you plan your curriculum and giving advice on your overseas study.
Career Support at GNC
SILS has a unique career support center named "Global Network Center (GNC)." It provides robust support for its students through career design seminars, SILS alumni talks, internships, industry seminars, employment talks, graduate school seminars and more.
Japanese-Language Program
Two-year mandatory Japanese-language programs are offered to non-Japanese native students. The classes available range from introductory classes, where students learn Japanese for their everyday lives, to advanced classes, for students whose objectives are to find employment at Japanese companies or go on to do graduate studies or research in Japanese.
Scholarships
We have about 120 kinds of internal and external scholarship opportunities for international students. International students can apply for scholarships after admittance to the university. Some scholarships can be determined before enrollment based on entrance examination results. Across the whole university, around 50% of international students who desire one have received some kind of scholarship.
Dormitories for International Students
Waseda University gives students a chance to enjoy an active and exciting dormitory life with a variety of friends from all over the world. In March 2014, Waseda University Nakano International Community Plaza will open, featuring 872 student housing units for Japanese and international students.
A distinguished heritage. A distinctive future.
Waseda University is one of the leading universities in Japan. Founded 130 years ago, it has produced many distinguished alumni, including seven Japanese prime ministers, who have become leaders in many different fields of activity, both inside and outside Japan. Since its founding, the university has been actively welcoming international students, and at present some 4,427 international students are enrolled, the highest number of any university in Japan. In 2004, the university took a great step forward in its internationalization by opening our department, The School of International Liberal Studies.
WHY SILS?
Liberal Arts Curriculum
There are many sides to a story. Our liberal arts curriculum will equip you with global literacy, and the ability to see issues from different angles and analyze them. To do that, we've prepared seven study clusters ranging from the humanities to sciences.
English-based Education and Environment
English is the common language used in our school and almost all classes are conducted in English. For admissions, Japanese proficiency is not required.
50 Countries in One School
SILS is a global village, where about 30% of our students are non-Japanese nationals from more than 50 countries, including exchange students from such world renowned universities as Columbia University, Oxford University, Cambridge University and so on.
Admissions System
Our admissions procedure is similar to that of many Western universities. We accept IB (Predicted), as well as many other overseas qualifications, such as SAT, GCE A-level, French Baccalaureate, NCEA Level 3 and so on. No Japanese ability at entry level is required. We conduct admissions twice a year: September and April.
Various Study Abroad Programs
We offer various types of study abroad programs based on partnerships with over 300 prestigious universities around the globe, such as Columbia, UC Berkeley, Cambridge, Oxford, etc. Credits earned at partner universities are counted toward your SILS degree allowing you to graduate in four years.
IB Diploma Counted as Credits for Graduation
If you have obtained an IB diploma, some credits can be counted for graduation.
3.5-year Early Graduation System
If you earn excellent grades in the credits that are required for graduation, then you will be allowed as an exceptional case to graduate in 3.5 years. This in turn will expand the range of future paths open to you.

At SILS, you can pursue multiple fields of interest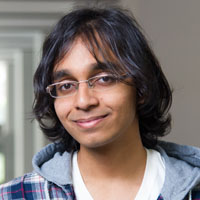 PATTAMADA, Chinnapa (Ponnapa)
PATTAMADA, Chinnapa (Ponnapa), SILS Student from India (Raffles Institution, Singapore)
I enrolled at Waseda University from a high school in Singapore, where I was studying abroad. Since I was interested in literature and science, and did not want to specialize in one major, I thought that SILS was the perfect fit for me. SILS allows you to choose classes from a broad array of academic fields. With a focus on science, I study a wide range of subjects, including physics, literature and journalism, which is exactly what I wanted. The classes vary in size, but all are lively and interactive, and being able to experience the ways that Japanese and other students from all over the world think is very exciting.
Academic Clusters Introduction
Academic Clusters
SILS has established courses in seven general thematic clusters. Instead of focusing exclusively on one field, students can steadily develop their own particular specialization by choosing courses that match their interests.
Web site: http://www.waseda.jp/sils/en/about/feature02.html


Life, Environment, Matter and Information
(Life Science, Bioethics, Environmental Science, Environmental Policy, Earth Science, Material Science, Chemistry, Information Science, Statistical Mathematics, etc.)


Philosophy, Religion and History
(Thought, Philosophy, Religion, Ethics, Modern Thought, Japanese Studies, History, Archaeology, etc.)


Economy and Business
(Economy, Business, Business Administration, Marketing, Finance, Accounting, etc.)


Governance, Peace, Human Rights and International Relations
(Politics, Governance, Peace, Human Rights, Minority Theory, International Relations, International Organization, etc.)


Communication
(Language, Communication, Foreign-Language Education, etc.)


Expression
(Fine Arts, Film, Drama, Music, Art, Literature, Media Theory, Architecture, etc.)


Culture, Mind and Body, and Community
(Comparative Culture, Gender Theory, Cultural Studies, Sociology, Anthropology, Psychology, Philosophy, Body Theory, Health, Therapy, Cities, Regions, Communities, Global Society, NPO/NGO, etc.)