Kansai University
Osaka
Private institution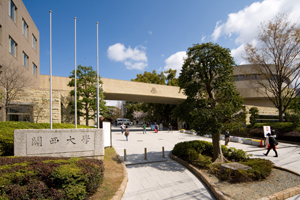 Note: This link will take you to the Kansai University Web site.
Address
3-3-35 Yamate-cho, Suita-shi, Osaka, 564-8680
Contact
Public Relations Division
TEL: 06-6368-1121
Total number of students
28,568 (620 from overseas) as of 2016
Fee
Admission fee: ¥260,000 for 2016
Tuition fee: ¥850,000 - ¥1,374,000 for 2016
Other: ¥27,000 for 2016
Facilities and support programs for international students
Scholarships for International Students
There is a scholarship program for international students who demonstrate excellence academically and in character. Kansai University and other organizations also offer scholarships to select students in need of financial support.
Tuition Fee Exemption Program
A portion of tuition fees will be reduced to lessen the financial burden on international students and enable them to concentrate on their studies. In the 2015 academic year, 30 percent of the fee was deducted.
Support for International Students
Kansai University organizes many activities for mutual exchanges with international students, Japanese students and residents through the year.
Our International Society can help international students settle in to a new life in Japan.
International Students Society
The International Students Society at Kansai University organizes events such as an annual trip for international students to help them make friends and settle into life in Japan.
Generating "action from thought," Kansai University's quest is to open up new worlds through education, exchange and research
Kansai University is located in the historical city of Osaka. Established in 1886, Kansai University's educational philosophy is based on the notion of "practical academia" through a balance of scholastic theory and real-world application.
The university has 13 faculties: Law, Letters, Economics, Business and Commerce, Sociology, Policy Studies, Foreign Language Studies, Health and Well-being, Informatics, Safety Science, Engineering Science, Environmental and Urban Engineering, and Chemistry, Materials and Bioengineering. The university also has 13 graduate schools for the various faculties, in addition to the School of Law, School of Accountancy, and the Graduate School of Professional Clinical Psychology. Three high schools, three junior high schools, an elementary school and a kindergarten are also affiliated with the university, making it a truly comprehensive educational institution.
Kansai University boasts state-of-the-art educational and research facilities at the urban campuses in Senriyama, Takatsuki, Takatsuki Muse and Sakai.
We offer many programs for prospective international students who wish to enter the university as an undergraduate student to pursue a bachelor's degree, international exchange students from our many partner universities around the world, and students who wish to study at graduate level.
Numerous international students currently study at Kansai University. As their number increases each year, we are fostering an extensive network of excellence around the world with former students who are knowledgeable in Japanese culture and academia.
Kansai University provides counseling and financial aid, and facilitates student-student interaction and activities to ensure that our international students lead fulfilling lives during their studies.

Note: This link will take you to the Kansai University Web site.
Studying law at Kansai University (KU) in an effort to contribute to my country's economic development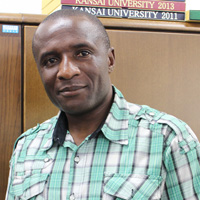 Amisi David KABWE
I'm from the Democratic Republic of Congo, and have worked as an official inspector at the Ministry of Mining in my country. My duty is monitoring whether domestic and foreign companies carry out mining operations in compliance with the relevant laws as well as taking the environment into consideration. My country has been economically dependent on mining, and there is thus an urgent need to develop new industries in the DRC.
I happened to learn about the Japan International Cooperation Agency's African Business Education Initiative for Youth program, which offers African students study at Japanese universities or graduate schools, then decided to apply for it so that I can contribute to my country's development by transferring learning and experience from the technologically advanced nation of Japan. Kansai University's Graduate School of Law became my first choice among the various candidate institutions because their law programs are taught in English. I was accepted as a graduate student and am spending busy days here.
I'm taking classes in intellectual property law, investment law, international economic law, international cooperation, international politics and more in English. Half a day I take classes and the rest of the day I prepare for the next classes. At the same time I attend classes for the Japanese Language and Culture Program Preparatory Course (Bekka) and also need to prepare for my Master's thesis. My thesis topic is "DRC's Reform of Mining," for which I am researching the historical background to why Japan has been able to develop so much despite a lack of resources, as well as analyzing my country's mining industry from the perspective of the legal system, public policy and transfer of technology, so as to make suggestions for mining reform.
In my daily life at KU, everyone, including my supervisor Professor Mika Yamana, is always supportive. In the dormitory as well, Japanese students who are residential assistants help me out whenever I have a question and there are often opportunities to interact with other international students. I'm living in a perfect environment.
After I get a Master's degree and go back home, I want to introduce everything I have learned here to people in my country. If you are thinking about studying abroad, I want to advise you that you should tackle everything with a strong will. Japan is a beautiful country and has good education, freedom and peace. There are not many institutions which provide English-taught law classes in Japan, so if you are interested in studying law, I recommend you to study at Kansai University.
Departments and Faculties
Faculty of Law
Department of Law and Politics
We nurture students to be active in various fields with an international and rational outlook.
Web site: http://www.kansai-u.ac.jp/English/academics/fac_law.html


Faculty of Letters
General Department of Humanities
Various disciplines to explore a wider and deeper overview of human existence and culture.
Web site: http://www.kansai-u.ac.jp/English/academics/fac_letters.html


Faculty of Economics
Department of Economics
We take a comprehensive stance in analyzing society and the world from various perspectives through the window of economics.
Web site: http://www.kansai-u.ac.jp/English/academics/fac_eco.html


Faculty of Business and Commerce
Department of Business and Commerce
We educate students to become dignified and flexible business leaders at both local and global levels.
Web site: http://www.kansai-u.ac.jp/English/academics/fac_com.html


Faculty of Sociology
Department of Sociology
We inquire into matters of humankind and society using an interdisciplinary approach to encourage sensibility and vitality in our students.
Web site: http://www.kansai-u.ac.jp/English/academics/fac_soc.html


Faculty of Policy Studies
Department of Policy Studies
Department of Global and Asian Legal Policy Studies
Through 4-year-long seminars combined with various study disciplines, we aim to develop students with the knowledge and capability to plan practical policies.
Web site: http://www.kansai-u.ac.jp/English/academics/fac_policy.html


Faculty of Foreign Language Studies
Department of Foreign Language Studies
We foster highly educated and energetic language professionals with outstanding foreign language skills.
Web site: http://www.kansai-u.ac.jp/English/academics/fac_for.html


Faculty of Health and Well-being
Department of Health and Well-being
Exploring the field of human health focusing on the keywords of "nurturing", "relating" and "supporting".
Web site: http://www.kansai-u.ac.jp/English/academics/fac_hw.html


Faculty of Informatics
Department of Informatics
Educating students in specialized information fluency so that they can excel and adapt in our constantly transforming IT society.
Web site: http://www.kansai-u.ac.jp/English/academics/fac_info.html


Faculty of Safety Science
Department of Safety Management
Our objective is to give students the knowledge and skills necessary to make a contribution by designing a safe and secure society.
Web site: http://www.kansai-u.ac.jp/English/academics/fac_ss.html


Faculty of Engineering Science
Department of Mathematics
Department of Pure and Applied Physics
Department of Mechanical Engineering
Department of Electrical and Electronic Engineering
From natural science to cutting edge technology, we create "mechanisms" for a sustainable society.
Web site: http://www.kansai-u.ac.jp/English/academics/fac_eng.html


Faculty of Environmental and Urban Engineering
Department of Architecture
Department of Civil, Environmental and Applied System Engineering
Department of Chemical, Energy and Enviromental Engineering
We aim to foster human resources with knowledge of science technology, rich creativity, and high ethical standards for town-building in the 21st Century.
Web site: http://www.kansai-u.ac.jp/English/academics/fac_env.html


Faculty of Chemistry, Materials and Bioengineering
Department of Chemistry and Materials Engineering
Department of Life Science and Biotechnology
From molecules to new materials, and life itself, we study "creation" for the future, and promote research that contributes to society.
Web site: http://www.kansai-u.ac.jp/English/academics/fac_che.html



Note: This link will take you to the Kansai University Web site.