Sophia University
Tokyo
Private institution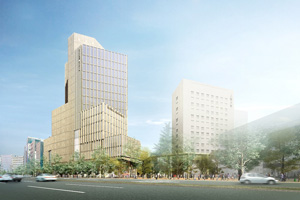 Sophia University Website
Introduction to Sophia
Address
7-1 Kioi-cho, Chiyoda-ku, Tokyo, 102-8554
Total number of students
13,907 (1,593 from overseas) as of 2017
Fee
Admission fee: Postgraduate: ¥200,000 for 2017
Tuition fee: Varies by program for 2017
Other: Varies by program for 2017
Facilities and support programs for international students
Scholarships for International Students
"International Student" who hold "College Student" status of residence can apply for the scholarships as follows. http://www.sophia.ac.jp/eng/studentlife/scholarships/scholarship_e0004
Sophia Soshigaya International House
Sophia has a co-ed dormitory as an "International House" for foreign international students and Japanese students. There is a live-in dormitory manager. Meals are not served, but a kitchen is available for shared use.
Pioneering International College Education
Sophia is located in central Tokyo, near Japan's political, financial, business and cultural centers. Founded by the Jesuits in 1913, Sophia University has been a pioneer in international education in Japan, attracting students from all over the world. In 1949 Sophia established the first program in Japan taught entirely in English and it continues to lead the Japanese academic world in offering international programs. At the undergraduate level, all of the classes in the Faculty of Liberal Arts, and the Green Science and the Green Engineering Programs offered in the Faculty of Science and Technology are taught in English. The other faculties teach primarily in Japanese, but there has been a steady increase in classes offered in English. Undergraduate students are encouraged to gain a broad base of knowledge in many fields, as well as advanced knowledge in their major. The curriculum is designed to allow students to take advantage of classes offered by other faculties. At the graduate level, Sophia offers four programs conducted entirely in English. These programs have a exceptionally high percentage of international students, and provide a vibrant and diverse learning environment.
English-based undergraduate programs:
Faculty of Liberal Arts - Comparative Culture, International Business and Economics, Social Studies
Faculty of Science and Technology - Green Science, Green Engineering
English-based graduate programs:
M.A. and Ph.D. in Global Studies
M.A. in International Business and Development Studies
M.A. and Ph.D. in Japanese Studies
M.A. in Linguistics (TESOL)
M.S. and Ph.D. in Green Science and Engineering
M.A. and Ph.D. in Global Environmental Studies

Departments and Faculties
Graduate School of Global Studies
M.A. in Global Studies
M.A. in International Business and Development Studies
M.A. in Japanese Studies
Ph.D. in Global Studies
Ph.D. in Japanese Studies
Founded in 2006, the GPGS reorients Sophia University's strengths in area and international studies to issues of globalization. Its English-taught curriculum offers M.A. degrees in Global Studies, International Business and Development Studies, and Japanese Studies, as well as a Ph.D. in Global Studies and Japanese Studies.
Web site: http://gpgs.fla.sophia.ac.jp/


Graduate School of Languages and Linguistics
M.A. in Linguistics (TESOL: Teaching English to Speakers of Other Languages)
The Master's Program in Linguistics (TESOL) was established in 2006. The course offers opportunities not only to Japanese teachers of English, but to non-Japanese teachers teaching in and out of Japan to acquire theoretical knowledge as well as practical skills in Teaching English to Speakers of Other Languages.
Web site: http://www.sophia.ac.jp/eng/program/graduate_p/G_FS


Graduate School of Science and Technology
Master of Science in Green Science and Engineering
Ph.D. in Green Science and Engineering
The programs at this school aim to be both specialized to bring to light new scientific information and technological developments in all their academic divisions, and interdisciplinary to foster a common regard for their effects on people, society and the global environment.
Web site: http://www.st.sophia.ac.jp/english


Graduate School of Global Environmental Studies
M.A. in Global Environmental Studies
Ph.D. in Global Environmental Studies
We are an independent graduate school founded on inter-disciplinary approaches to academia and research. We believe in the strength of diversity, and open our doors to people from across the globe with different knowledge sets and worldviews who have diverse educational and life experiences.
Web site: http://www.genv.sophia.ac.jp/english/academics/index.html