For those seeking a place with a homey atmosphere and a convenient location during a stay in Tokyo, Somerset Ginza East Tokyo is a perfect choice.
Following its opening in July 2016 in the capital's iconic shopping district, the serviced residence run by The Ascott Limited recently completed renovations to its reception area and all of its 124 units, enabling the operator to offer guests further comfort in the city.
The renovated Somerset Ginza East Tokyo in Tsukiji, Chuo Ward, features four types of apartments ranging from a 23-sq.-meter studio to a 30-sq.-meter studio deluxe, 42-sq.-meter one-bedroom deluxe and 46-sq.-meter one-bedroom executive.
With basic facilities and amenities such as bedroom linens, ensuite bathrooms, in-room safes, air conditioning and televisions with cable, the serviced residences, which also feature fully equipped kitchens, washing machines and wireless internet access, are certain to satisfy staying guests, making them feel as if they are in their second home.
For the sake of further comfort and convenience during the guest's stay, Somerset Ginza East Tokyo has 24-hour reception, around-the-clock security and closed circuit TV surveillance, daily morning refreshments and once-a-week housekeeping services. Moreover, guests can utilize such charged services as courier and airport transfer, as well as parking.
Commemorating the renovation, Somerset Ginza East Tokyo is offering discounted monthly rates until Sept. 31, 2017; something potential guests might not want to miss. A studio is available at ¥255,000, while a studio deluxe is offered at ¥285,000. Moreover, a one-bedroom deluxe is offered at ¥405,000 and one-bedroom executive is available at ¥435,000. Corporate rates are also available.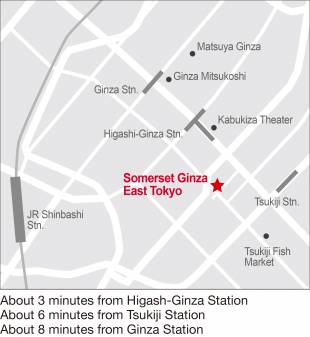 Meanwhile, guests staying at Somerset Ginza East Tokyo can surely make the most of its prime location for both leisure and business.
As its name shows, this serviced residence is located in the famed Ginza district, one of the capital's most vibrant areas where visitors can enjoy shopping, art galleries and a wide range of restaurants and bars.
Popular sightseeing spots are dotted around Somerset Ginza East Tokyo, some of which are within easy walking distance. The renowned Tsukiji Fish Market, traditional Kabukiza Theatre and Japanese-style Hamarikyu Gardens are just a few of the many nearby attractions.
In terms of shopping, Ginza is packed with large commercial complexes and high-end shops, attracting international travelers and Japanese from around the country.
The iconic Wako Clock Tower in the center of Ginza is a mere 10-minute walk from Somerset Ginza East Tokyo, while Ginza Mitsukoshi and Matsuya Ginza department stores near Ginza Station are among the district's most-popular shopping destinations. Moreover, newly opened facilities such as Tokyu Plaza Ginza and Ginza Six further energized the area.
The prime location of Somerset Ginza East Tokyo also ensures easier access to get around Tokyo. There are three subway stations near the residence, which is just three minutes from Higashi-Ginza Station on the Hibiya and Toei Asakusa lines, six minutes from the Hibiya Line's Tsukiji Station and eight minutes from Ginza Station on the Ginza, Marunouchi and Hibiya lines.
One stop away from Ginza Station is Tokyo Station, which offers travelers an array of trains, including shinkansen bound for various parts of the country. Around Tokyo Station are the Marunouchi and Otemachi areas, the country's business and financial hub. In addition, it takes less than 40 minutes to get to Haneda airport from Higashi-Ginza Station.
The Ascott Limited, one of the leading owner-operators of serviced residences in the world, operates six other serviced residences under its three brands in Japan, increasing the number of its units in operation to 878 in the country.
In addition to the Ginza location, the other residences are Somerset Azabu East Tokyo, Somerset Shinagawa Tokyo, Citadines Shinjuku Tokyo, Citadines Central Shinjuku Tokyo — all in Tokyo — and Citadines Karasuma-Gojo Kyoto. The latest launch was under the highly acclaimed Ascott The Residence brand Ascott Marunouchi Tokyo, a premier serviced residence that opened on March 30.
Two other Somerset residences in Tokyo are also ideal for executives and their families considering a long stay and seeking a homey atmosphere.
Located in Higashi-Azabu, Minato Ward, Somerset Azabu East Tokyo features 79 units with room types ranging from 43-44 sq.-meter studio executives to 53-54-sq.-meter studio premiers, 48-sq.-meter one-bedroom executives and 53-54-sq.-meter one-bedroom premiers.
The serviced residence is just three minutes from the famous 333-meter Tokyo Tower and 15 minutes from the Roppongi entertainment and commercial area. Shiba Park is nearby for those who want to take a break surrounded by greenery.
Three subway stations are accessible from Somerset Azabu East Tokyo, with the Oedo Line's Akabanebashi Station and the Mita Line's Shibakoen and Onarimon stations nearby.
Meanwhile, Somerset Shingawa Tokyo is situated in the Takanawa residential area in Minato Ward. It is five minutes from Shinagawa Station, where various train lines run, including the Tokaido Shinkansen Line that runs Nagoya and Shin-Osaka stations.
The 55 units in this serviced residence include nine types of rooms: 43-50-sq.-meter studio executive, 65-71-sq.-meter one-bedroom deluxe, 72-78-sq.-meter one-bedroom executive, 100-sq.-meter one-bedroom premier, 70-sq.-meter two-bedroom deluxe, 112-119-sq.-meter two-bedroom executive, 134-sq.-meter two-bedroom premier, 134-sq.-meter three-bedroom premier and 197-sq.-meter three-bedroom penthouse.
The Ascott Limited is a wholly owned subsidiary of Singapore-based real estate company CapitaLand Limited. In key cities of the Americas, Asia Pacific, Europe and the Middle East, Ascott has over 30,000 operating serviced residence units with over 23,000 units under development.
The firm recently announced that first three serviced residences under its latest brand named "lyf" with "co-living concept" will open from 2018 through 2021.
"Since Ascott unveiled the lyf brand in Singapore last November, we have received very strong interest in this new co-living concept designed by millennials for the growing wave of millennial and millennial-minded travelers, such as technopreneurs, startups and those in the creative industries," Ascott's Chief Executive Officer Lee Chee Koon said.
The 112-unit lyf Wu Tong Island Shenzen will be launched in the first half of 2018 and lyf DDA Dalian with 120 units is scheduled to open in the end of 2018, while the 240-unit lyf Farrer Park Singapore is to be launched in 2021.
"Ascott is also actively looking at other potential markets, including Australia, France, Germany, Indonesia, Japan, Malaysia, Thailand and the U.K., as we work toward achieving our target of 10,000 units under the lyf brand globally by 2020," Lee added.