From marimba to careers
March 14, 2016
By Chiho Iuchi
Special to The Japan Times
Not every teacher is a teacher from the beginning, and some may not remain teachers forever.
Francois Dubois, who has taught career management to Japanese students and corporate employees for nearly two decades, started his career as a percussionist in a French orchestra.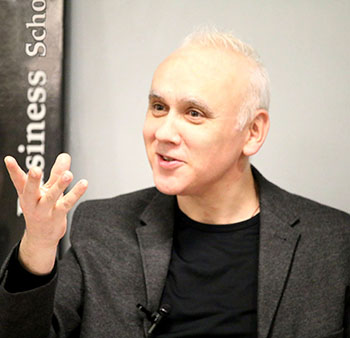 Francois Dubois, marimba player, composer and teacher, speaks during his class at the Attackers Business School in Tokyo.
ATTACKERS BUSINESS SCHOOL
From orchestra to soloist
Born in La Charite-sur-Loire, a small town in the Bourgogne region of France, Dubois began playing music when he was eight years old. He went on to study percussion at the Conservatoire de Paris and worked as a percussionist in an orchestra for 10 years. He performed under the batons of many conductors, including late maestros such as Lorin Maazel, Olivier Messiaen and Mstislav Rostropovich.
"But I was not ready to accept the rules of society," Dubois said, looking back on his past. "Conductors tell you what to do and there is no room for individuality."
Before long, Dubois began to pursue a career as a soloist, an unusual step for someone who started out in an orchestra. It was not easy, but Dubois managed to establish himself as a solo marimba player. Quitting the orchestra, he performed solo recitals, as well as in duets or larger groups throughout Europe and Japan.
"As a soloist, you need to have a high level of talent. But that is only half of what is needed," Dubois said. "You need to have nerve and stamina to perform alone for two hours on stage and entertain audiences of 2,000."
"What I learned at the conservatoire was all about performing technically perfect," he recounted. But the reality was that good agents and connections are just as important to book concerts at one place after another to survive as a soloist and have a career that spans many years.
"I saw many people who dreamed about becoming soloists, but many of those who learned the reality said, 'No, thank you,'" Dubois said.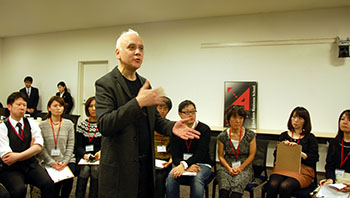 Francois Dubois speaks prior to a discussion among the students.
D-PROJECT
From Paris to Tokyo
In 1998, Dubois left Paris for Tokyo at the invitation of Keio University, where he started a special class in music composition for the political science department.
"I was assigned to teach composition, but to my surprise, many students came to me with problems about their futures and careers. Perhaps they thought that, as a foreigner, I might have different views than Japanese people," Dubois said.
Listening to the students, Dubois saw problems specific to the Japanese education system.
"People put enormous pressure on children to go to good universities such as Todai, Kyodai, Hitotsubashi (the University of Tokyo, Kyoto University and Hitotsubashi University) and other prestigious schools from the time they are very young," Dubois said.
"But once they get into universities, students are given no counseling about their futures. This is a big problem as they never have time to think about themselves, or about what they want to do in the future."
These conversations with students, in which he gave them advice based on his own experience of changing careers, eventually resulted in the creation of his original method of career management that he named Dubois Method.
"In my professional life as a marimba soloist, I have known serious moments of panic, due to my complexes combined with profound traumas. By facing them straight and coping with them, I could find ways to get out from certain difficult situations, and make the most of them and keep moving forward," Dubois writes on his website.
Career management
He first employed the Dubois Method in the personal career management class he was giving at Keio University, in which many people, including Carlos Ghosn, participated in order to share their knowledge.
Since then, he has held seminars at universities, companies and other institutions, including Attackers Business School, led by Kenichi Ohmae, and Roppongi Academyhills, to name a few.
"If people have opportunities, they can activate themselves, and they can become exceptional," Dubois said. "Some people have the attributes to become leaders, but when they join a company, 'the nail that sticks out gets hammered down' as the proverb says."
"Those people could be very useful to the company. So rather than hammering them down, we should listen to those different personalities."
When Dubois has the opportunity to talk with executives of large companies, he feels that many of them are aware of the situation, as they often ask him, "How can we attract creative people to our company?"
"But the executives also care about protecting their position within the company," Dubois said cynically.
"It's difficult in Japan to encourage creativity and change traditional systems," Dubois pointed out. "But there are people who take risks. That's why I am teaching career management."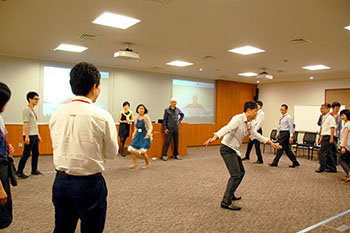 Students become "activated" by playing "Marco Polo," though without the swimming pool.
D-PROJECT
Dubois Method
The Dubois Method focuses on improving the creativity and energy of both entrepreneurs and corporate staff.
"Whatever you do, the most important thing is to understand reality so that you can lead your life," Dubois said.
Toward this end, the students are encouraged to achieve a balance between their physical and mental conditions, as well as between intelligence and sensibility. His seminars are composed of four elements: games; physical exercise; discussions; and musical exercise.
One of the games played in the seminar is Marco Polo, a variant of tag, in which one player is chosen as "It." The "It" player closes their eyes and tries to find and tag the other players. The "It" player shouts "Marco" and the other players must respond by shouting "Polo," which "It" uses to try to locate them through sound.
Although the game may look more at home in a children's swimming pool rather than in a seminar for professionals, participants rediscover how difficult it is. The game provides interesting insight through observing how each participant runs away from "It," with some staying in one place, while others move all the time.
"This game is related to being yourself subtracting what you think about yourself," Dubois said. During the game, he observes how the students move and advises them to change their movements by comparing the situation with an entrepreneur experiencing an unforeseen business situation.
"Your moves are too easy for others to predict. You must change your strategy of moving and use your senses other than eyesight to feel where they are."
The physical exercise is based on Chinese martial arts and Chinese traditional medicine, which Dubois has studied since he was a teenager. The exercise allows students to observe the condition of their bodies more closely and feel the water that constitutes 60 percent of the body. Dubois explains that the ability to observe the condition of mind and body forms the basis of career management and changes in how to feel the body create changes in consciousness.
The musical exercise is based on African minimal music, which Dubois learned when he stayed in Burkina Faso in West Africa in his 20s. Students sit face to face in pairs and maintain a repetitive rhythm of triple measure, tapping their knees and clapping their partner's hands for about 10 minutes. This exercise allows them to become more aware of their subconscious, which may lead to revealing their hidden talents.
Through these exercises, which are unusual for adults, students gradually are able to reflect inside and feel their bodies, and that somehow influences the quality of the discussion among the participants.
At the beginning of the course, Dubois tells the students to think about their "vision and axis" for 24 hours every day. The students write down what they think their vision is at the moment.
"But by the end of the course, they realize what they wrote was out of focus," Dubois said.
Meanwhile, there are many group discussions on various subjects, including the past, inspiring experiences and vision. Participants, who are gradually transformed to be more flexible and open-minded than before, become able to talk more frankly and help each other to see their realities and what they want.
"This is the first step to making changes. The students evolve in the process with their partners and me. They have all the opportunities to finally learn something about themselves," Dubois explained.
At the end of the course, the students decide what they can be proud of with their own vision. Some may quit their companies to establish their own businesses while some may remain in their companies, but work with more confidence. Not everyone sees the same result.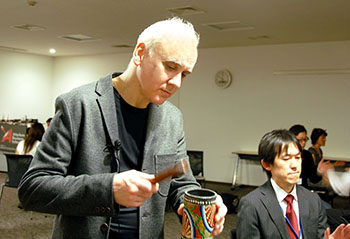 Music exercises are another feature of the Dubois Method.
D-PROJECT
Measuring success
"Success is being closer to what you really want to do," Dubois said.
"I'm very happy to be able to do all my activities without any pressure. Because I had a lot of pressure in my life, I know what it's like. Now, if I want to do new musical creation, I'm able to play, I'm able to compose. I have ideas. Nobody can stop me," Dubois said. "No matter how much money or power I have, I can do what I want. This is precious."
In 2007, Dubois, who is also a master of Chinese martial arts, left for Wudang, China, the mecca of Chinese internal martial arts, for three months.
"I was surprised by his sudden deicsion," said Aya Kimura, who co-produces Dubois' educational programs and also serves as an interpreter for students during the seminars.
In China, he had interesting experiences, but that is another story. One thing for sure is that this experience motivated Dubois to concentrate more on his teaching activities in Japan.
"Yes, I would wear a white student uniform in China, not a master's," Dubois said, pointing to a photo of him in Tai Chi garb.
"To be a good teacher, you must be able to learn. A teacher should not be the same teacher they were 10 years ago," Dubois said. "If I don't evolve, how can I teach anything new to my students?"