The year 2017 is a landmark for the Association of the Southeast Asian Nations (ASEAN), which was established half a century ago.
Looking back on the past 50 years, ASEAN, whose 10 member states are Brunei, Cambodia, Indonesia, Laos, Malaysia, Myanmar, the Philippines, Singapore, Thailand and Vietnam, has gone through several milestones to become a cohesive group of nations enjoying some of the biggest economic growth in the world.
In short, ASEAN has evolved from a group of nations aiming to stabilize Southeast Asia to a group trying to become a major economic engine for the world by creating a market without economic barriers. It started with five founding countries — Indonesia, Malaysia, the Philippines, Singapore and Thailand — with Cambodia becoming the 10th member state in April 1999.
"ASEAN has done a great job creating a huge free-trade economic zone," said Masataka Fujita, secretary-general of the ASEAN-Japan Centre.
"Tariffs among ASEAN member states were as high as 10 or 20 percent in the beginning, and they have gone as far as decreasing them to almost zero," he said, adding that 99 percent of goods traded among member states — except for the newer member states of Cambodia, Laos, Myanmar and Vietnam (CLMV) — are currently tariff-free.
ASEAN aims to reduce tariffs of 99 percent of CLMV goods to zero by 2018, under a new initiative of the ASEAN Economic Community, or AEC, which formed at the end of 2015. The formation of the AEC allowed ASEAN to become a more cohesive organization, while consolidating regional economic integration. Even in the pre-AEC period, ASEAN member states worked systematically on reducing tariffs and other economic barriers among themselves. The creation of AEC accelerated such activities.
"The creation of the AEC was the biggest milestone for ASEAN. Member states have since renewed their commitments," Fujita said.
Another milestone occurred in 2008, when the ASEAN Charter went into effect, he said. The charter functions as the guideline stipulating ASEAN's principles.
"The ASEAN Charter outlines what ASEAN should aim to be in the future," he said.
One of the principles in the ASEAN Charter is the encouragement of regional integration, which ASEAN is doing well.
The challenge is in the liberalization of services. This is an area that particularly needs improvement in lifting various restrictions on service suppliers to start businesses in other ASEAN countries, Fujita said. Every industry has restrictions against incoming companies to protect existing businesses, and the retail industry specifically needs to be more open, he added.
"The further liberalization of this area will increase chances for Japanese retailers and other service companies because services account for a bigger portion of the economy than goods," Fujita said.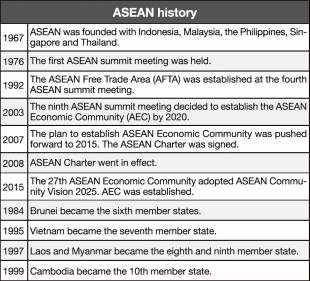 While a number of challenges keep some areas of the Japanese competitiveness from flourishing in ASEAN, Japan-ASEAN relations have been — and remain — very favorable.
However, the relationship was not as smooth through the 1970s due to Japan's preeminence in Southeast Asia.
Japan's accelerated pace of trade and investment activities in Southeast Asian countries caused contentious economic relations leading to political concerns between ASEAN member states and Japan.
Under these circumstances, then-Prime Minister Takeo Fukuda made a speech in 1977 that would become known as the Fukuda Doctrine.
During this speech in Manila, Fukuda said that Japan and ASEAN member states are equal partners and that all parties should build "heart-to-heart" relationships.
Japan-ASEAN relations have since dramatically improved. The foundation of the ASEAN-Japan Centre in 1981 was based on the Fukuda Doctrine.
Since then, Japan and ASEAN have come closer and closer to economic equality.
In the 1980s, Japan's gross domestic product was roughly 10 times as much as ASEAN's 10 states combined. Currently, the ratio stands at 2-to-1.
This has come about as ASEAN's economic position has become relatively stronger, rather than Japan's economic position becoming weaker.
Even though the Japanese government took the initiative to build a strong relationship with ASEAN, it is worth noting that Japanese companies created private-sector-driven momentum to make it stronger, paving the way for AEC formation.
"Japanese companies basically presented challenges inside ASEAN and recommendations as to how ASEAN can improve itself," Fujita said. "They urged member states to accelerate economic integration. Now they are in a win-win relation."
Japanese companies must continue these efforts, Fujita said, because ASEAN is a very rapidly growing market and other nations also want to take advantage of ASEAN's growth.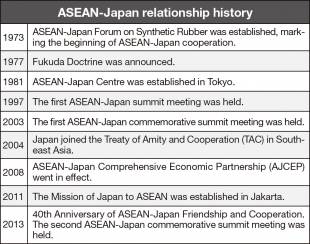 "Japan should really understand ASEAN's attractiveness and think hard about how to gain economically," he said. "For example, Japan has many small and mid-size companies, but little labor. ASEAN can be a good partner as a labor supplier. For that, Japanese companies can utilize ASEAN human resources."
In return, ASEAN can use Japan's technology to achieve breakthrough innovation for further growth, Fujita said. ASEAN owes its growth mainly to companies from outside ASEAN.
Japan has also been helping companies create long-term solutions. Japan's official development assistance helps ASEAN to train its people in various skills and technologies.
"That does not have a short-term effect, but it will be very helpful in the long run," Fujita said. Environmental technology is undoubtedly necessary for sustainable development, and Japan is very advanced in it, he added.
Such exchanges are promoted by the ASEAN-Japan Centre that supports both Japanese and ASEAN companies to flourish together by functioning as a bridge. The center promotes Japan and ASEAN's relationship in trade, investment, tourism and various exchanges. Its activities include dialogue meetings, information seminars, capacity-building programs, among others, while providing platforms to enhance partnership between Japanese and ASEAN companies.
Fujita said he wants to do something only the ASEAN-Japan Centre as an international organization can.
"Our clients are basically taxpayers of ASEAN member states and Japan. We need to show them we produce good results efficiently and effectively," he said.
He is now shifting focus to calling on governments to create systems to make it easy for both parties to do business. The center is presenting policy recommendations to the governments of ASEAN member states.
The ASEAN-Japan Centre is taking on various new projects that no other organizations do. In one such project, the center is compiling 16 data and evidence-based research papers on global value chains. The 16 papers are designed to help gain understanding of what each member state creates in terms of value-added in various export products. They produce research papers on five industries — automotive, textiles and clothing, tourism, agribusiness and electronics — each for respective member countries and one for ASEAN as a whole.
---