Wide range of banking services in English
Angela Smith (a pseudonym) came to Tokyo five years ago and never thought she could own a home in Japan.
"Being a single woman without permanent residency, I never thought that I could buy a condominium here," she said. "But PRESTIA showed me the maximum loan I could get based on my annual income and other conditions. After deciding on the condo, PRESTIA helped me smoothly complete the paperwork."
What enabled her to buy the ¥30 million condominium were SMBC Trust Bank PRESTIA's so-called Global Branches in Tokyo's Akasaka and Hiroo districts.
The two branches provide the highest-quality services for foreign customers in English with about 80 percent of their clerks, identifiable with "Global Branch Chartered" name tags, ready to help first-time customers with anything they need. All paperwork, including periodical banking statements to be sent to customers, magazines and brochures are in English.
Customers typically have primary bank accounts, invest in foreign currencies and take out credit cards, electronic toll collection cards and mortgages. The Global Branches enable customers to do all of these things in English; a rarity in Tokyo.
Foreign residents are on the rise in Japan; however, foreign banks have been withdrawing from the Japanese market, creating a serious shortage of institutions that offer loans and other financial products involving complicated paperwork in English.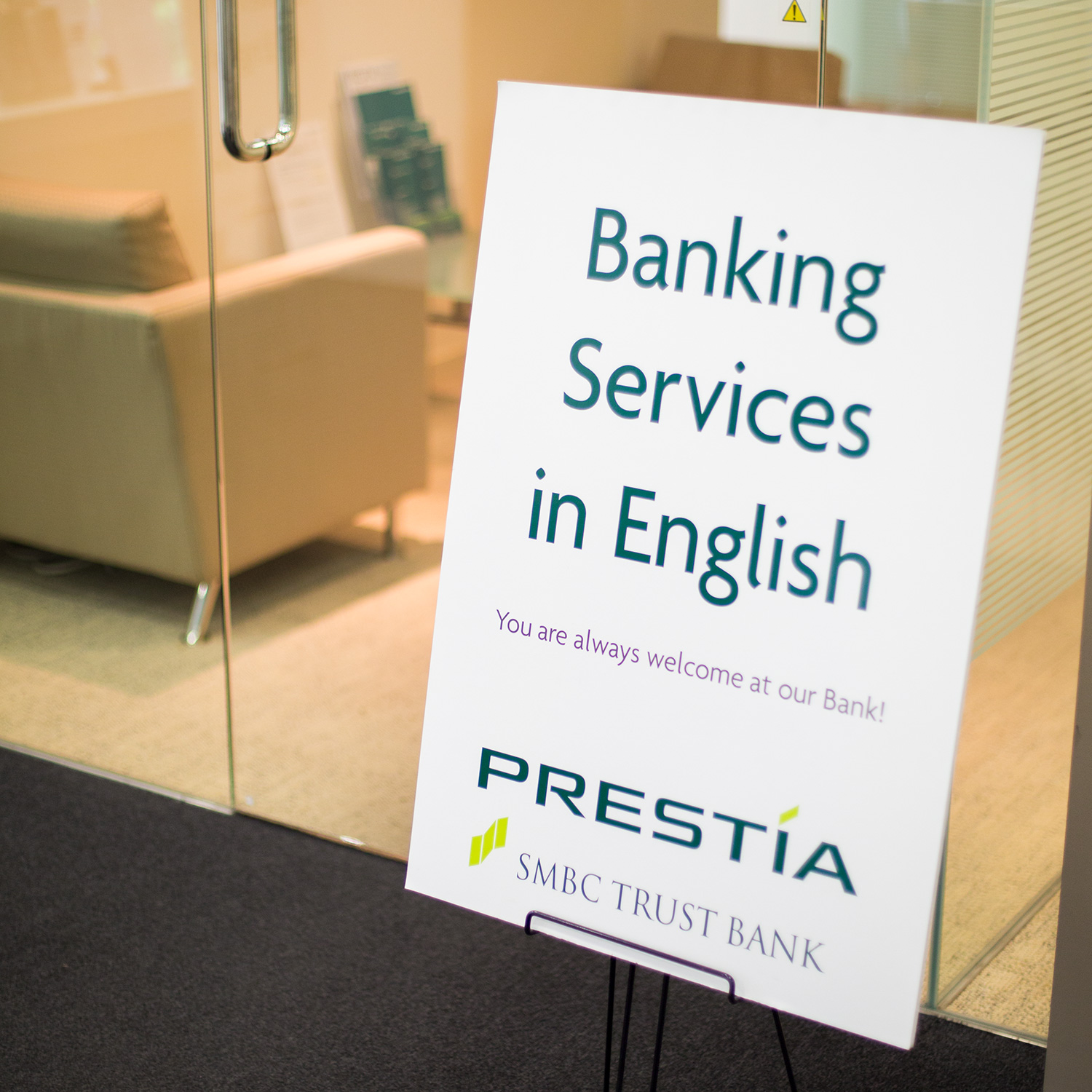 PRESTIA is ideal for such foreign residents as Smith, who wanted to own a home to live in while in Japan and keep as part of her investment portfolio after returning to her home country.
"I liked that I could get the loan without permanent resident status," Smith said, adding that interest rates were favorable at the time of the purchase, which also encouraged her to buy the condo.
A couple with a child who borrowed ¥60 million for a condominium said purchasing a home had never been an option until his colleague told him he could apply for a housing loan.
In another case, a family borrowed ¥130 million for land and the construction of a house. They received approvals under equal conditions from PRESTIA and another bank, and chose to borrow from PRESTIA. The deciding factor was the English service.
"Another Japanese bank gave me the same loan conditions, but all the procedures were conducted in Japanese and I had to rely on my wife's interpretation," he said, explaining why he chose PRESTIA in the end.
Also in another case, an expat who takes frequent business trips wants to purchase foreign currencies whenever convenient. He visited a Global Branch and learned that PRESTIA has a 24-hour call center and online services available 24 hours a day.
"I'm interested in PRESTIA's service that lets me do foreign exchange on my phone and online, and even transfer money wherever I am," he said.
Akasaka and Hiroo are the areas where many non-Japanese business executives work and live, and are home to many embassies. PRESTIA aims to establish banking service hubs for foreign residents in these two areas and expand further in the future to be the leading name in the market.