Exciting summer event offers cool respite
A summer oasis awaits in Tokyo's premium entertainment district of Roppongi. Presented by Tokyo Midtown, the Midtown Loves Summer 2019 event allows guests to escape the heat and experience a fresh take on Japan's summer activities in the relaxing Midtown Garden area.
Through Aug. 25, visitors can enjoy a vibrant display of light and color at the Suntory — "Mizu To Ikiru" Digital Art Garden. The adjacent Tatami Terrace area provides a refreshing retreat to enjoy with friends and family, and the beautiful Ashimizu area lets visitors dip their feet in the creek that winds through Midtown Garden. For food and beverages, guests can stop by the ROKU Midpark Lounge, which offers fine dining and superb cocktails in a calm outdoor space.
Dazzling lights and colors
The centerpiece of the Midtown Loves Summer event is the Suntory — "Mizu To Ikiru" Digital Art Garden. Enclosed by a veranda resembling those found in traditional Japanese houses, the space takes inspiration from traditional Japanese rock gardens.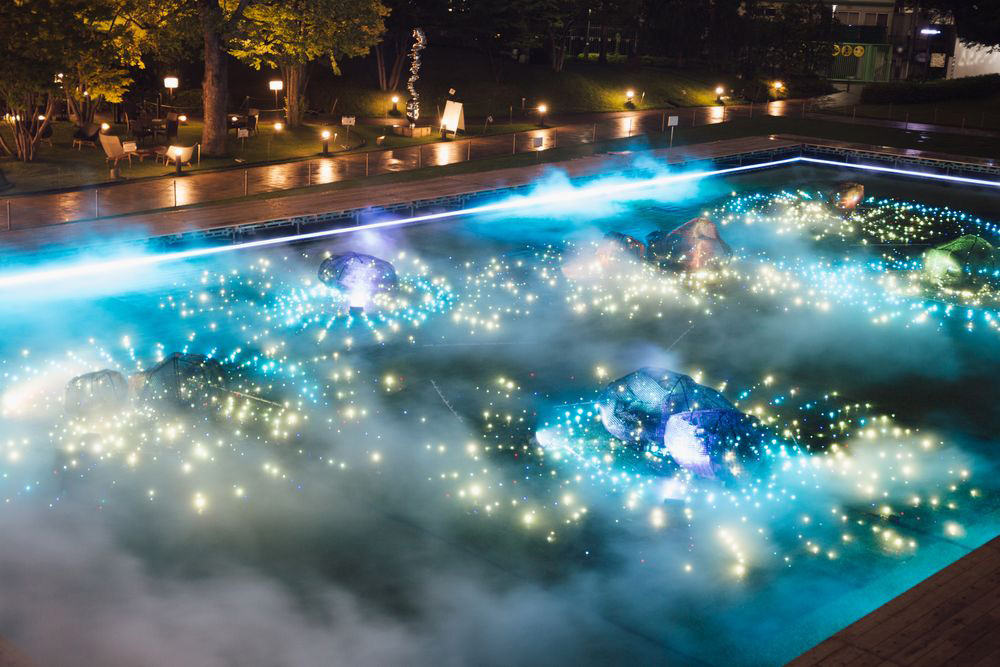 Shrouded in mist from 3 p.m., the garden and its surrounding deck is the perfect setting to sit down and read while enjoying the pleasant summer breeze. From 6 to 11 p.m., the garden is illuminated with vibrant lights, presenting a brilliant display of color that conjures up images of fireworks and raked gravel waves, and visitors are free to enjoy this magnificent show with cocktails and other beverages. The free garden is open to the public.
Soothing tatami retreat
Open free to the public from 5 to 10 p.m., the Tatami Terrace features charming seating areas, with designs inspired by the aesthetics of tatami mats and adorned with warm ambient lighting.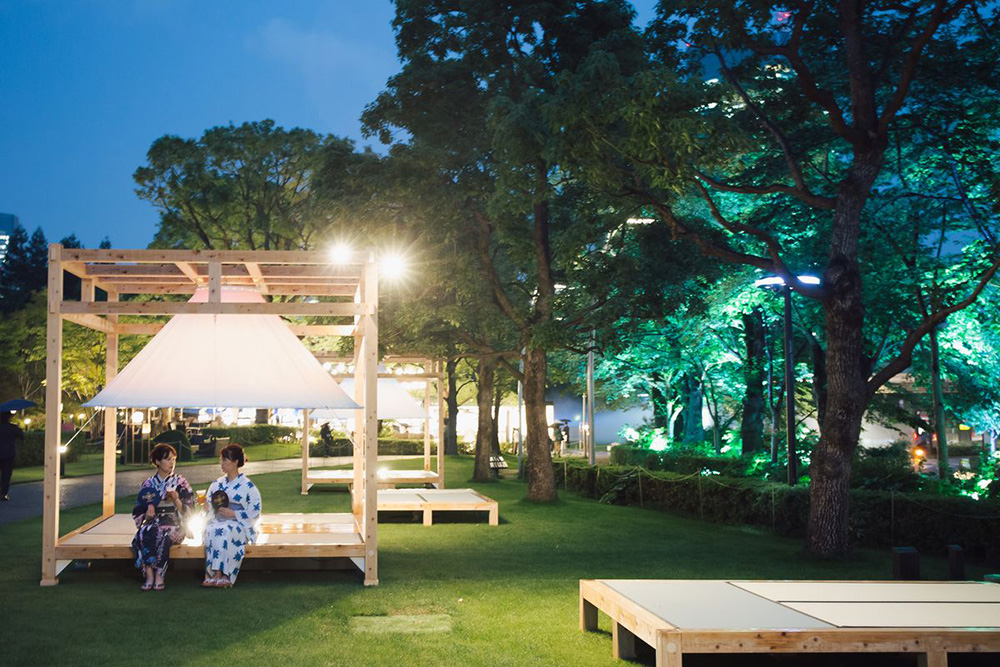 This year marks the debut of this tatami retreat, and its concept is based on Japanese hermitages. The roofs of these seating areas feature colorful gradients inspired by the sky's morning and evening glows, and guests are invited to shift their attention upward for beautiful views of the sky that can be seen through the ceiling. The area is perfect for enjoying the season together with friends and family.
Ashimizu at the beautiful creek
Winding through the Midtown Garden is a creek with gorgeous, vibrant fixtures and atmospheric lighting where visitors can sit and relax while soaking their feet in the pleasant cool water. This activity is called ashimizu, and its name derives from the Japanese words for "feet," ashi and "water," mizu.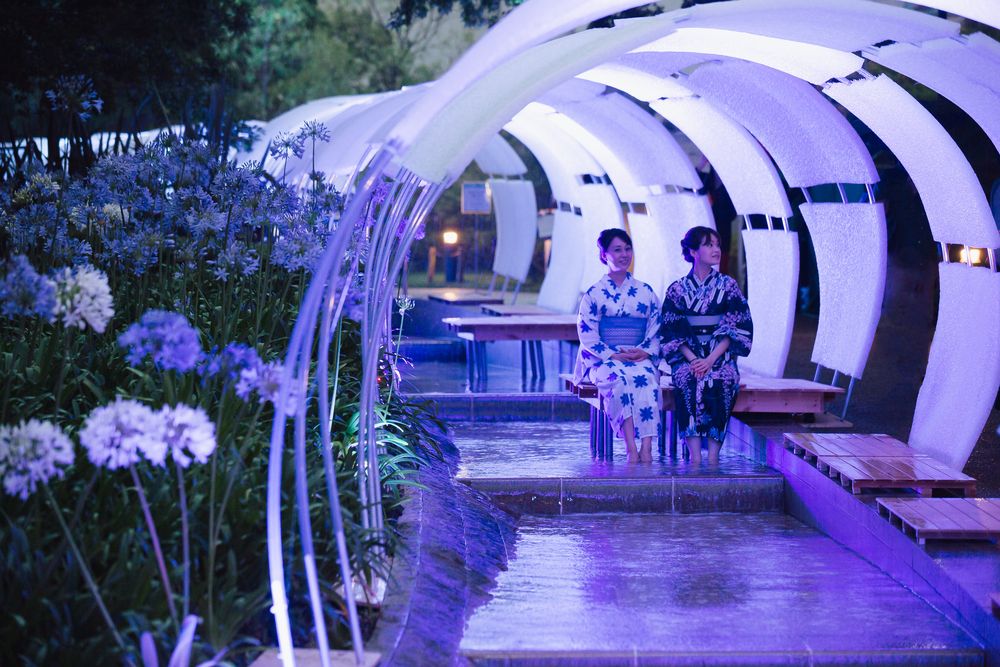 Celebrating its 10th year this summer, Ashimizu features newly designed fixtures that provide shade and create the image of sunlight filtering through trees. Guests can relax while avoiding the sun in the afternoon and marvel at the magical ambient lighting that fills the space in the evening. Ashimizu features seats reminiscent of riverbeds, a common motif of summer in Kyoto, providing a different way to enjoy the season in Tokyo.
The Ashimizu area is open from 2 to 8 p.m. and is free of charge. It is closed on Tuesdays and during rainfall.
Exquisite cocktails and dining
This year marks the 11th iteration of the immensely popular Midpark Lounge event. An outdoor lounge with soothing greenery, the Midpark Lounge features carefully crafted cocktails and sensational dining that can be enjoyed at the lounge's cozy seats and tables, arranged so guests can bask in the breeze.
This year, Tokyo Midtown is collaborating with ROKU, a Japanese craft gin, to present the lounge's most recent reinvention: ROKU Midpark Lounge. ROKU gin is prepared with six distinctive seasonal Japanese botanicals — sakura (cherry blossom) flowers, sakura leaves, sencha (non-powder tea), gyokuro green tea, sansho Japanese pepper and yuzu citrus peel — each harvested at the peak of their respective seasons to extract optimal flavors and aromas. As part of its collaboration with ROKU, the lounge is serving a refreshing selection of cocktails prepared with the gin.
The lounge's dining options consist of sublime dishes characterized by their unique take on traditional Japanese flavors. The ROKU Lounge Set is comprised of three types of obanzai — a type of Kyoto-style home cooking — featuring Kintoki sweet potatoes, assorted beans, chilled tomatoes tossed with a traditional Japanese irizake sauce and a plethora of deep fried skewers and loaded, open inarizushi.
The lounge, open from 5 to 10 p.m. on weekdays and 3 to 10 p.m. on weekends and public holidays, has something for everyone to experience Japan's traditional flavors in an elegant setting.