Tokai University
Tokyo/Kanagawa/Shizuoka/Kumamoto/Hokkaido
Private institution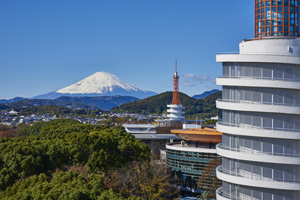 Tokai University
Address
4-1-1 Kitakaname, Hiratsuka-shi, Kanagawa, 259-1292
Contact
OASIS(Office of Admission Services for International Students)
TEL: 0463-58-1211
FAX: 0463-50-2479
E-mail: oasis@tsc.u-tokai.ac.jp
Total number of students
28,675 (691 from overseas) as of 2017
Fee
Admission fee: ¥200,000 - ¥1,000,000 for 2017
Tuition fee: ¥600,000 - ¥2,148,000 for 2017
Other: ¥409,200 - ¥3,325,200 for 2017
Facilities and support programs for international students
Scholarships
1. Honors Scholarship for International Students (100% tuition)
2. Scholarship for International Students (¥150,000/semester)
3. Work Study Scholarship (¥25,000/month)
* Students must work (part-time) at the university for a certain number of hours.
Supplemental Programs for international students
Supplemental Programs are offered for international students where they can obtain the knowledge necessary for studying at the university such as: Japanese society, how to write a resume/report/letter, and how to make a presentation/speech in Japanese. Students who compete each program can obtain credits.
Tutoring for international students
For the 1st and 2nd year international undergraduate students, academic tutoring (and general support) is provided by students enrolled in the master's course in the same field of study.
Academic support for international students
Teachers of the International Education Center and other teachers offer academic support for international students, including class registration and academic consultation.
Prayer rooms & meal
Separate prayer rooms for men and women are located on Shonan campus. All students are welcome to use these facilities at any time. Cafeterias at Shonan campus offer halal-compliant dishes. A full list of ingredients is provided for every dish served in the cafeteria, halal or otherwise.
Education for a Renewed Civilization
Tokai University is a private university established by Dr. Shigeyoshi Matsumae in 1942. "Tokai" of "Tokai University" refers to the sea to the east of Asia, namely the Pacific Ocean, and symbolizes the desire to foster a rich spirit and broad perspectives. Tokai University consists of eight campuses in Sapporo, Takanawa, Yoyogi, Shonan, Isehara, Shimizu, Kumamoto, and Aso, which are comprised of 19 schools made up of 75 departments, It has 31 courses in 17 graduate schools. The total student population is approximately 30,000. The founding spirit and objectives of Tokai University are to contribute to human society, to foster active, talented people and to arouse interest in our earth and a sense of responsibility for the future of mankind. Tokai University's educational guidelines ground these objectives by offering a sound and reliable way of thinking as a basis for living and cultivating the richness of humanity. The core of such education at Tokai University is the "Lecture on Modern Civilization." Since its establishment, Tokai University has prioritized this lecture, based on its belief that a university should not only provide knowledge and technology, but also be a place where the richness of humanity and creativity in each individual is cultivated. One recent initiative that we have been directing our energies toward is fostering of student-initiated projects to nurture our students' ability to apply the knowledge that they have acquired in the classroom to the betterment of society.
The projects that we have supported range from the creation of the world's-fastest solar car "Tokai Challenger," to volunteer activities that assist in recovery efforts in the aftermath of the Great East Japan Earthquake.
Tokai University maintains academic exchange agreements with 131 universities/organizations in 40 countries. A wide range of international exchange activities are being actively pursued, from those on the academic front involving students, researchers, joint-research projects, and the exchange of academic resources, to cultural and athletic exchanges. There are about 900 international students on campus. Tokai University has five offices abroad (Denmark, Vienna, Hawaii, South Korea and Thailand.)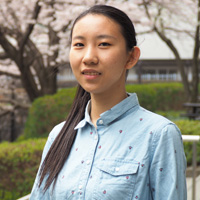 Qinglu Ii
School of Tourism 3rd Year
Q: Tell us the reasons you chose Tokai University.
A: Tokai University has a Japanese Language Course for International Students, and its support for international students is more robust than that of other universities. You can easily get information on tuition reductions and exemptions and scholarships for international students, and if there is anything you don't understand you can easily go to the International Education Center office and get advice. So you can lead your life as a student with peace of mind. There are lots of schools and departments on the Shonan Campus, therefore you can take classes outside your own specialty and gain a lot of knowledge. I study French and studied in France taking advantage of the university's study abroad program. It is attractive to me that I can study not only Japanese and English, but also study to become a potential employee who speaks many languages.
Q: Please tell us about the subject/classes you are taking now.
A: The School of Tourism in which I am enrolled involves in various fields and in it you can encounter a variety of knowledge. In the field of cultural tourism I am researching the movements of tourists at such events as festivals. In the service management field I am studying the management of travel companies, airline companies and the like. In the field of leisure and recreation, I am studying nature conservation in the ocean and the mountains, the structure of utilization methods, recreations and events, and in the field of regional design, I am researching urban planning. In the School of Tourism, we don't simply listen to lectures in the classroom, we also have many opportunities to go out into the field with professors and people from the community.

Departments and Faculties
School of Letters
Department of Civilization
Department of History, Course of Japanese History
Department of History, Course of Occidental History
Department of History, Course of Archaeology
Department of Japanese Literature
Department of English
Key features
1. Explores the fundamental question of what it is to be human from a variety of different angles such as civilization, history, language and literature, and contemporary society
2. Examines contemporary society in the context of the accumulated wisdom of humankind to identify knowledge that is useful and/or valuable
3. Practical program that explores knowledge through a combination of training, practicums and lectures
Web site: http://www.u-tokai.ac.jp/english/academics/undergraduate/letters.html


School of Cultural and Social Studies
Department of Asian Studies
Department of European and American Studies
Department of Nordic Studies
Department of Creative Writing
Department of Media Studies
Department of Psychological and Sociological Studies

School of Political Science and Economics
Department of Political Science
Department of Economics
Department of Business Administration
Key features
1. Classroom study complemented by real-world placements within industry, local government and NPOs
2. Comprehensive career support and guidance including seminars and presentations tailored to year level
3. Notebook computer provided for duration of four-year course to encourage development of IT skills and computer literacy
Web site: http://www.u-tokai.ac.jp/english/academics/undergraduate/political_science_and_economics.html


School of Law
Department of Law
Key features
1.Choose from an expansive range of subjects to design a curriculum to suit your interests and aspirations
2.Coordinated learning support programs in first year, such as Planning Your Career in Law
3.Wide range of specialized subjects designed to prepare students for a variety of careers, from practicing law to working in private industry
Web site: http://www.u-tokai.ac.jp/english/academics/undergraduate/law.html


School of Humanities and Culture
Department of Human Development, Course of Environment and Resources
Department of Human Development, Course of Human Welfare Environment
Department of Arts, course of Music
Department of Arts, course of Fine Arts
Department of Arts, course of Design
Department of International Studies
Key features
1. Cultivating a broad-minded outlook and comprehensive judgment skills in the three distinct fields of the environment, the arts and international society
2. Exploring the correlations between humans and human society and specialized fields, and developing "human power" useful in modern society
3. Excellent support for personal development initiatives such as helping students obtain qualifications and providing SPI courses
Web site: http://www.u-tokai.ac.jp/english/academics/undergraduate/humanities_and_culture.html


School of Physical Education
Department of Physical Education
Department of Competitive Sports
Department of Judo and Kendo
Department of Physical Recreation
Department of Sport and Leisure Management
Key features
1. Developing humans capable of displaying leadership in all areas, including education, research and society
2. Excellent array of world class level sporting equipment and facilities, producing top athletes on the world stage
3. Wide-ranging study of physical education and sport complemented by overseas exercises designed to inculcate a cosmopolitan outlook
Web site: http://www.u-tokai.ac.jp/english/academics/undergraduate/physical_education.html


School of Health Studies
Department of Health Management
Study Focus
A multi faceted health study built on specialized knowledge and skills in food and nutrition, physical activities, mental health, and community welfare. Our aim is to develop talented people for a wide range of fields.
Web site: http://www.u-tokai.ac.jp/new2018/health.html


School of Science
Department of Mathematics
Department of Mathematical Sciences
Department of Physics
Department of Chemistry
Key features
1. Flexible curriculum designed to encourage efficient comprehension of the fundamentals of the natural sciences in a range of areas
2. Strong emphasis on experiments and practical subjects to promote flexible and innovative thinking
3. The School of Science has basic education and research rooms for pursuing research and applying cutting-edge technology in teaching settings
Web site: http://www.u-tokai.ac.jp/english/academics/undergraduate/science.html


School of Information Science and Technology
Department of Human and Information Science
Department of Applied Computer Engineering
Key features
1. Training IT engineers with a strong sense of humanity and a broad-minded outlook, based on "humans" as the keyword
2. Curriculum includes extensive testing and exercises designed to develop useful applied skills for society
3. Choice of dedicated subjects geared towards external qualifications, to translate university studies into a career path
Web site: http://www.u-tokai.ac.jp/english/academics/undergraduate/information_science_and_technology.html


School of Engineering
Department of Applied Biochemistry
Department of Applied Chemistry
Department of Optical and Imaging Science and Technology
Department of Nuclear Engineering
Department of Electrical and Electronic Engineering
Department of Materials Science
Department of Architecture and Building Engineering
Department of Civil Engineering
Department of Precision Engineering
Department of Mechanical Engineering
Department of Prime Mover Engineering
Department of Aeronautics and Astronautics, course of Aerospace
Department of Aeronautics and Astronautics, course of Aviation
Department of Biomedical Engineering
Key features
1. Department structure covers the full spectrum of engineering fields and all aspects of manufacturing and production
2. Opportunities to study subjects from other departments and cultivate a perspective for applying specialized knowledge to people and society
3. Acquiring specialized knowledge and skills that will be useful in actual society, being aware of the link to society
Web site: http://www.u-tokai.ac.jp/english/academics/undergraduate/engineering.html


School of Tourism
Department of Tourism
Key features
1. Comprehensive curriculum covering the four main fields of tourism, such as Service Management
2. Acquire key skills and competencies for careers in the tourism sector and help shape the future of tourism
3. Develop real-world English skills and study a second language (choice of six languages)
Web site: http://www.u-tokai.ac.jp/english/academics/undergraduate/tourism.html


School of Information and Telecommunication Engineering
Department of Information Media Technology
Department of Embedded Technology
Department of Management Systems Engineering
Department of Communication and Network Engineering
Producing software development engineers immediately useful for the demands of the industry sector.
Web site: http://www.u-tokai.ac.jp/english/academics/undergraduate/information_and_telecommunication_engineering.html


School of Marine Science and Technology
Department of Maritime Civilizations
Department of Environmental and Societal Affairs
Department of Marine and Earth Science
Department of Fisheries, course of Applied Biological Science
Department of Fisheries, course of Food Science
Department of Marine Biology
Department of Navigation and Ocean Engineering, course of Navigation
Department of Navigation and Ocean Engineering, course of Ocean Engineering
Key features
1. Learn about the importance of nature from the oceans, cultivate a sense of ethics and obligation, and develop the ability to lead society
2. Curriculum combines humanities and science subjects, providing knowledge and skills in both areas as the basis for further studies in specialized fields
3. Practical components such as exercises at sea on Tokai University's dedicated marine research and training ship
Web site: http://www.u-tokai.ac.jp/english/academics/undergraduate/marine_science_and_technology.html


School of Medicine
Faculty of Medicine
Faculty of Nursing
Key features
1. Master knowledge that is produced in an advanced medical field
2. Develop well-rounded medical practitioners
3. Nurture the development of human personnel who can succeed in advanced medical teams
Web site: http://www.u-tokai.ac.jp/english/academics/undergraduate/medicine.html
Web site: http://www.u-tokai.ac.jp/new2018/nurse.html


School of Business Administration
Department of Business Administration
Department of Tourism Management
Key features
1. Producing leaders in society, such as those capable of launching local companies and new businesses taking advantage of the location in Kyushu
2. Curriculum includes many work experience opportunities including internships and in-house training programs
3. Learn languages such as English, Korean and Chinese required in the global community
Web site: http://www.u-tokai.ac.jp/english/academics/undergraduate/business_administration.html


School of Industrial and Welfare Engineering
Department of Electrical Engineering and Computer Science
Department of Medical Care and Welfare Engineering
Key features
1. Study the social infrastructure that underpins engineering, namely, society, information and industry, from the basics to the cutting edge
2. The Department of Electrical Engineering and Computer Science produces people who manage next-generation social infrastructure like "green energy"
3. The Department of Medical Care and Welfare Engineering produces people who help to uphold the health care industry and who are aiming for qualifications as clinical engineers
Web site: http://www.u-tokai.ac.jp/english/academics/undergraduate/industrial_and_welfare_engineering.html


School of Agriculture
Department of Plant Science
Department of Animal Science
Department of Bioscience
Key features
1. Three departments teaching theory and technique for creating a genuinely better life for people
2. Pursuing safe and secure food with initiatives to tackle global food issues that transcend fields
3. Study the full range of processes on campus, from production to processing, including crop farms, livestock farms and primary produce processors
Web site: http://www.u-tokai.ac.jp/english/academics/undergraduate/agriculture.html


School of International Cultural Relations
Department of Community Development
Department of International Communications
Department of Design and Culture
Key features
1. Strong emphasis on providing real-world learning opportunities through fieldwork activities in Japan and overseas.
2. Develop personnel with skill sets needed in regional communities, using those communities as training sites.
3. Comprehensive support for obtaining qualifications in areas such as sports training, English and architecture.
Web site: http://www.u-tokai.ac.jp/english/academics/undergraduate/international_cultural_relations.html


School of Biological Sciences
Department of Biology
Department of Marine Biology and Sciences
Key features
1. Equipped with the latest research facilities and equipment to support high-level research into marine and terrestrial life forms.
2. Substantial fieldwork component in locations throughout Japan, from the vast expanses of Hokkaido in the north to the tiny island of Iriomotejima in southern Okinawa.
3. Limited to small group sizes for effective learning.
Web site: http://www.u-tokai.ac.jp/english/academics/undergraduate/biological_sciences.html