Ryutsu Keizai University
Ibaraki
Private institution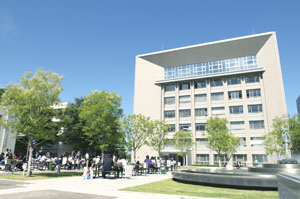 University Outline
Information on Entrance Exams
Graduate School
Address
3-2-1 Shin-Matsudo, Matsudo-shi, Chiba,Japan 270-8555
Contact
Admissions Center
TEL: 0120-297-141
FAX: 0297-64-9060
E-mail: ees@rku.ac.jp
Total number of students
5,300 (381 from overseas) as of 2017
Fee
Admission fee: ¥303,400 for 2017 (*This amount is in case of tuition assistance applied.)
Tuition fee: ¥541,100 for 2017
Other: ¥242,600 - ¥393,060 for 2017
Facilities and support programs for international students
Tuition Exemption Program for International Students
This program subsidizes the 30 percent of annual tuition fee for privately financed international students who enrolled in our university but having difficulties in attending school for financial reasons.
Scholarship Program for International Students
This program provides scholarship (30,000 yen/month) after screening for privately financed international students who enrolled in our university, excel both academically and personally, but have difficulty attending school for financial reasons.
Enriching and Fulfilling Japanese Lessons
We provide intensive, small-sized Japanese classes in accordance with the individual student's level that help students improve their Japanese ability to the university level.
Focused Employment Supports
We provide extemsive employment guidance for international students to support their job search.
International Exchange Centre
Our experienced staff supports international students. You can consult with them on studies, life issues and other issues.
Learning from "professionals" and "onsite experiences". Ryutsu Keizai University is directly linked to business.
At our university, you can study the services and products of leading Japanese companies. Our university was founded in 1965, with support from Nippon Express, a company with business activities across the world, and the biggest comprehensive logistics company in Japan. Therefore, we focus on practical learning, providing the following: practical lessons directly learning from presidents and business entrepreneurs; visits to companies; and small-sized seminars. Our aim is to cultivate human resources who are able to work competently immediately after graduation. Currently, international students from 11 nations are enrolled at our university, and approximately 2,000 graduates are playing active roles in various areas around the world.
The Characteristics of Ryutsu Keizai University
Practical Studies and Practice-Oriented Education
Ryutsu Keizai University was founded by Nippon Express Co., Therefore we provide you many opportunities to learn from actual society and onsite business. Our human resources development program is certified by the Ministry of Economy, Trade and Industry (METI), and implemented with support from industry and government. These practical experiences will inspire and stimulate an interest and curiosity in learning.
Campuses in Convenient Locations Close to Both Central Tokyo and Narita Airport
The nearest station to the Shin-matsudo Campus in Chiba is about 30 minutes from central Tokyo and about 60 minutes from Narita airport. The nearest station to the Ryugasaki Campus in Ibaraki is about 50 minutes from central Tokyo and about 80 minutes from Narita airport.
Reasonable Living Environment
Monthly rent is about 25,000 yen to 35,000 yen.
International "BBC" Club (Bridge Between Countries)
An international exchange club consists of about 70 members from 18 countries. Through events and camps, we learn foreign languages and cultural exchanges to enlarge the circle of friends globally.

To download a pamphlet for Ryutsu Keizai University, please click here.
To meet many people and acquire skills to make emotional connections with them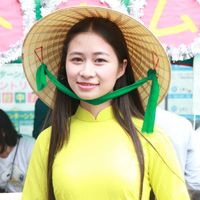 Ailinigeer Adili
Department of Tourism, Faculty of Sociology
Visiting my older sister, who was studying abroad in Japan, was the start of it all for me. The more I visited her with my mother I found myself enjoying Japan, and my desire to live in the country grew stronger. Although I had concerns about communicating in Japanese, I was able to make improvements, thanks to my friends at my part-time job and the experience of speaking with customers at work. Since I plan to work overseas in the future, I am making an effort to obtain qualifications related to the travel industry and studying English as well. My dream is to travel to various places, and make emotional connections with many people with the skills I've acquired.
Departments and Faculties