Ryutsu Keizai University
Chiba
Private institution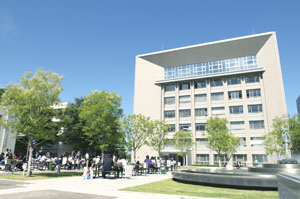 University Outline
Information on Entrance Exams
Graduate School
Address
3-2-1 Shin-Matsudo, Matsudo-shi, Chiba,Japan 270-8555
Contact
Admissions Center
TEL: 0120-297-141
FAX: 0297-64-9060
E-mail: ees@rku.ac.jp
Total number of students
5,278 (249 from overseas) as of 2015
Fee
Admission fee: 303,400 yen for 2016 (*This amount is in case of tuition assistance applied.)
Tuition fee: 541,100 yen for 2016
Other: 242,600 yen - 393,060 yen for 2016
Facilities and support programs for international students
Tuition Exemption Program for International Students
This program subsidizes the 30 percent of annual tuition fee for privately financed international students who enrolled in our university but having difficulties in attending school for financial reasons.
Scholarship Program for International Students
This program provides scholarship (30,000 yen/month) after screening for privately financed international students who enrolled in our university, excel both academically and personally, but have difficulty attending school for financial reasons.
Enriching and Fulfilling Japanese Lessons
We provide intensive, small-sized Japanese classes in accordance with the individual student's level that help students improve their Japanese ability to the university level.
Focused Employment Supports
We provide extemsive employment guidance for international students to support their job search.
International Exchange Centre
Our experienced staff supports international students. You can consult with them on studies, life issues and other issues.
Learning from "professionals" and "onsite experiences". Ryutsu Keizai University is directly linked to business.
At our university, you can study the services and products of leading Japanese companies. Our university was founded in 1965, with support from Nippon Express, a company with business activities across the world, and the biggest comprehensive logistics company in Japan. Therefore, we focus on practical learning, providing the following: practical lessons directly learning from presidents and business entrepreneurs; visits to companies; and small-sized seminars. Our aim is to cultivate human resources who are able to work competently immediately after graduation. Currently, international students from 12 nations are enrolled at our university, and approximately 2,000 graduates are playing active roles in various areas around the world.
The Characteristics of Ryutsu Keizai University
Practical Studies and Practice-Oriented Education
Ryutsu Keizai University was founded by Nippon Express Co., Therefore we provide you many opportunities to learn from actual society and onsite business. Our human resources development program is certified by the Ministry of Economy, Trade and Industry (METI), and implemented with support from industry and government. These practical experiences will inspire and stimulate an interest and curiosity in learning.
Campuses in Convenient Locations Close to Both Central Tokyo and Narita Airport
The nearest station to the Shin-matsudo Campus in Chiba is about 30 minutes from central Tokyo and about 60 minutes from Narita airport. The nearest station to the Ryugasaki Campus in Ibaraki is about 50 minutes from central Tokyo and about 80 minutes from Narita airport.
Reasonable Living Environment
Monthly rent is about 25,000 yen to 35,000 yen.
International "BBC" Club (Bridge Between Countries)
An international exchange club consists of about 70 members from 18 countries. Through events and camps, we learn foreign languages and cultural exchanges to enlarge the circle of friends globally.

With a memory of my friends' kindness, I will work for a travel agency after graduation.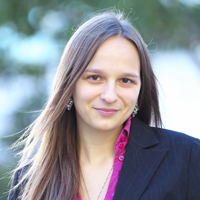 Dolgosheina Elizaveta
Dolgosheina Elizaveta, Department of Tourism, Faculty of Sociology
I came from Russia. At the very beginning, I could not speak Japanese and was anxious that I might not be able to make any friends.
But the friends I met at Ryutsu Keizai University accepted me and supported me a lot. Especially with a Vietnamese girl, I became a true best friend beyond nationality.
After graduation, I will work for a major Japanese travel agency. I will always keep in mind the "heart-to-heart interaction," which I learned at the department of tourism.
I think opening one's heart to different cultures and philosophies is the beginning of international understanding and that will bring about peace in the world. Therefore, I would like to travel around the world through my job, meet many people and make many true friends all over the world. My dream is growing bigger and bigger now.
Departments and Faculties
The Faculty of Economics
Department of Economics
Department of Business Administrations
We provide lessons directly taught by active presidents and entrepreneurs that help students to touch the real, latest business scenes beyond textbooks. Our aim is to cultivate creative, practical human resources who are capable of casting their ideas into shape.
Web site: http://www.rku.ac.jp/faculty/economics/


The Faculty of Sociology
Department of Tourism
Department of Sociology
The department of tourism is suitable for those who wish to work in the hotel and tourism industry. You can learn the future of international tourism business from our teachers with abundant practical experience such as managers of hotels and cabin attendants.
Web site: http://www.rku.ac.jp/faculty/sociology/


The Faculty of Distribution and Logistics Systems
Department of Distribution and Logistics Systems
You can learn the knowledge and skill of a comprehensive global distribution and logistics from production to consumption. Our curriculum is designed to pave the way toward business success, so this faculty is suitable for those interested in company management, trade, customs clearance and IT relations.
Web site: http://www.rku.ac.jp/faculty/distribution/


The Faculty of Law
Department of Business Law
You can learn "international law," "international business law," and the legal relationships in the context of Asian and European cultures. This faculty is best suited for those who wish to become a key person overseas or in overseas companies in your own country in the future.
Web site: http://www.rku.ac.jp/faculty/law/


The Faculty of Health & Sport Sciences
Department of Health & Sport Sciences
We examine sports not only from the simple aspect of "playing sports," but from various aspects of "sports management" and "health science." Our faculty has produced a rich variety of human resources such as sports trainers and professional athletes.
Web site: http://www.rku.ac.jp/faculty/sports/