Meiji University
Tokyo
Private institution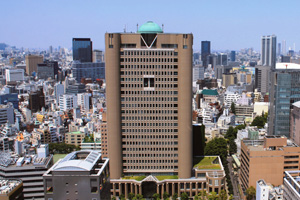 ALL ABOUT MEIJI
Click here to see 25 of Meiji's key attractions presented in numbers in 10 languages!


Tokyo DOKIDOKI Campus Life (Movie)
The latest video featuring three current international students of Meiji University and their exciting experiences in Tokyo!


Meiji University


Address
1-1 Kanda-Surugadai, Chiyoda-ku, Tokyo 101-8301
Total number of students
32,890 (1,254 from overseas) as of 2015
Fee
Admission fee: ¥200,000 for 2017
Tuition fee: ¥816,000 - ¥1,169,000 for 2017
Other: ¥227,000 - ¥416,500 for 2017
Facilities and support programs for international students
Scholarships for International Students
The International Student Office handles all scholarships targeting international students. Check the scholarship announcements on our website.
http://www.meiji.ac.jp/cip/english/prospective/financial.html
http://www.meiji.ac.jp/cip/student_support/funding/copy_of_scholarship.html
International Lounges
The International Lounge is open for international students, exchange students and students wishing to study abroad or make friends from other countries. Materials such as multilingual newspapers, magazines, books and study abroad and various pamphlets can be found here. It is also a place to relax and get to know other students.
Japanese Language Program for Beginners
Japanese Language Education Center offers a non-credit Japanese Language Program for international students who study in English (eg., students enrolled in the MIMS PhD program) and wish to learn survival Japanese for their daily life. http://www.meiji.ac.jp/cip/international/jlec/JLP_outline.html
Student Consultation Room
The Student Consultation Room is staffed with professors, clinical psychologists, psychiatrists, lawyers. They provide consultations to students about various issues they encounter in their student life, including school work, career paths, mental health, and human relationships. * Currently this service is only available in Japanese.
Shaping contemporary Japan with 136 years of tradition
Founded in 1881, Meiji University is one of Japan's premier educational institutions.
With the largest number of applicants among all of Japan's universities and colleges for the past three years, it is also one of Japan's most highly esteemed.
Located in the heart of Tokyo, it comprises 10 undergraduate schools, 12 graduate schools and four professional graduate schools, and aims to make significant contributions to the world.

To download a pamphlet for Meiji University, please click here.
Study about Quality Management in Japan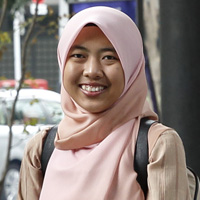 Nur Amalina Izzati binti Tajudin
Nur Amalina Izzati binti Tajudin, Department of Mechanical Engineering, School of Science and Technology
My major is measurement science and information at Meiji University's Department of mechanical engineering. I wanted to study about quality management in Japan and its history. In Malaysia, products from Japan are well known for their high levels of quality. That is what makes me interested to take this major in Japan.
Before I came to Japan, I attended a class during short semester that was taught by a lecturer from Meiji University in Malaysia. I learned a lot about Meiji University from him especially about research in the Department of Mechanical Engineering and that sparked my interest in Meiji University.
Since I am a transfer student from Malaysia, I started my study in Meiji from the 3rd year. At Meiji, teaching assistants are very helpful and always help me especially in learning the Japanese language as all my classes are in Japanese.
I wish to learn more about quality management in Japan and work in Japan's companies for a few years after completing my studies before going back to Malaysia.
Departments and Faculties

To download a pamphlet for Meiji University, please click here.