Doshisha University
Kyoto
Private institution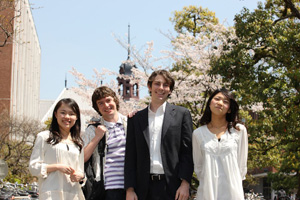 About the university
For prospective international students
For admissions
Address
Karasuma Higashi-iru, Imadegawa-dori, Kamigyo-ku, Kyoto 602-8580 JAPAN
Contact
Office of International Students, International Center
TEL: 075-251-3257 (+81-75-251-3257)
FAX: 075-251-3123 (+81-75-251-3123)
E-mail: ji-intad@mail.doshisha.ac.jp
Total number of students
29,459 (1,517 from overseas) as of 2016
Fee
Admission fee: 200,000 yen for 2017
Tuition fee: 828,000 - 1,155,000 yen for 2017
Other: 149,000 - 303,000 yen for 2017
Facilities and support programs for international students
Scholarships
Almost all international students receive from 20 percent to 100 percent reduced tuition scholarships. There are also scholarships offered by the Japanese government (Monbukagakusho: MEXT), Japan Student Services Organization (JASSO), local governments, and privateorganizations other than our own scholarships (The average monthly living cost in Kyoto is estimated at about ¥100,000 including rent.).
Housing
We introduce real estate agencies and offer dormitories operated by the university or other organizations.
<Comprehensive Renter's Insurance for International Students Studying at Doshisha University>
Doshisha University has established a system that the university serves as a guarantor for international students who cannot find one.
Japanese Language and Culture Subjects
In order to support international students to achieve significant results in their studies and research, we offer courses and classes to study Japanese language and culture in depth. In addition, a counseling service, "Office Hours," is offered by full-time staff to provide advice on Japanese language studies to international students.
Support from peers and tutors
We offer an International Peer Support Program to help international students adjust smoothly to student life in Japan. Doshisha peer supporters give advice on their studies and daily life as well as being their cross-cultural exchange partner. Meanwhile, the Tutor System for Study and Research Support for International Students is for helping graduate international students make rapid progress in their studies and research in their area of specialization.
Career support
To support students who pursue a career while in school, we offer information materials on employment and companies, vocational counseling, vocational guidance and seminars. Furthermore, we provide various courses for qualification tests and guidance for those who aim to obtain licenses or qualifications.
Education only is not sufficient to make men virtuous; neither intellectual nor moral philosophy is enough for it.
Spirit of Doshisha
Joseph Hardy Neesima, the founder of Doshisha University, disagreed with the rigid system of feudal society in Japan and left the country in search of freedom. After enjoying freedom to the fullest in the free society of America and returning to Japan, he established a highly liberal institution that was based on the Christian principles.
"Intellectual education" alone is not sufficient for personality development. Making a person be "a true man" is only possible when "education of soul" is also provided. This is Neesima's educational philosophy.
Neesima believed that "education of soul" would be offered most effectively if it is based on Christianity, especially Protestantism. The Chapel on Imadegawa Campus is truly a beautiful example of the Spirit of Doshisha.
He was a patriot, but not a narrow-minded one. He was truly an international-minded person. He was the first Japanese citizen to obtain an academic degree overseas. Doshisha University has been committed to international exchanges with overseas universities since its founding.
MESSAGE FROM THE PRESIDENT
Joseph Hardy Neesima was a person who acutely sensed the changing times during the turbulent period from the final years of the Tokugawa Shogunate to early Meiji, and acted according to his own judgment of what he should do without fear of the government. After returning from America, Neesima became determined to change Japan through "cultivation of people who use their abilities as conscience dictates" based on Christianity, and for that he planned to create an educational environment that encourages students' independent thinking and actions. The idea to change society through education, and the determination to establish a school pursuing "education of conscience" in particular, must have been considered revolutionary in Japan in the 1870s. Continuing Neesima's purpose, Doshisha University has been devoting its effort to education and research for fostering people who act according to their own judgment of what to do based on conscience, and people who tirelessly pursue their dream or high aspirations.
In practicing human education, Doshisha University puts emphasis on the linkage between education and research and on fostering creativity in individual students. At its basis is our founding spirit, "education of conscience," and adherence to our three educational philosophies. "Liberalism" is to value individuality, "Christian principles" are to respect and love others, and "Internationalism" is to see and understand the world with a broad perspective. Based on these philosophies, we conduct education and research in a liberal environment that respects individuality, producing graduates who play an active role in various fields of society. This is Doshisha University's identity that has been maintained throughout its history.
Takashi Matsuoka
President
Doshisha University

A personal Liberal Arts education in the cultural capital of Japan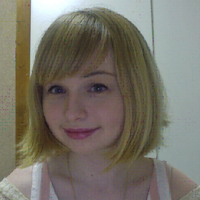 Grace Henahan
Grace Henahan, The Institute for the Liberal Arts, Japanese Society and Global Culture Cluster
How do you like studying in Japan?
When I was in high school I came to Japan on vacation and fell in love with the country. After I graduated, I wanted to come and live in Japan to attend college. Before coming here I was worried about how to cope with living alone in a foreign country, but Doshisha provided me with support on all the issues that I had when I got here, and even helped me find an apartment. Now that I'm here I've made many good friends through my department, dorm, and club activities. During the week I study the subjects that interest me alongside my close friends, and on weekends I explore the city with my clubs.
How do you like living in Kyoto?
Kyoto is a fantastic setting for being a college student. It is a big city full of lively Kansai spirit. The city is filled with temples, shrines, and other Japanese cultural heritage sites that are beautiful and fascinating to visit. With all the cultural riches available in Kyoto, there's always somewhere to go, and admission fees are either very low or free, making access available even to college students. Kyoto has it's own urban areas, and also places of a quiet nature to find relief from busy urban life. Located a short train's distance away from Osaka and Kobe, there are always places to go and explore.
What are your favorite parts of Doshisha University?
My classes at the Institute for the Liberal Arts all emphasize small class sizes and seminar-style teaching in English. After doing readings on a topic, the teacher guides a discussion in class between the students regarding the issues at hand. Classes are always interesting as we learn new things not just from the text but from our fellow classmates' experience. Small numbers of students in the classes also provides a good way to make friends. I also enjoy taking classes in other departments. The Doshisha University system gives me flexibility to enroll in classes to improve my Japanese, and also in classes taught in Japanese with the rest of the Japanese students. In this way I can choose to study what interests me from many different departments in Doshisha University.
Departments and Faculties