"The Power of the Family" First Prize Essay Entry
The Power of the Family is Community
Translation by Urban Connections.
Aged 71, Keiko is an actual woman and resident of Minato Ward in Tokyo.
Minato Ward, where Keiko has been living for the past 18 years (since 1994) is a famously international city. To say the least, it is home to 81 various embassies (as of June 2012), and according to data from recent years, roughly 10% of the ward's 200,000 residents are foreigners.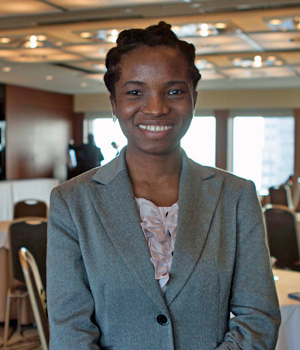 Through the NPO which Keiko personally established in 2007, she is active in helping to support East Asian foreign students, in childcare support and in community development.
Called "mom" by her foreign students, Keiko's guardianship is far-reaching, encompassing help not only with daily life, but also in areas such as finding accommodation and choosing a school, and she even conducts follow-ups with students post-graduation. However, coming to terms with the aftermath of the Great East Japan Earthquake of March 11, 2011, was a devastating experience. Thinking of the students who returned to their countries without confirming their safety, and her inability to trace the whereabouts of the young people whose life plans were thrown off course right before graduation, is something which pains her heart to this day.
Yet, there is also something she looks back on with happiness: her meeting with a Ghanaian student named Afia Amponsah.
This spirited and strong woman caught Keiko's attention in an osteopathic clinic in the town where they both live.
In the waiting room of the clinic, an infant was toddling with unsure steps. Full of curiosity, the little girl was engrossed in her exploration of the room. A patient in the room called out to the child, "What's your name?" At the question, the little girl gazed back with an utterly adorable expression. "It's Esi!" with perfect timing, the staff member passing by the child's side answered jovially on her behalf.
All at once the atmosphere in the room, packed with patients awaiting treatment, softened. Keiko was drawn to the little child: rather than crying and trailing after her mother, who was in the middle of receiving treatment, she was absorbed in playing alone. She remembers how moved she was by the warmth of the people around who were watching over the child.
After that, Keiko kept crossing paths with the mother and daughter at the bus stop and in town, and their friendship grew closer.
In 2006, at the age of 20, Afia (now 26) dropped out of university in her own country and came to Japan. In her first year, she studied Japanese and specialized subjects at Tokyo University of Foreign Studies, continuing on to Chiba University School of Nursing in the following year. In 2011, she passed the Japan National Nursing Examination and the National Public Health Nurse Examination. A nursing job is waiting for her beginning April next year (2013) at the National Center for Global Health and Medicine.
Although Afia must have been under extreme pressure with her studies alone, during this time she also passed through the milestones of marriage, childbirth, and divorce; Afia's strength of character is really something to take your hat off to.
As a mother to Esi (2), she also gets full marks.
Keiko has great affection for Afia, who is always striving to meet her goals.
For the next five or six years from next spring, Afia will polish her skills and increase her knowledge, and until the day she returns to her mother country to put it all to use, Keiko plans to support her as her Japanese mother.
In the heart of Tokyo, Minato Ward is very much downtown: as a result of the promotion of urban development along the 10-year ward guidelines, the population has shot up, and along with this, the number of children has also rapidly increased. Amid the change toward the nuclear family lifestyle, childcare support has become a matter of urgency, and the ward has been tackling this theme for the last 7 or 8 years.
If looking after foreign students is a kind of people's diplomacy, then childcare support and community development is a form of community service. It was from that time on that Keiko turned her attention to community service as part of her NPO activities.
Even women who have gathered a lot of experience and earned a position in society in their own right may find themselves trapped in a domestic role after getting married and having children. Their desire to return to a self-enriching life after this is also important. And even for those who are settled as full time housewives, the daily grind of being a parent and bringing up children can be tough.
Isn't it sad to have to go through day after day giving up on fashion or hobbies of your own? This just amplifies the fatigue of childcare. Child abuse is one possible outcome of such a situation. At times like these, Keiko is there with open arms to help the guardians with childcare assistance.
For example, let's introduce the case of a typical household. Mom is a nurse at a major hospital. Dad is employed in a managerial post. The couple have a son who will soon turn four and a daughter in her second year of elementary school. If both parents have central roles in their workplace, they cannot hope to return home at a regular time. When faced with worries like how to pick the kids up after school, make them dinner, help them with their homework, and be there for their extra-curricular activities, Keiko and supporters like her take turns to tackle the logistics. They carry out a kind of family role in cooperation with the family themselves. I think Minato ward, which is actively pursuing ventures of this kind, is a fortunate community indeed.
This evening, some children were walking to their cram school along the second floor walkway of a huge 43 story apartment block.
"It's [ ]'s grandma!" they shouted out with cheerful voices, waving. Keiko, who was walking below, answered their yell with gusto, waving both hands.
Keiko takes care of a lot of different kids. Sometimes she is openly asked, "Hey, whose grandma are you anyway?"
Her answer is, "I'm everybody's grandma!" She gathers the little kids into a hug, and they burst out with an excited squeal.
In reality, this essay was written by me, Keiko Iwata, as a memoir of my personal experiences.
In my opinion, the lack of blood ties is unimportant. The community is one big family, and supporting each other is the starting point of "the power of the family."
Just now, I received a request from an official at the Childcare Support Office to support a two-year-old child from April 2013. The request came from Afia Amponsah. I was the one who the support request fell to, despite the fact that Afia did not nominate me specifically. I realize that the two of us have a fateful connection.
For my part, although I admit that my age doesn't make things any easier, I have more than enough energy to continue to be "everybody's grandma."