Getting a job in Japan is a major concern for foreign students, who want to stay here after graduating.
While the number of foreign students intending to stay and work in Japan after graduation increases, Japanese companies are starting to pay more attention to foreign students.
According to the Immigration Bureau of the Ministry of Justice, the number of foreign students employed at Japanese companies in 2007, was 10,262, an increase of 24.1 percent over the previous year.
This column will introduce Japan's leading companies and companies that actively employ foreigners, and their thoughts about foreign student employment.
Vol 4: Ricoh Co.
Ricoh is Japan's leading office automation (OA) product manufacturer, founded in 1936. Ricoh started by producing photo-sensitive paper, then expanded to camera manufacturing, then shifted to OA equipment. As equipment transformed from stand-alone to networked, Ricoh became an office system solution provider to offer a comfortable work environment.
Since 1995, Ricoh has embarked on a strategy to increase its global distribution network. The Ricoh Group now comprises NRG, Lanier. Infotec, Infoprint and Ikon. The Ricoh Group currently enjoys the No.1 market share in Europe and the U.S.
Iwata: What is your company's stance regarding the employment of foreigners?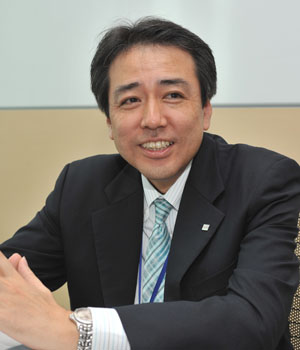 Tsuji: Now our overseas sales figures exceed half of our overall sales and our overseas subsidiaries, including M&A (mergers and acquisitions), are increasing. Out of around 110,000 employees in our group worldwide, 60 percent of them are from overseas.
For those working within Japan, even if they don't go abroad to work as expatriates, the cases where they need to work together, to collaborate with overseas staff outside Japan is increasing. Of course, Japanese is the base language for in-house documents, but increasingly the same documents are being created in English or other languages.
We create in-house documents only in Japanese at the moment, but I am starting to see some documents written in English recently. I think our company will one day go in the same direction as Uniqlo, which has announced its intention to make its corporate language English.
With such trends, we feel the need to nurture existing employees who can deal with global cases. And to accelerate the globalization within the company, we feel the need to employ people who would stimulate that, whether it is a new graduate or a person in mid-career.
Iwata: Do you actively seek foreign workers?
Tsuji: We actively seek both Japanese who have lived abroad or foreigners living or studying in Japan. We are still in the process of globalizing our human resources, but I would say we are looking for people who have a "Do as the Romans do" mind-set, not those who think "In my country, we..." while in a foreign country. What I think is important is having the attitude of valuing and respecting cultures different from their own. I think those who have lived abroad for several years are likely to attain that kind of mind-set through experience. As long as they have that kind of experience and attitude, it will be a strong point.
Iwata: How many foreign workers are working and hired each year at your company?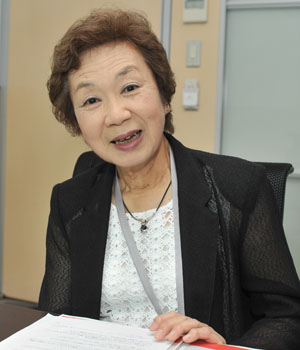 Tsuji: At present, including contract workers from abroad and working in our offices in Japan, there are 86 people, which is around 0.7 percent of all our employees in Japan. The number of such employees recruited through the regular process each year -- new graduates or mid-career recruitment -- has only just started to reach double figures. Even with those Japanese coming back from abroad, the number just exceeds 20. We want to gradually increase this number to employ more people who have different or cross-cultural backgrounds.
Iwata: Could you give us specific examples of foreign employees working in your company?
Tsuji: They are mostly in engineering and R&D. Fifty-four out of the 86 are working in engineering and research, nine are working in sales, 17 in professional sports, and the remainder are working as HQ staff, such as in personnel, legal and intellectual property.
For example, in my department, there is a Chinese graduate who has just been assigned to a position this July. She will engage in staff education. So to start with, we are letting her learn what our company is currently doing for staff education. We are hoping in the future she will contribute to planning education programs to enhance the global workforce.
Career Paths Archive