Getting a job in Japan is a major concern for foreign students, who want to stay here after graduating.
While the number of foreign students intending to stay and work in Japan after graduation increases, Japanese companies are starting to pay more attention to foreign students.
According to the Immigration Bureau of the Ministry of Justice, the number of foreign students employed at Japanese companies in 2007, was 10,262, an increase of 24.1 percent over the previous year.
This column will introduce Japan's leading companies and companies that actively employ foreigners, and their thoughts about foreign student employment.
Vol 3: Hitachi High-Technologies Corp.
Hitachi High-Technologies is a company specializing in the field of cutting-edge technologies. Based upon a corporate vision of "becoming a global leader in high-tech solutions," the company provides solutions in five sectors: electronic device systems; fine technology systems; sciences and medical systems; industrial and IT systems; and advanced industrial products.
The company was formed in 2001 with the integration of two of Hitachi's manufacturing groups — Instruments Group, which had an established reputation in measuring technologies, and the Semiconductor Manufacturing Equipments Group and a trading company formerly known as Nissei Sangyo Co., Ltd. The company also merged with other group companies in related business fields and a subsidiary of Sanyo it acquired later.
Iwata: "Becoming a global leader in high-tech solutions" is the company vision. Do you actively seek to employ more foreign workers to achieve that vision?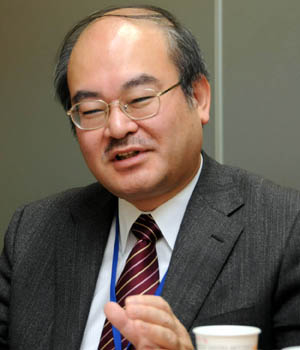 Awata: There is a shared awareness within the company that to succeed in overseas markets we need international human resources who can help us. We want to have a diverse workforce with workers who think differently. Our business will be limited if conducted only according to the views of Japanese people, so to make the right decisions for our company, we need various viewpoints.
Mishima: These days, we are dealing with more and more clients from Asia, such as South Korea, Singapore, China, Taiwan and India. We strongly feel the need to employ more people, Japanese or foreigners, with the language ability of those countries.
Iwata: What is the process by which you employ foreign workers?
Awata: For those who just graduated from a university in Japan, the process is the same as for other Japanese students. We use the same evaluation standards and there are no differences based on nationality. When we have a job vacancy we also occasionally employ midcareer foreign workers, as long as they meet our needs. Aside from recruitment in Japan, we of course recruit local staff at our overseas offices as well.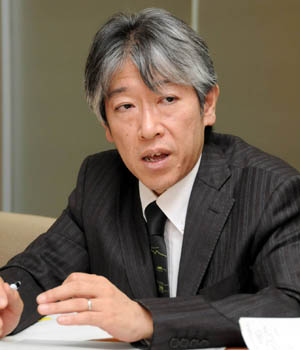 Iwata: How many foreign workers are working in your company?
Awata: Within Japan, out of 4,400 workers, we currently have 14 foreign workers at our headquarters and 25 in factories. I think this number is still quite small. To expand our business overseas, the issue of how we can increase this workforce is a problem we are facing.
Iwata: Are you having difficulties employing foreign workers?
Awata: One thing is that we haven't established a channel to reach or appeal to prospective applicants. As we are engaged in business-to-business activities, especially in specialized fields, our company is not known to general consumers, including students.
Mishima: So from the viewpoint of recruiting, we need to expose ourselves to the general public a bit more to be recognized as a top-rate company. However, in truth, considering the cost-performance balance, it is difficult. Also, as our company has various dimensions, it may be difficult to get the general public to understand what our company is actually doing.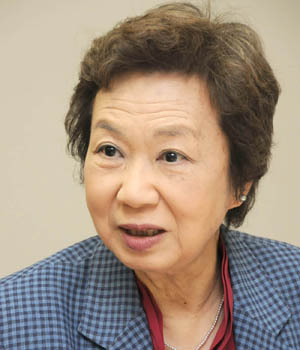 Awata: For those interested in working in Japanese companies, I personally think we should provide explanations or invite them to factory tours to make our company better-known and understood. We should expand our channels of reaching prospective applicants more, to expand business globally.
Iwata: What is the career path of foreign workers in your company?
Mishima: There are many ways to develop a career. We decide the path considering the company's plan and what the employee wants to do.
Iwata: Do you employ foreigners in Japan intending to send them back to their home country as core workers after training for a certain period in Japan?
Awata: Yes, in some cases. For example, the current chief representative of one of our offices in Asia was hired in Japan. He worked here for four or five years before going back to that country.
Career Paths Archive