Getting a job in Japan is a major concern for foreign students, who want to stay here after graduating.
While the number of foreign students intending to stay and work in Japan after graduation increases, Japanese companies are starting to pay more attention to foreign students.
According to the Immigration Bureau of the Ministry of Justice, the number of foreign students employed at Japanese companies in 2007, was 10,262, an increase of 24.1 percent over the previous year.
This column will introduce Japan's leading companies and companies that actively employ foreigners, and their thoughts about foreign student employment.
Vol 1: NEC Corp.
NEC Corp. is a leading Japanese company that develops, manufactures and markets computers, telecommunications network products and semiconductors.
Iwata: The government has set a target of attracting 300,000 foreign students to Japan, so obviously their numbers are expected to rise. How do you see the trend from the viewpoint of a major Japanese company?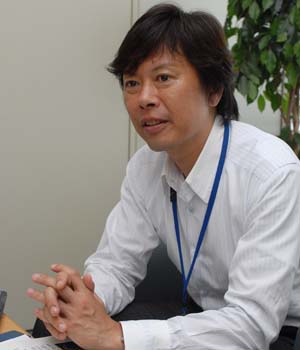 Azuma: Please note that I speak as department manager of the social contribution office.
NEC's vision is to be a leading company, leading society by innovation. To achieve this vision, the key is to be "global" and "innovative." To be global, we do business in and with countries all over the world. And to be innovative, you need diversity. So we should get away from the narrow concept of a "single-race nation," and cooperate with people from various cultures and backgrounds.
New things, better things are created by encounters between people with diverse values, I think.
Iwata: What experience makes you think that?
Azuma: I worked with people from various countries at a venture company in Boston. There were Chinese, Korean, Indian, French, and so on. For some reason, such an international office was very lively, I felt. If there are only Japanese people, the mind-set will be very similar and perhaps ideas won't evolve. There were a lot of arguments, or at least heated discussions - there was an Irish guy who got excited very easily - but it was very stimulating.
I went to Europe in November to observe a wheelchair tennis event. The project members were from various countries, such as Britain, Germany, Holland, Brazil, etc., each from a slightly different culture. Even when we were just chatting about simple things, say Christmas, each of them would say something different and the conversation would develop. I found that kind of exchange very interesting. Europe has the foundation for these things to happen naturally and I really hope the same thing can happen in Asia.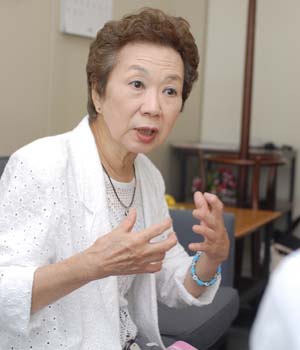 Iwata: I think that people from diverse backgrounds and cultures mixing, and working together will be a plus for the sound development of the world economy, too. If international students in Japan want to work for NEC, does the same recruitment and exam process apply to them as for Japanese students?
Azuma: Yes, of course. Japanese nationality is not a requirement. We have new foreign graduates who are working with us now. When I went to a university for a recent lecture, I met a Chinese woman who told me that she had applied to NEC this year.
Nowadays, we don't even ask the name of the university the applicant graduated or will graduate from. I only judge the person. As long as you can communicate in Japanese, you can get information from the recruitment agency site and apply from NEC's special recruitment site, just as Japanese students do. You can apply for new graduate employment if you graduated in the last three years. After three years, you should apply for midcareer employment, which is separated by job type and offered on an as needed basis.
Our Japanese staff are perfectly comfortable working with foreigners.
Iwata: You mentioned that diversity is important for innovation. Do you actively employ foreign workers from that viewpoint?
Azuma: We do not have a specific approach toward foreigner recruitment because we employ people in light of their qualifications for the position, regardless of nationality. So we do employ foreign workers, when that person is suitable for the position.
Career Paths Archive