Asian Spirit: Another Kim Hye-gyong
Chapter 8: Shuzenji
Asian Spirit Archive
---
About Asian Spirit
A compilation of nonfiction essays, the book comprises the experiences, both good and bad, that author Keiko Iwata shared with South Korean students living and studying in Japan.
About Keiko Iwata
Keiko Iwata is the representative of the NPO Heart Connections, which provides non-Japanese students with consultation services to help them solve problems related to living and studying in Japan. Iwata authored the book "Asian Spirit" (published in February 2004).
About Larry Greenberg
Larry Greenberg is the founder of Urban Connections Co. Ltd., an enterprising group of professionals that strives to provide innovative solutions to the latest challenges.
Hye-gyong has made several day trips since she came to Japan, and she has made overnight trips twice: the first time to Hokkaido and the second to Shuzenji in Izu.
She especially felt a depth of meaning at Shuzenji at the start of the winter. There are also four seasons in Korea, and young Korean people go on seasonal trips and engage in seasonal sports just as much as young Japanese people do. The local areas she went in this foreign country taught her about the differences in things embedded inside each country. It gave her new pleasure to discover that the history of Japan carries on in the presence of lodgings, food culture, and souvenir goods.
"Too bad we came a bit too late to enjoy the maple leaves," Father said disappointedly. And yet, a carpet of maple leaves that spread along riversides and in mountains, and leaves that fell swiftly made her nostalgic.
By now, people must be getting ready for the winter.
It is the time of the year when Koreans pull out their stocks of Kimchi and start pickling them in preparation for the cold. This nation-wide task called "Kimjan," is usually conducted from mid-November to December. Her experiences at Shuzenji reminded her of the "Kimchi festival" in Gwangju where competitions of the taste of Kimchi were held.
She didn't go to Shuzenji by accident. She was invited on a trip to the hot spring out of the blue.
In retrospect, it was a trip that helped her create relationship with her "Japanese father" and deeper ties with her "Japanese mother."
At that time Mother had recently lost her own mother, and even though she had been freed from eight years of nursing her mother, she hadn't healed yet from her mental and physical fatigue.
This was when Father and his peers planned a trip to Shuzenji to recognize Mother's services. However, because it got considerably delayed from what had been originally planned, people canceled one after another, leaving only two participants, Father and Mother.
"This isn't good. We've got to find someone who is available on short notice." This is how Hye-gyong got invited.
There were five people of varying ages-from their 20's through to their 60's-going on the trip.
There were two members named Naomi: one was a career woman who worked at Father's office, and the other was a president's secretary during the day and helped cook with her husband at Mother's restaurant at night.
Because Mother had run a restaurant until four years ago, everybody still called her Okami-san. Father apparently had been a regular customer at the restaurant, lured by Mother's home-style cooking.
Hye-gyong found out that these five got together on occasions, and deepened their friendship. She was fascinated by the extent of their trust and friendship.
The three checked in at an inn and spent about two hours wandering around the grounds of the Shuzenji Temple and by the riverside of the Kano River.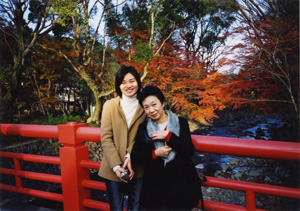 It was a fine day, and the temple grounds with the sunset in the background were a beautiful sight. Taking pictures of each other as they smiled and laughed, they must have appeared like a real family.
As they left the temple, they walked along a river and a back road, where they found a teahouse. The word "Kuzukiri (starched arrowroot)" written on a red banner advertised the place.
"Kuzukiri! Can we stop and eat there?" With Mother's suggestion, they were drawn into the teahouse.
They were directed to one of the partitioned rooms, and the stove was turned on. Through the lined glasses in the front of the corridors, they had a panoramic view spreading beyond the garden of the mountains in the nature park surrounding the Shuzenji Temple.
Unlike an air conditioner, the stove was comfortable with its soft warmth. They were fortunate to be the only guests there.
Hye-gyong saw this food, "Kuzukiri" for the first time. The long, thin, clear Kuzu was floating on ice in a red bowl which was on a black square tray edged in red. There was syrup poured on the right side.
It was refreshing to have chilled Japanese sweets in a well-heated room. It was a taste that she could never get in Korea.
Back at the inn, they walked through intricate corridors and stone paths, and walked up and down stairs before they finally reached their room
"We are sorry to have caused you trouble. The new wing has been repeatedly renovated and expanded," a serving lady explained. Hye-gyong muttered, "I see," and curiously took interest in the formative design she had never seen back home.
After taking a tea break, Father suggested taking a bath, and the three of them changed into yukata.
Yukata, which are usually worn in the summer, are popular among young people in Japan, but in Korea some people express distaste for them because they bring bitter memories of the war.
She hesitated changing into her yukata because she was not accustomed to changing clothes at an inn. But she felt excited when she put her arms through a yukata for the first time, and she watched others to learn how to put hers on.
"Oh, that's "hidarimae". You're not supposed to put the left in front," Mother taught her.
Hye-gyon felt ashsmed when she was told that it was the way the departed people dressed.
"You might also want to tie the obi sash belt like this," Mother's lecture on how to wear traditional Japanese clothes continued for a while.
Father took pictures of Hye-gyong when she had finished getting dressed in the yukata. Hye-gyong postured at the camera with the sound of the shutter.
She thought of sending these pictures to Omni in Korea.
The most enjoyable part of trips is, of course, meals served at inns. Awaiting the three who came back from taking a bath at the big onsen room was a feast spread on the table, with artistically and colorfully decorated dishes.
Their stomachs, empty after taking a bath, drew them to the table. For her long-awaited first trip in Japan, she traveled to Hokkaido, but she only ate at fast food and family restaurants to save money. When she recalled the penniless trip, Hye-gyong became so excited that she was at a loss for words.
"Meals served at the inns are often not as good as I expect, but the meals here are delicious." As Father evaluated, the meal was indeed excellent with hot and cold dishes balanced well, and flawless serving dishes well selected.
"Best meals" are nothing but a blessing.
It was raining the next day for their return trip.
The second day at Shuzenji Temple started on schedule as planned by Father. One place they visited, "Niji no Sato", had a "Japanese garden" and western spots such as a "Canadian village," and an "English village."
The station was a reproduction of the station in Nelson City, Canada, which is a sister city of Shuzenji-cho. We rode the Romney railroad, and made a seven-minute trip to the English village. The trip by a steam locomotive with a 15-inch gauge was somewhat idyllic.
It is said that the very same type of locomotives still runs on a local line in England.
The small, wooden locomotive, whichhad only one compartment with four seats in each carriage, took the three into a fantasy world.
As it drizzled, they advanced like children toward the next location, "Takumi no Mura."
This place was a village of traditional Japanese craftwork, where we experienced Japanese hand-made paper and touched a potter's wheel at a pottery workshop.
There was a lot of treasure, for example, a treasure box full of goods representative of Japan such as Edo yuzen or Japanese kites. The history of Japan that spread in front of their eyes evoked a sensation beyond description.
The destination of the trip was Tokyo Station.
As she parted with Mother and Father and walked through the station, Hye-gyong heard Christmas melodies.
"Oh yeah, it's already December," she thought as she felt the end of the year approaching with contentment.