Asian Spirit: Another Kim Hye-gyong
Chapter 5: Part-time work
Asian Spirit Archive
---
About Asian Spirit
A compilation of nonfiction essays, the book comprises the experiences, both good and bad, that author Keiko Iwata shared with South Korean students living and studying in Japan.
About Keiko Iwata
Keiko Iwata is the representative of the NPO Heart Connections, which provides non-Japanese students with consultation services to help them solve problems related to living and studying in Japan. Iwata authored the book "Asian Spirit" (published in February 2004).
About Larry Greenberg
Larry Greenberg is the founder of Urban Connections Co. Ltd., an enterprising group of professionals that strives to provide innovative solutions to the latest challenges.
She had three jobs in Japan. Lots of students experience this; Hye-gyong was not an exception. But one of her jobs gave her many special memories mixed with strong emotions. They were a "time capsule" inside Hye-gyong's mind.
Her experience of working at a Japanese restaurant in Tamachi for a year and a half had especially helped her understand Japanese culture.
She had found this job after the Japanese language school she was attending relocated from Ebisu to Tamachi. This was where she met "Mother."
After Hye-gyong had worked at the restaurant for two months, a waitress from a restaurant within the same restaurant chain was transferred to the one where Hye-gyong worked. She seemed to be around the age of Hye-gyong's mother.
The woman, who was definitely a lot older than all the other workers, started working at the restaurant from that night. Hye-gyong was amazed had how skillful and efficient she was, even though she was new at the restaurant.
Hye-gyong learned from her "new mother" that the seat at the back of private dining rooms or at the back of tables by the wall was the seat of honor called "kamiza," and that the served dishes had "front sides" to them.
One time when Hye-gyong struggled with an answer when a customer asked, "What is noresore?" her new mother, who was listening by her side, came over to help.
"That is baby conger eel, and it goes well with ponzu sauce."
Another time, when Hye-gyong spilled a plate full of soy sauce on a customer's jacket, the mother whispered to her, "Leave this to me." When she wrapped up some of her own money for the cleaning costs and secretly slipped it into Hye-gyong's hands, she was so grateful that she felt tears welling up in her eyes.
Before she knew it, Hye-gyong had been calling the woman "Mother."
She felt that it was a very Japanese experience to be able to interact with people like "friends" despite age differences.
It all happened on a day she took time off of work when a friend from Korea came over to Hye-gyong's place. Hye-gyong and Mother usually were in charge of a section on the second floor with about 40 seats, but that night a new female worker took over Hye-gyong's work.
It had just turned 8 o'clock and more people started pouring into the restaurant.
"Where is the bathroom?" a customer asked the girl.
Hearing the girl's blunt reply of "I don't know," Mother rushed over in panic and apologized to the customer.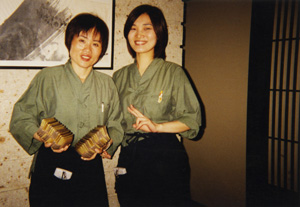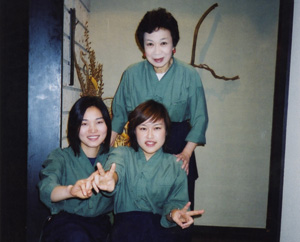 "I am very sorry. The bathroom is this way." She started walking toward the bathroom, but the shocked customer shifted her attention back to the girl and said, "You don't know where the bathroom is? Do you really work here?" and disappeared into the bathroom.
Mother later took the girl to the pantry and warned her,
" 'I don't know' was really inappropriate. You should've asked me if you didn't know," she said angrily.
"It was my first time working on the second floor. That's why I didn't know."
"If you don't understand something, you should ask me," Mother said.
After they went back and forth for a while, the girl got angry and stopped talking to her. Mother was at loss for words. Later, the girl told the restaurant manager that she was "bullied."
The next day, Hye-gyong heard about this incident and felt sad.
In the Tamachi area, there are four restaurants of the same affiliation as the one Hye-gyong works at, and many Asian students from countries such as South Korea, China and Taiwan work part-time at these restaurants. Language problems and inappropriate attitudes toward customers were not rare.
The female worker who got into an argument with Mother had Chinese citizenship and ancestors from North Korea. Hye-gyong felt a clear distinction between them in that the girl had a "strong sense of nationalism, didn't open up to anyone, and isolated herself."
"She doesn't seem to have a lot of friends in Japan, so be nice to her," Mother would say. Hye-gyong couldn't believe that the girl could have forgotten about how much Mother had cared for her.
Observing the numerous conflicts among the young Asian workers, Hye-gyong felt like the image of foreign countries was too narrow. One day when Hye-gyong went to work, a regular customer called her over to his table. He was much disliked throughout the four restaurants. Every time he came into the restaurant, even before he was seated he would announce, "I am so-and-so from so-and-so company!"
Because he was disliked by everyone, he was famous throughout the restaurant. When he wasn't content with something, he routinely shouted, "Who do you think I am? I am so-and-so from so-and-so company!"
This customer, for some reason, liked Hye-gyong, and when she went over to his table to greet him, he said to her, "I'm going to eat at a different restaurant this weekend so you're going to come with me."
He said it as if he were his boss. He even pressured her into telling him her cell-phone number.
Hye-gyong went to Mother for advice. "What should I do?"
"Why did you tell him your number!?" Mother said, scolding her, but the next day Hye-gyong managed to pluck up her courage and tell him that she couldn't make it.
As she had learned the Japanese expression, "just a normal person without the title," she chuckled to herself when she thought of Mr. So-and-so.
Workers were constantly changing at the restaurant, but there were a few who worked for two or three years. Hye-gyong became good friends with a female worker who used to be an elementary school teacher back in China. Her name was Wu Feng Qin Hokin and she was well loved by everyone at the restaurant.
While she worked in Japan, she left her only son with her husband's parents while she and her husband work in Japan. She was a government-sponsored student studying abroad and had been living in Japan for four years. The Hokins sent half of the money they earned in Japan back to China to support their family.
Once she proudly showed Hye-gyong photos of her former life in China, pictures that showed Hokin and her family living a comfortable life in a simple but elegant house. It was a life of dignity.
"Why is that Hokin herself is poor despite the fact that she works so hard in Japan?" Hye-gyong was eventually forced to realize that there was clearly a difference in living conditions and values between the two countries.
One rainy Saturday in April, there was a farewell party for a Chinese man who had worked in the kitchen. He was going to return to his home country. He had been working at the restaurant for a few years, but one days his feelings changed and he suddenly decided to go back home. Hye-gyong, Mother and other kitchen workers who had grown close to him also attended this event. It was a nice moment in which they all came together around one table and used Japanese as their common language.
Eventually, Hokin, the elementary-school teacher, also returned to China. At the farewell party, Hye-gyong thought about the next time she would see her — perhaps in Shanghai, where she would be a chef.
One day, Hye-gyong thought, I too will live in Shanghai.