Learn what it takes to have a successful future from these company leaders in our new series.
Dialysis patients deserve high-quality care
Koichi Sasaki, a doctor specializing in kidney diseases and the president of Sasaki Clinic in Osaka, recalled a patient who was referred to him by another dialysis clinic. The patient told Sasaki that he suffered a fever every time he underwent dialysis at his regular clinic. Sasaki instantly suspected an allergy to a dialyzer.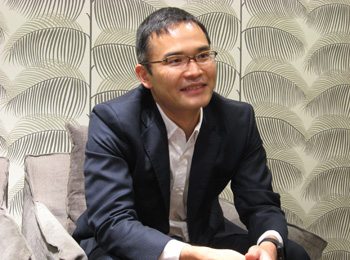 A few days later, Sasaki was proved right when he found out that the patient had an allergy to a specific raw material used in the dialyzer at the patient's regular clinic. Sasaki tried a different type of dialyzer on the patient, and the fever was gone.
"I knew what was wrong with the patient, as I had similar cases before at my own clinic," Sasaki said. "One patient suffered a lack of bowel control because of an allergy to a material used in a dialyzer."
The number of patients in need of ongoing dialysis treatment has been on a steady rise over the past few decades in Japan, reaching almost 325,000 by the end of 2015, according to data compiled by the Japanese Society for Dialysis Therapy. In accordance with the rise in the number of patients, the number of dialysis units nationwide has been also on an upward trend.
However, not every doctor overseeing dialysis procedures has enough experience and knowledge to pick up abnormalities like the case Sasaki had, or even worse conditions. Abnormalities in patients' conditions during dialysis can sometimes result in fatalities, Sasaki warned.
There are a lot of cases of patients who are hospitalized as they were infected with bacteria while undergoing preparatory surgeries for dialysis treatment, Sasaki said.
"In such cases, bacteria travels through the veins to spread all over a patient's body to reach the heart or the spinal cord," he explained. "In a serious case, patients have to stay in a hospital for six to eight weeks."
In fact, infection accounted for a quarter of the causes of deaths of patients on dialysis in 2015, amounting to 557 cases, according to statistics published by the Japanese dialysis therapy society. An equal risk for dialysis patients is heart failure, as infection and heart failure are the two major causes of death, accounting for more than half of the deaths in 2015, according to data.
"I had a patient before, who was transferred from a hospital, with coronary arteries that were too narrow for standard dialysis procedures," Sasaki remembered. "The patient could have had heart failure undergoing standard dialysis. That is why medical examinations before running dialysis on a patient are very important."
Those problems happen because there is only a small number of doctors specializing in both kidneys and dialysis in Japan, Sasaki said. Because of that, there is an issue of excessive dialysis in Japan, he warned.
Excessive dialysis comes in two forms. One is to run dialysis treatment on someone who does not really need it, while the other is to over-treat a patient with kidney failure who is in need of the treatment.
According to Japan's health ministry's guidelines, a patient with a creatinine reading of eight, or above, is recommended to undergo dialysis treatment, Sasaki explained. Creatinine is a chemical substance primarily produced in human muscles and is used to gauge kidney function levels.
But Sasaki sometimes has a patient with a much lower creatinine reading, who tells him that they were told by another clinic to undergo dialysis treatment, he said.
Even if a patient really needs dialysis treatment, a through consultation with an experienced doctor is recommended before starting the therapy, Sasaki said, to avoid over-treatment.
Over-treatment in dialysis unnecessarily weakens a patient's remaining kidney function and can result in the complete shutdown of the organs faster than it should.
In Japan at present, a patient in need of dialysis is thought to have to lie down for four to five straight hours per treatment and has to do it three times a week.
That is not always the case, Sasaki said. He sometimes cuts the number of treatment hours a day for his patients or changes the treatment schedule to have fewer days a week or both.
"That way, we can keep the remaining kidney function for a longer period," he said.
It costs about \400,000 a month to run hemodialysis treatment on one patient, but it is mostly covered by public health insurance programs and subsidies, leaving the patient with only a minor financial burden, or even none. So, fewer treatment hours are to improve patients' quality of life, not just to save money, Sasaki said.
"Even an hour is a precious time for a patient, especially for those who work."
This series has been prepared in collaboration with Enjin Co., which produces and operates a video website, specializing in profiles of up-and-coming Japanese entrepreneurs.
This series has been prepared in collaboration with Enjin Co., which produces and operates a video website, kenja.tv, specializing in profiles of up-and-coming Japanese entrepreneurs.
---