Learn what it takes to have a successful future from these company leaders in our new series.
Early preventive treatment key for oral health
Based on 26 years of practice in Inage Kaigan, Chiba Prefecture, Tetsuro Morimoto, the director of Kaigan Dental Office, stresses the importance of preventive dentistry. Last year Morimoto opened Kaigan Dental Office's oral care clinic, which specializes in preventive treatment where dental hygienists offer cleaning and other procedures to remove bacteria to prevent cavities and periodontal disease.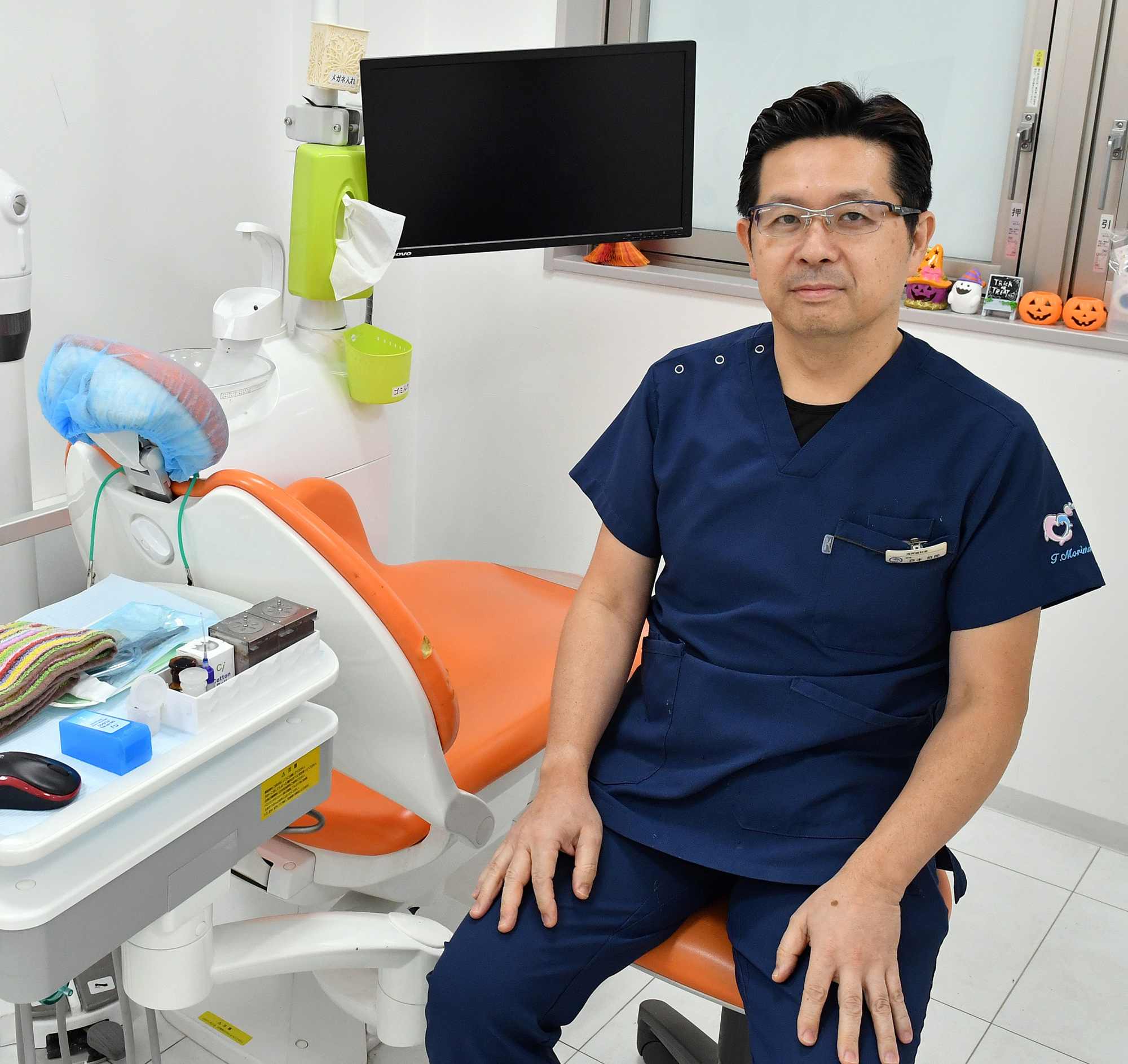 Today, Morimoto runs three clinics in this area, the Kaigan Dental Office, an oral care clinic and a pediatric clinic, all conveniently located only three minutes from Inage Kaigan Station. Morimoto started his practice in Inage Kaigan since he can coordinate with the Tokyo Dental College Chiba Hospital located in Inage, where he went to school.
Morimoto and his staff offer a wide array of treatment, ranging from general to esthetic dentistry, to the Inage Kaigan community. Committed to treating patients in this area for their entire lives, Morimoto also makes house calls to patients who are unable to visit the clinic. As a community-based dentist, Morimoto expanded his practice as the number of patients increased, and currently 50 staff, including eight dentists and 20 hygienists, treat patients daily.
Based on the concept of becoming "the most gentle dental clinic in the world," Morimoto believes that being gentle is important in every way. "Not only treating patients gently, or dental tools gently, but also being gentle in terms of procedures. This means keeping the original tooth and minimizing drilling," he said. According to Morimoto, preventing cavities and periodontal disease is critical in avoiding tooth extraction or drilling and that is why he stresses the importance of preventive dentistry. When treated early, periodontal disease can also be reversed before it causes significant damage.
Since cavities and periodontal disease are caused by bacterial infections, designing a bacteria-free oral condition is critical in preventive dentistry. Still, even with regular cleaning visits and check-ups, patients can occasionally develop problems with their teeth or gums.
"This occurs because we can't control these bacteria even with regular cleaning. Cavities and periodontal disease are caused by certain types of bacteria so we need to specifically eradicate them," he said. "Even if the dentist performs a perfect job treating cavities or periodontal disease, it is meaningless if decay-causing bacteria comes back."
Morimoto has treated some patients regularly since he started his practice 26 years ago, but a few of them have lost their teeth as they age. "This has always been a concern to me and I want to resolve this. I'm working on making reforms so patients won't have to lose their teeth," he said.
Last year, Kaigan Dental Office's oral clinic introduced a revolutionary treatment called Total Health Program, or THP, which is a fundamental periodontal procedure to remove bad bacteria while increasing good bacteria. In order to eradicate these bad bacteria, tests are performed to assess patient's bacteria levels and oral conditions, after which treatment plans are developed. Special cleaning is performed by trained THP certified hygienists, and THP medication is prescribed for at home treatments.
According to Morimoto, this procedure is highly effective in minimizing the risk of developing periodontal disease and treatment results are very fast, allowing patients to avoid tooth extraction or smooth tooth regeneration. "Recently, people are becoming aware that periodontal disease can cause secondary health problems such as strokes, heart attacks, dementia or even low birth weight of babies," he said. As dental health and overall health are correlated, one should have a mouth with good bacteria.
Taking the preventive approach further, Morimoto believes that in order to control infection, diet and nutritional evaluation is an important factor, things that should be advised by dentists since they involves oral health. "Not many dentists offer dietary instruction yet, but I think we are heading in that direction. Healthy oral conditions are necessary to be able to bite and eat," said Morimoto.
Starting next year, Morimoto hired a registered dietitian who will give nutritional guidance so patients can eat a balanced diet to protect teeth by providing necessary nutrients. As poor nutrition suppresses the entire immune system, eating fresh produce is important. Vitamins are imperative for oral health and a healthy immune system, and Morimoto is especially interested in vitamin C for its antioxidant effect. Through integrated medicine, Morimoto aims to prevent dental problems from occurring in the first place.
Initially most patients visit a dentist to get their fillings fixed or trouble areas treated and not many come solely for prevention, said Morimoto. Through consistent patient education on oral hygiene, Morimoto aims to gradually change patient perception. Since a trusting relationship with a patient is critical, Kaigan Dental Office has a treatment coordinator who explains treatment plans designed by dentists and the practice specializes in consultations with patients who have treatment concerns.
This series has been prepared in collaboration with Enjin Co., which produces and operates a video website, specializing in profiles of up-and-coming Japanese entrepreneurs.
---