Learn what it takes to have a successful future from these company leaders in our new series.
Products created to offer beauty from within
Esthe Pro Labo designs and develops inner beauty products such as enzyme drinks, herbal tea and supplements and distributes them to over 12,000 contracted spas and aesthetic salons as salon-exclusive products. Hiroyuki Sasaki, CEO of Esthe Pro Labo, believes taking inner beauty products will help make people beautiful and healthy from the inside of their bodies.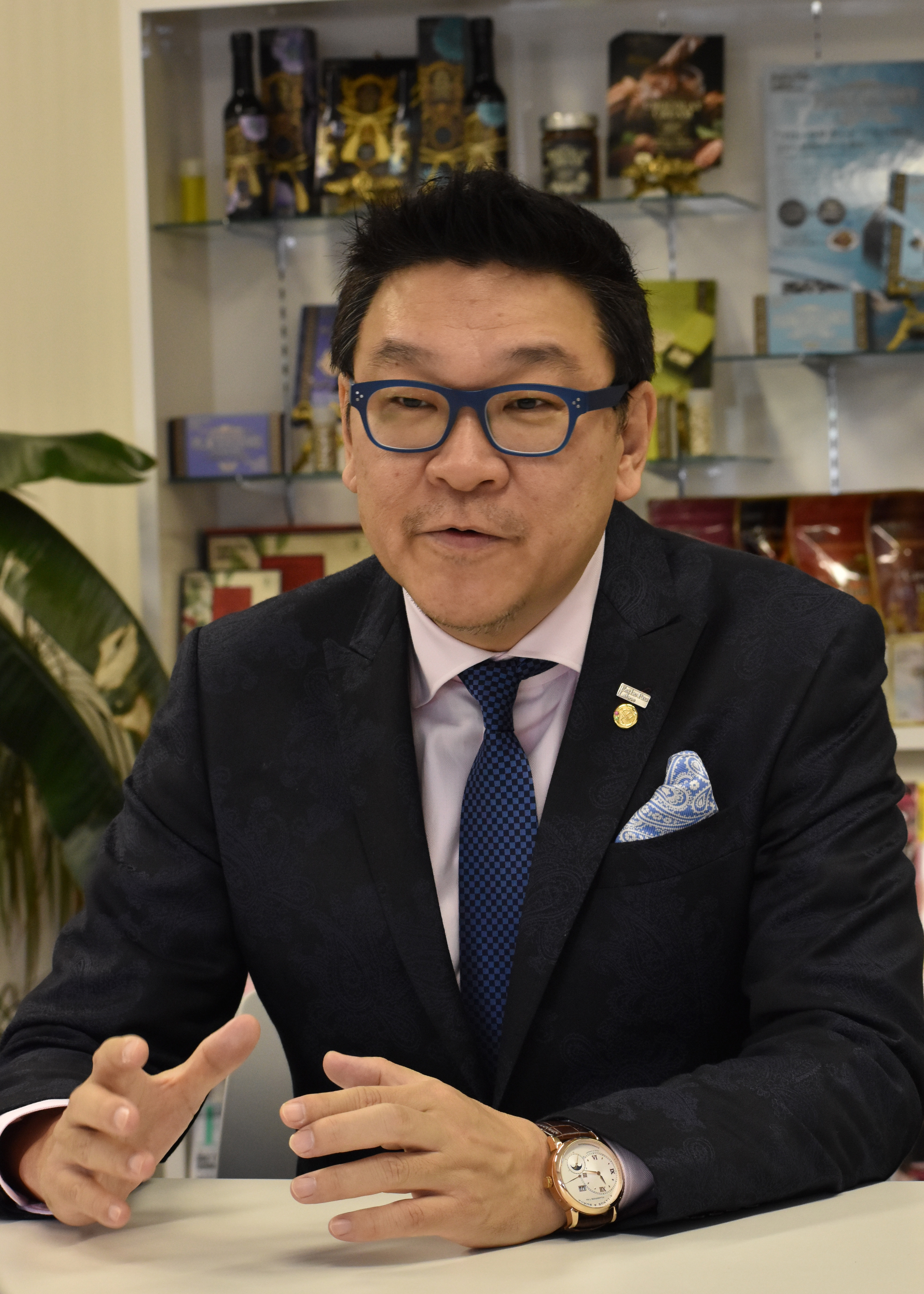 About 20 years ago, Sasaki started his own business in the field of advertising. Back then, Sasaki would drink with clients and return to the office at midnight to work. Long working hours, alcohol, cigarettes and an inadequate diet eventually caused him to suffer from diabetes. Meanwhile, Sasaki was running four aesthetic salons on the side and looking for good products for them.
Unable to find high-quality products on the market for his salons and becoming sick himself led Sasaki to realize the importance of food and nutrition. "Beauty treatment from the outside is meaningless unless the body is healthy from within. We became obsessed with developing high-quality products, looking for better ingredients, eliminating additives or anything unhealthy for the body," said Sasaki.
"Enzyme drinks are popular today, but our enzyme drink was created following traditional methods using raw fruits and vegetables fermented in Japanese cypress barrels. Many companies use easier methods to mass produce products," he said.
Since Esthe Pro Labo's products are developed for professional use, they are concerned about communicating safety and delivering superior, evidence-based quality products. "Not everyone can carry our products. In addition to reviewing each salon applicant's business regarding their qualifications, we also host training sessions and issue diplomas. Only those salons that have been qualified, meaning those that have acquired special knowledge through our training, can carry our products," said Sasaki.
Last year, Esthe Pro Labo expanded their business overseas to Singapore through a licensing deal with Jean Yip Group, which operates more than 70 hair and aesthetic salon outlets throughout Singapore. "In Asia, Japanese health products are considered high quality and are well regarded," said Sasaki.
Esthe Pro Labo has been participating in trade shows at Tokyo Big Sight and was approached enthusiastically by Jean Yip. "First we could not imagine doing business overseas. However, after an approach from the Jean Yip founder's family, I visited Singapore, learned about their business, found many similarities in business philosophies and decided to close the deal. As we do in Japan, we conduct training seminars and issue diplomas, so we gave lectures in English about Japanese fermentation," he said.
On May 1, Esthe Pro Labo launched Esthe Pro Labo Macau, which is exactly the same as Esthe Pro Labo Aoyama and Ginza. It is a counseling salon specializing in inner beauty based on Japan's latest nutritional trend giving dietary, supplement and fasting advice.
"We are scheduled to open our second Esthe Pro Labo Macau in September. Our partner there owns the largest pharmaceutical factory in Macau and operates eleven high-end traditional Chinese medicine pharmacies with pharmacists and traditional Chinese medicine practitioners. The idea of counseling-based prescriptions is completely opposite from supermarkets that simply display products on their shelves. Esthe Pro Labo Macau also has counselors who have met our standards, taken our courses and received diplomas. This style is our brand's basic tenet," said Sasaki.
Esthe Pro Labo is scheduled to launch in China through an exclusive contract with Beauty Farm, which is mainly owned by CITIC. "Our overseas marketing strategy is to follow the same approach as in Japan with face-to-face counseling featuring Grand Pro products that are only available in qualified salons. We would like to follow the same style in Singapore and China," said Sasaki. Currently business discussions are taking place in Vietnam, the Philippines and Dubai.
"After Singapore, we were able to picture our overseas business style," he said. "However, different countries have different regulations so this can be a challenge. For example, our enzyme drink Herbzyme 113 contains 113 different fruits and vegetables. Burdock is a vegetable in Japan, but is considered a traditional Chinese medicine in China."
Sasaki hopes to contribute to the field of self-medication through inner beauty and aims to extend healthy life spans in Asia. Since the source of health is food intake, he intends to extend healthy life spans through the idea of inner beauty and become Asia's No.1 inner beauty manufacturer.
Beauty, medicine and sports are the three major categories Esthe Pro Labo plans to pursue in the future. As for sports, Esthe Pro Labo produces supplements for Iwa Academy, which is supervised by Hisashi Iwakuma of the Seattle Mariners. In the medical field, Esthe Pro Labo develops meals for dietary treatment of Shonan Beauty Clinic.
This series has been prepared in collaboration with Enjin Co., which produces and operates a video website specializing in profiles of up-and-coming Japanese entrepreneurs.
---