Learn what it takes to have a successful future from these company leaders in our new series.
Surgeries can offer patients a bright future
Specializing in the surface of the eye, Dr. Takashi Kojima has been building his career as an ophthalmologist for 16 years, serving as the director of ophthalmology at the Japanese Red Cross Gifu Hospital since 2012.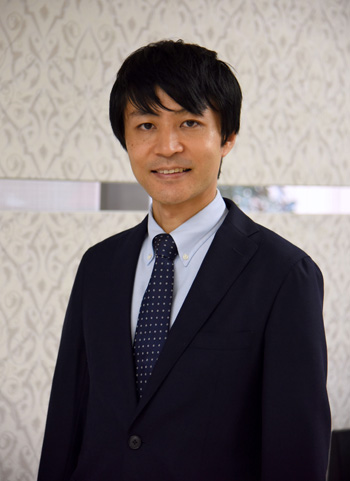 "I was attracted to microsurgery. I think that ophthalmology is rewarding, as we can witness our patients' joy when they get better eyesight," said Kojima, who conducts around 1,000 operations a year, including cataract removal and corneal transplant, as well as Lasik and Phakic IOLs (implantable lenses) surgeries.
According to Kojima, the surface of the eye demonstrates the wonders of human body, as seen in corneal transparency and tear function. After graduating from Nagoya University, Kojima studied at the Graduate School of Medicine at Keio University under professor Kazuo Tsubota, and became interested in exploring dry eye syndrome (DES).
Backed by years of research and clinical practice, including study in the U.S. at the Massachusetts Eye and Ear Infirmary of Harvard Medical School in 2005, as well as the University of Illinois in 2006, Kojima has become one of the leading experts on DES.
"Roughly speaking, 30 percent of Japanese office workers are suffering from DES," Kojima said. "The number of patients is increasing along with the developing stressful IT society."
Kojima emphasized the importance of stress release, giving an example of a high-school student who lost tear function under the pressure of a university entrance examination.
He points out that there are more than a few potential patients unaware of their syndrome. If left untreated, it might lead to easily fatigued eyes and vision loss, posing an obstacle to work.
Another factor contributing to DES is aging. Proper health care for dry eye affecting the rapidly graying society is under study, according to Kojima.
The term "dry eye" has come to public attention in recent years, but "people are not yet familiar with various types of DES and the differences in their respective treatments," he explained.
Kojima has established the outpatient departments for corneal diseases and DES at the Red Cross Gifu Hospital to serve as a hub institution in cooperation with doctors in other communities.
Kojima also works for a clinic in Nagoya once a week, performing Lasik and Phakic IOLs surgeries. Although these treatments are not yet covered by health insurance in Japan, Kojima is working to promote them step by step.
"There were examples of dumping by some clinics, creating a sense of mistrust of those surgeries in Japan. But they have been used and improved in Europe the U.S. for vision correction for 20 years," Kojima said, mentioning a price of around ¥800,000 for Phakic IOLs for both eyes; and about half of that amount for Lasik.
As no laser equipment is needed for Phakic IOLs surgery, Kojima introduced the treatment to the Red Cross Gifu Hospital three years ago.
Phakic IOLs are clear implantable lenses that are surgically placed. They function like contact lenses, but the difference is that Phakic IOLs work from within the eyes instead of sitting on the surface.
Under a recognition system established by the lens manufacturer and medical specialists, Phakic IOLs surgeries are exclusively done by certificated ophthalmologists. As one of the experts in Japan, Kojima has been serving as an instructor in Japan and beyond.
Hand in hand with medical institutions in China and Mongolia, Kojima has actively visited these countries, offering training, as well as surgeries. Additionally, he has treated patients from other Asian countries, who wanted to get cutting-edge eye surgeries through medical tourism in the recent years.
"As for DES, Japan has become one of the advanced countries in terms of eye-drops and examinations. A great deal of research has come out of Japan in this field," Kojima explained. "Also, Japan boasts high quality Phakic IOLs surgery thanks to the recognition system. There are around 200 certificated ophthalmologists in Japan," Kojima said, adding, "In general, Japanese doctors are skilled with their hands at operations, partly because of their loyalty and craftsmanship."
In addition to daily physical examinations and operations, Kojima has responded to questions on eye problems through the "Click eye counseling room," a free website open to the public since 2005. There have been more than 4,000 wide-ranging questions from those who have yet to see an ophthalmologist; drown in a sea of information; or living in a remote location.
In September, selected questions and answers were published in a book titled "Me no Nayami Gimon ga Sukkiri Kaiketsu Suru 500 no Q&A" ("500 questions and answers that clear away the problems and doubts on eyes"). From simple questions to serious anxiety about treatment, the book has brought together Kojima's achievements so far.
Today, Kojima stands ready to respond to other patients.
This series has been prepared in collaboration with Enjin Co., which produces and operates a video website, kenja.tv, specializing in profiles of up-and-coming Japanese entrepreneurs.
---