Learn what it takes to have a successful future from these company leaders in our new series.
The risk and benefit of a medical practice
It is not fun to do something you know you will be successful at — that is the motto of Keizo Kobayashi, the founder and director of Kobayashi Orthopedics Clinic in Kobe, Hyogo Prefecture. That was his mindset when he opened up his own clinic in 2008, facing established rivals in a place where he had no ties to the local community.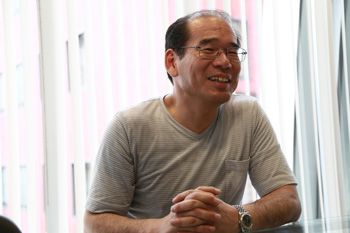 "I like to try something that other people think is difficult to achieve," Kobayashi said in an interview in Tokyo. "That is to try something that other people think can be achieved with a 10 to 20 percent success rate."
That's why he chose the Higashinada district, which was regarded as one of the most competitive areas for business in the prefecture, partly because of its high rent and also because of potential customers demanding top-quality practices. It was a very different place from where Kobayashi had previously worked at Kobe University Hospital and its related hospitals and clinics. When he opened up the clinic, he had no name recognition as an orthopedist, no pull with the local community and no acquaintances.
But, trying something difficult is not the same as trying something impossible. There are always meticulous calculations behind his acts, as he analyzes the balance between risks and benefits. An example is that when he opened his clinic, he went against the conventional standard formula that says that you should open a medical clinic in an area with low rent. But this formula doesn't account for the possibility that a business in such an area could be hindered by frequent complainers often found in low-rent areas, he pointed out. The area his clinic is located is not a low-rent area.
"I measure things with a severe objective view; if I think I can do it with a 60 to 70 percent success rate, I do it," Kobayashi said in explaining his business strategy. "I do calculations to produce a success rate on things, balancing between possible returns, investment already made and the worst case scenarios."
Kobayashi Orthopedics Clinic now sees dozens of patients every day, offering medical services for orthopedics, rheumatism and rehabilitation. The business is successful thanks to the risk-and-benefit analysis he did before opening the clinic. His meticulous calculations, however, shackled him in school when he had to choose his future career course, Kobayashi said.
He wanted to be a doctor partly because his brother, a year older than him, had a disability. He remembered he wrote in his high school yearbook that his dream was to be a doctor. His grades at school were excellent and he had the highest marks at his high school, good enough to enter a medical university.
However, he was faced with dilemma. He wasn't sure whether he should go to a medical school just because his grades were good enough, he said. His meticulous calculations functioned to produce high odds in favor of him passing the entrance exam of a medical university, but he listened to his inner voice telling him to wait.
Being a doctor and practicing medicine is a noble profession, but Kobayashi wondered if he really was qualified for a career in medicine just because he had good scores on exams at school. Being capable of choosing a path is different from taking the path and he wasn't sure of the answer.
"I wasn't fully committed to the job back then," Kobayashi remembered. "It's not a gamble and practicing medicine is not about winning or losing a game."
It ended up taking him three years to fully commit to the career, Kobayashi said.
Now, to the orthopedist, being successful at his clinic is not about making big money, but is about gaining the trust of patients, the staff and area residents. As an orthopedics doctor, offering patients good medical services is only the minimum; there should be something more to earn trust. In his case, it is caring about people, he said. That not only includes the patients Kobayashi sees in the treatment room, but also about the patients in the waiting room.
The doctor sometimes has to be brusque with patients who ask him obvious questions over and over in the treatment room, as other patients in the waiting room have to wait longer and longer. He quickly wraps up the conversation with his patients and sends them on their way. Despite this, at the end of the day, he cares about them.
"I called one of those patients recently to apologize for my harsh attitude at the clinic earlier in the day," Kobayashi said. "I explained why I was so tough on him in the treatment room and he understood."
This series has been prepared in collaboration with Enjin Co., which produces and operates a video website, kenja.tv, specializing in profiles of up-and-coming Japanese entrepreneurs.
---