Learn what it takes to have a successful future from these company leaders in our new series.
Innovator looks to improve young dentists
Taro Itami, president of the Azabu City Dental Clinic, took a brief look into the mouth of a patient complaining of toothache before asking a couple of questions, with his final one, "Do you have hay fever?" surprising the patient.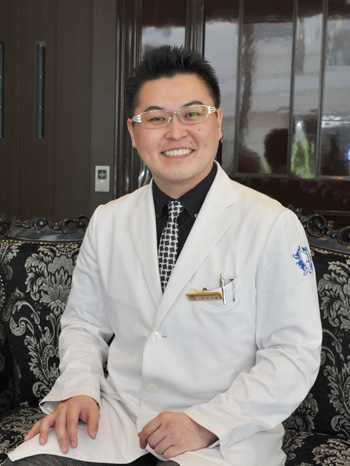 The perplexed patient asked him, "How did you know that?"
Hay fever in Japan is caused by an allergy to pollen mainly from Japanese cedar and white cedar trees, and it has become increasingly prevalent across Japan over the last couple of decades. The immune systems of hay fever patients are overreacting to the pollen in the air at the end of winter and early spring, causing monthslong symptoms such as itchy eyes, sneezing and a running or stuffy nose. However, toothaches are not typically considered among the symptoms.
"As a matter of fact, each tooth has its own meridian system route, which links to the body's organs," Itami said in an interview at his clinic in Tokyo. "The patient's tooth that I looked at was linked to the lungs and large intestines," he said, explaining that because hay fever affects the lungs, he suspected it as the cause of the toothache.
Itami has been developing this unique style of diagnosis over the last several years since he came across the concept of Oriental medicine when he was working at the University of the Ryukyus in Okinawa Prefecture, where he was born.
In the practice of standard evidence-based Western medicine that conventional dentistry and dental treatments are based on, doctors in general focus more on the treatment and the curing of the symptoms of a disease rather than seeking the cause of the disease itself. In contrast to this concept, doctors working under the Oriental medicine concept focus more on what is causing the disease or pain, and try to cure the disease by galvanizing the internal self-healing capabilities of the human body to cure itself. That is why Itami sometimes prescribes patients Chinese herbal medicines, which is very rare for a dentist.
However, he doesn't strongly push the concept in the running of his clinic. The concept of what he calls an "Oriental dental clinic" exists only in an academic form so far, and has not been established as industry-approved diagnosis and treatment. More importantly is that it has not been recognized among patients.
Rather than relying on the lesser-known treatment methods, which depend to a large extent on a doctor's past clinical experiences, he places top priority on operating the clinic based on good techniques of basic dental care, as well as first-class civility and hospitality, the core elements of any service-related business, he said.
"Those traits are what I demand from my current staff, as well as potential employees, when dealing with patients," Itami said.
In fact, during job interviews when hiring a new dentist, Itami lies down in a treatment chair to receive an anesthesia injection from the interviewee, to see how polite the potential employee treats patients, he said.
As for techniques in basic dental care, he is concerned that an increasing number of young dentists have not mastered some of the basics of dental treatment, such as extracting bad teeth. He also feels that they tend to be engaged more in cosmetic dentistry such as teeth whitening and gum bleaching.
As a matter of fact, the clinic sometimes takes patients referred from other dental clinics, as they are incapable of handling some dental problems such as pulling out wisdom teeth buried deeply in the gums.
"In order to solve the problem, the overall skill level of dentists nationwide has to be improved," Itami said.
Therefore, Itami is now focusing more on nurturing young dentists and is planning to open his second dental clinic sometime next year in Okinawa Prefecture as a training center for young dentists to learn how to become better dentists. The clinic, to be opened in a shopping mall in the city of Naha, will serve as more of an educational facility to train young dentists who have only a couple of years of work experience, he said.
Itami wants to hire young dentists at the Okinawa clinic to train them for a few years to master basic skills, before transferring them to the Azabu City Dental Clinic.
"The practice demanded at the clinic focuses on basic skills covered by the national health insurance program, and this should be the starting point for a dentist," Itami said. "It's no good to pursue cosmetic dentistry without the basic skills."
This series has been prepared in collaboration with Enjin Co., which produces and operates a video website, kenja.tv, specializing in profiles of up-and-coming Japanese entrepreneurs.
---