Learn what it takes to have a successful future from these company leaders in our new series.
Working hard with focus on the future
Shiro Kurosaki is the CEO of Tokyo Shinkenso Co., a company specializing in the renovation of large-scale office complexes, as well as the construction of new houses, commercial facilities and other buildings. He is a hearty man and the twinkle in his eyes reflects his energy and devotion toward his work. "But in my childhood, I was quite a bad boy who often ran away from home. I was not at all interested in picking up my father's profession and I didn't like the smell of paint in the air of my house," said Kurosaki.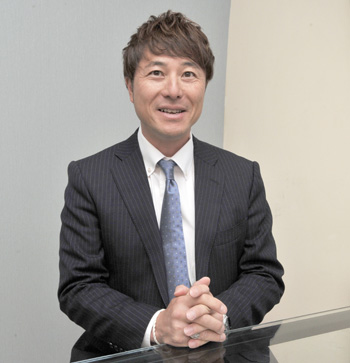 His turning point in life came at the age of 15, when he was in his first year of high school. "That was when my father died. I was overwhelmed at his funeral, seeing so many people attending it to mourn and pay their respects to him. It was then that I truly understood how my father must have been a good man doing a good job," he recalled.
Just as Kurosaki made up his mind to follow his father's footsteps, his mother advised him to go to college outside Japan to broaden his perspectives. "I'm very grateful to my mother for being so progressively minded to give me such unorthodox advice at that time," said Kurosaki. At the time, many people criticized his mother for sending her adolescent son by himself to an unknown country.
Unaware of such criticism directed toward his mother, Kurosaki happily headed off to Hawaii to become a student at the University of Hawaii. But he became more interested in breakdancing than studying, despite being an economics major. "I even signed an exclusive contract with a famous local disco that had a global operation. I have to say that those years were priceless. I became friends with Americans and many people from around the world. Many of my strong ties with those around me today go back to my years in Hawaii.
"Concurrently, my work at the disco allowed me to observe the basics of business and life. Living abroad at that age was undoubtedly an invaluable experience that money couldn't possibly buy," Kurosaki reflected.
Kurosaki eventually joined his father's company after returning to Japan. However, he didn't want to receive favorable just for being the son of the late president. "So I studied hard about architecture, construction materials and everything related to buildings. Day in and day out, I read books, magazines and other materials. I talked in earnest with those on the job sites. I was constantly thinking about work even during my private time, to the extent of dreaming about buildings in my sleep," he recalled.
His untiring efforts have paid off handsomely, as his company has won numerous contracts with leading construction companies. "In addition to being a reliable subcontractor, Tokyo Shinkenso today has direct business relationships with leading Japanese companies, as well as private customers," said Kurosaki proudly.
At work, Kurosaki and his 15 staff prepare a presentation kit for each customer, based on his corporate motto of "Building tomorrow's prosperity through today's sincerity." "We listen carefully to the needs of our customers, so that we can provide them with the best solutions in construction and materials. Our goal is to satisfy our customers and make them happy," he explained.
Through such processes, Kurosaki also aims to bring up his young staff to a very high level, "so that each person can become a true leader and president. I feel responsible in nurturing the up-and-coming generation," he said earnestly.
Another thing is that Kurosaki tries his best to always be a good person. "That's why I have been touched to the point of crying, when my interns said that they chose my company for their internships, attracted by my personality on top of the good image my company has," he said.
Also being a competitive person who hates to lose, Kurosaki seeks to be "number one by always looking forward and trying harder. I want to stress to my staff that it is not a bad thing to make mistakes. I want to encourage them to go on forward through constant trial and error," he said.
Ultimately, Kurosaki believes that such continuation without compromise leads to success in business life. On top of that, Kurosaki stresses that as a human being, "you must never forget to be grateful toward those around you, especially your parents, as well as your family and friends."
This series has been prepared in collaboration with Enjin Co., which produces and operates a video website, kenja.tv, specializing in profiles of up-and-coming Japanese entrepreneurs.
---