Learn what it takes to have a successful future from these company leaders in our new series.
Changing the face of modern dental clinics
Imagine you are a Japanese dentist in your early 30's and you are planning to open your own dental clinic and hire a staff. You have to survive competition against the more than 68,000 rival clinics nationwide in the apparently over-crowded industry. What would you do to prepare for the opening?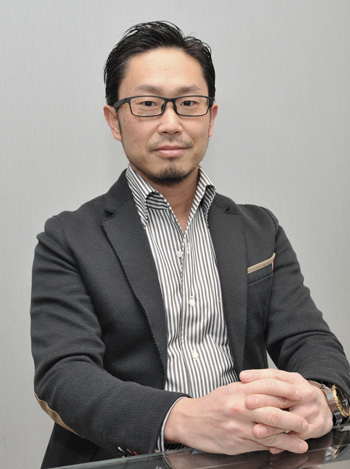 Kei Saito, the president of medical company RAISE and Dental Clinic K, recommends taking a look at the beauty salon industry.
"My belief is that if we want to survive the competition, we as dentists have to offer patients something besides our clinical techniques to address their dental problems," Saito said in an interview in Tokyo. "I came to realize that the dental industry and the beauty salon business have a lot in common in terms of operations."
Some common things between the two industries include the career expectancies of both dentists and beauticians, the working environment and even the structural designs of dental clinics and beauty salons.
"The peak of a successful dentist's career is around the age of 50. After that, a dentist should be focusing on back-office work to run the clinic. This career pattern is very similar to that of a successful beautician," Saito said. "The structural designs of the workplaces are similar, as there are dental chairs in a clinic, while a beauty salon has beauty stands."
Saito followed an unusual career path as a dentist, as there was a time that he wanted to be a forensic pathologist after graduating from dental school. However, when he was 30, he returned to dentistry, learning treatment techniques at a clinic, as well as gaining the experience to open his own clinic.
Five years later, he opened Dental Clinic K, and he "retired" from actively working as a dentist at the age of 40, focusing on running the clinic over the last three years, he said. Over the course of his career as a dentist, he established his own philosophy and methods for opening and running a new dental clinic. The beauty salon industry is just one example of learning something from non-dental industries, a key component of Saito's philosophy.
One unique method he recommends for opening a new dental clinic is to buy a shuttered clinic with the existing equipment and infrastructure intact, if possible. This style of beginning a business is called inuki in Japanese, and buying a fully equipped shop is a typical business model for opening restaurants or bars.
According to the Japan Dental Association, the number of dental clinics in Japan has been on a modest upward trend over the 20 years through 2013, with 68,701 clinics compared with 55,906 in 1993. The number, however, fell to 68,592 in 2014. This is partly because, Saito explained, clinic owner-dentists are retiring and more and more clinics are going out of business due to financial difficulties.
It typically costs an average of about ¥50 million to open a dental clinic from scratch, and this initial investment, most of which has to come from loans, weighs heavily on the financial performance of many clinics after opening, Saito said. However, the inuki option is much cheaper than opening a clinic from scratch. The increase in the number of dental clinics going out of business also provides young dentists with more opportunities to open their own clinics in the inuki style, he added.
Even opening a clinic in the inuki style, a reasonable amount of investment is required to hire new staff and refurbish the layout and interior of the clinic, creating a brand-new dental clinic for the community.
"It is something similar to an inaugural address by the clinic to the community," Saito said. "The renovation demonstrates your attitude and philosophy to the residents."
In addition to the initial investment, the owner of a new clinic needs more than just dental skills. They must have administrative knowledge and the management skills to recruit and train new staff. The owner must also have experience in filing mandatory work-related bureaucratic documents, something dentists usually don't have.
Dental Clinic K, in fact, serves as a training place for dentists who aspire to have their own clinic, and the five dentists currently working at the clinic are required to be engaged in activities to that end, including searching for an accountant, he said.
"About 70 percent of the work at a dental clinic is carried out by someone else, and it's my job to make sure they understand that," Saito said.
This series has been prepared in collaboration with Enjin Co., which produces and operates a video website, kenja.tv, specializing in profiles of up-and-coming Japanese entrepreneurs.
---