Learn what it takes to have a successful future from these company leaders in our new series.
Painless dentistry aims to ease anxiety
Why do so many people dread going to the dentist? Is it the painful injections or the screeching drilling sounds that fuel anxiety? Fear of the dentist may go by the wayside thanks to new dental technology and treatments.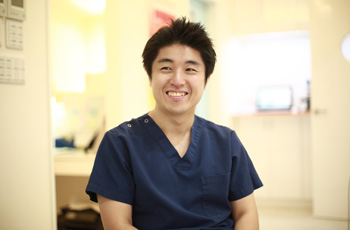 Masayoshi Yamaguchi, Meigetsukai Medical Corporation's chairman and chief dentist, runs two clinics in Nishi-Waseda and Nishi-Eifuku, Tokyo, on the concept of dental care that is — as much as possible — "painless, drill-less and extraction-less."
Yamaguchi has been searching for painless treatments to make dental visits less stressful for patients. In order to provide nearly painless dental care, Yamaguchi has been researching new procedures and has been treating patients with a unique product from the U.S. called "Doc's Best Cement," for cavity treatments.
In conventional treatment, the decayed part of a tooth is removed by drilling a hole, which is then filled with a variety of materials and compounds. Unfortunately, this may weaken the tooth, or decay may continue underneath the filling, possibly leading to tooth eventual extraction or a root canal.
"Instead of surgically treating decay, the idea is to treat by medication. Since there is no drilling or pain in this procedure, and a lowered risk of extraction, it is very popular among our patients. No drilling, means no anesthesia and no pain," said Yamaguchi. "In many cases, we were able to save teeth that other dentists had recommended to be pulled. We apply antimicrobial medication that kills the bacteria inside the decayed tooth, which aids restoration and prevents recurrence."
Although this treatment is not covered by national health insurance, more than 80 percent of the patients — from children to the elderly — choose the treatment after consultation at his clinics. According to Yamaguchi, some patients come by shinkansen every week from Niigata or Aichi prefectures to be treated. Currently, Yamaguchi's clinic sees approximately 120 new patients a month, of which many are referrals.
Yamaguchi also offers a unique treatment for periodontal disease. The general practice for gum disease is the scaling of plaque and tartar by a dental hygienist, with instructions to improve tooth brushing. Unfortunately, since bacteria cause periodontal disease, oral health will not improve unless bacteria are eradicated.
Periodontal medical treatment includes special toothpaste and oral medication to eliminate infection-causing bacteria where the effect is expected to last for a year. As it is an infectious disease, Yamaguchi suggests that families and partners be treated at the same time. Considering the importance of bacteria-free conditions, Yamaguchi suggests patients get this treatment before working on their cavities for a much better result.
"Although Doc's Best Cement and the treatment for periodontal disease is not covered by national health insurance, some patients come to our clinic specifically for these treatments, while others choose the procedures after we introduce them to the ideas," said Yamaguchi.
The reason why dental treatments hurt is because bacteria cause infection. In order to prevent pain, it is important for the mouth to be as bacteria free as possible. "Many patients say that they have never heard about the treatment or that these choices exist," he said.
Yamaguchi's clinic is a child-friendly environment with a play area and Disney-themed wallpaper. After treatment, children who were well behaved can enjoy a gacha gacha capsule toy as a treat. Yamaguchi loves children and is worried that those who have bad experiences when they are young will be afraid of going to dentists as adults.
"If you treat them painlessly in the beginning, they shouldn't be afraid visit the dentist as adults. In the case of children, they mostly cry not because of pain, but more because they are scared. At our clinic, we invite parents into the treatment area to make both the child and the parents feel reassured. Also, it's important to take small steps by praising children a lot. By doing this, we'll be able to treat them better. The first impression is really important in making visiting the dentist not something to fear," he said, adding, "Everyone should go to the dentist for a check-up and cleaning every three months."
Yamaguchi wants to improve the image of dentists since most patients are reluctant to visit. He wants it to be a place like hair salons where people come on a regular basis for maintenance, not just for procedures to be performed.
This series has been prepared in collaboration with Enjin Co., which produces and operates a video website, kenja.tv, specializing in profiles of up-and-coming Japanese entrepreneurs.
---