Learn what it takes to have a successful future from these company leaders in our new series.
Easing the pain of rheumatoid arthritis
Providing awareness programs to help people to understand the importance of early detection and treatment of rheumatoid arthritis is as important as treatment itself.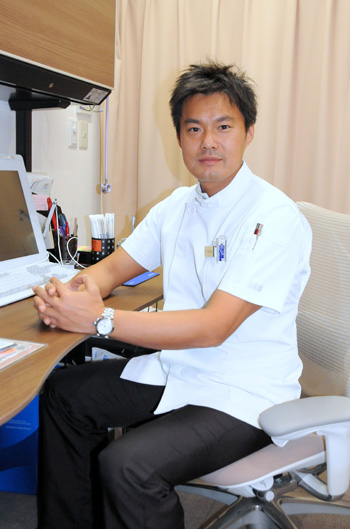 Yukawa Rheumatology Clinic in Musashino, Tokyo, is an unusual clinic in many ways. It is one of the very few private clinics in Japan that specializes in rheumatoid arthritis and it does not require patients who visit for the first time to bring referrals from other hospitals.
Some world-leading rheumatoid arthritis specialists visit this rather small private clinic upon request to examine patients. The patients who come from all over the Kanto area can receive their test results by fax or e-mail if they prefer to avoid long and frequent visits.
In contrast to the notorious "waiting three hours to see the doctor for a five-minute examination" in large hospitals, here the patients can see the doctor with much shorter waiting times followed by personal, individual attention from Sonosuke Yukawa.
All the unique characteristics about the Yukawa Rheumatology Clinic are based on the strong beliefs of Yukawa, who is doing "everything we can for the happiness of our patients."
Rheumatoid arthritis is a chronic inflammatory disorder that typically affects the small joints in people's hands and feet.
Unlike the wear-and-tear damage of osteoarthritis, rheumatoid arthritis affects the lining of joints, causing a painful swelling that can eventually result in bone erosion and joint deformity.
Rheumatoid arthritis is an autoimmune disorder, meaning that a person's immune system mistakenly attacks their own body's tissues. Joint problems are the most common symptoms, but it sometimes affects other organs of the body, such as the skin, eyes, lungs and blood vessels.
The largest age group of those affected is women aged from 30 to 50, though it can occur at any age in both genders.
"The treatment of rheumatoid arthritis has been going through a paradigm shift," Yukawa says.
"In the past, the treatment focused on controlling symptoms and preventing joint damage. Although it is a rather common disease with over 800,000 people in Japan affected, the lack of up-to-date information provided to both doctors and patients has allowed for treatment methods with unnecessary side effects to continue, while relying on steroids as the core medication," he said.
Sometimes patients have to suffer deformed joints, giving up on having children or not being able to marry, but now these things can possibly be avoided with the combination of better medication and early detection and treatment, he explained.
Using drugs such as methotrexate as an anchor drug dramatically increases the rate of clinical remission. It is possible for patients to stop taking medication and be fine for the rest of their lives. Rheumatoid arthritis is now a disease that can be cured, he said.
Yukawa strongly believes that one of the most powerful ways to achieve the happiness and higher quality of life for rheumatoid arthritis patients is early detection and treatment, because the earlier the treatment process gets started with the right medication, the higher the possibility of curing the disease.
"Still, not only patients, but also quite a few doctors do not know the fact that rheumatoid arthritis is a curable disease now," he said. "I have been, and will continue to try my hardest to spread this positive paradigm shift to everyone. By being treated correctly, patients no longer have to give up hope and possibilities in their lives."
"It means younger patients who gave up marriage or pregnancy due to the side effects of treatment of the past generation can marry or have children. They do not need to suffer the pain and deformity of joints that made their everyday lives harder.," he said
"As a doctor of rheumatoid arthritis, I recognize providing many awareness programs and spreading as much information as I can to get people to understand the importance of early detection and treatment is a very important mission."
The website of the Yukawa Rheumatology Clinic is very informative, as is a video that patients can watch in the waiting room of the clinic. Yukawa also gives lectures at numerous events all over Japan. These reflect his strong belief to support patients for a better future by providing both awareness programs and state-of-the-art treatment.
"The logo of the clinic stands for my belief. It is the image of a Mobius strip protected by a circle. The Mobius strip, connoting unlimited possibilities, represents the patients. I, as the circle, do my utmost to protect them so they can enjoy their lives without giving up possibilities."
This series has been prepared in collaboration with Enjin Co., which produces and operates a video website, kenja.tv, specializing in profiles of up-and-coming Japanese entrepreneurs.
---