Learn what it takes to have a successful future from these company leaders in our new series.
Clear explanation key to happy patients
Located a stone's throw from the west exit of JR Ebisu Station, Sato Dental Clinic is a relatively new facility that opened in July, 2013. As its director, Yuya Sato pursues his ideology of responding to the numerous differing demands of individual patients.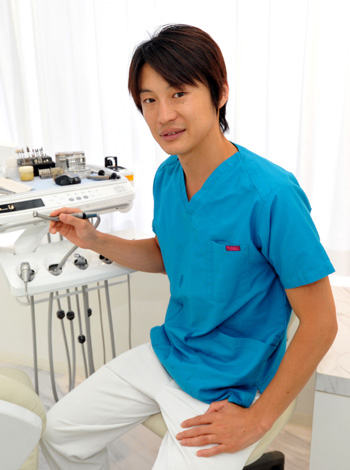 "I listen closely to their needs and then explain what kind of treatment I can offer. In that process, I also talk openly about the probability of accompanying risks," he said.
Such informed consent is especially difficult to establish in dental care, since the national health insurance system does not cover expensive dental treatments that could exceed the average monthly wage of a typical office worker, or over ¥300,000. Despite such conditions, Sato has been able to steadily expand his patient base by nurturing reliability among his patients.
"Close patient-dentist communication allows me to recommend the best treatment that is also satisfactory to the patients," he noted. "The most important thing is for patients to feel confident and content to have chosen my clinic," he added.
Anti-aging is another focal point Sato stresses in his treatment.
"In fact, all dental treatment leads to anti-aging. If you have bad front teeth, for example, you may shy away from opening your mouth and showing your teeth to others. Such behavior makes you look old.
"Or perhaps you are chewing improperly and using only the left side of your mouth. The pressure load then goes to the left side of your body, eventually affecting your entire physical condition. This could lead to intestinal disorders, stiff shoulders, lower back pain, and other problems," explained Sato.
Furthermore, having good teeth and oral conditions raise your quality of life, because you then can eat properly and appreciate the delicious taste of the food you are consuming.
In that context, Sato notes the importance of preparing and maintaining oral health from a young age, so that you could enjoy having healthy teeth after growing old.
"Proper biting and chewing ability is also important to recover quickly from disease, because your digestive organs, other internal organs and brain function properly when you can eat properly," he added.
According to Sato, the greatest challenge to his profession is people's unwillingness to go to a dentist.
"Basically, most people don't want to go, because they think dental treatment hurts. They are unmotivated further, since they don't feel much pain until their oral disease deteriorates to the worst level," he said.
He therefore endeavors to give convincing explanations on the importance of dental checkups, and seeks to raise the motivation level of people who really should be visiting a dentist regularly.
As for pursuing the image of a good doctor, Sato noted the importance of having an unwavering "self policy" in patient treatment.
"That, in turn, raises the satisfaction level of each patient, which is crucial for our profession" he said.
"Also extremely important is to give the precise treatment according to the explanation you have given the patient. As a whole, giving quality treatment and good aftercare counts," he stressed.
In that context, each day is a new day of training, and "I want to continue trying to be a better dentist in such a way. Concurrently, I also want to excel by studying and learning new dental techniques," Sato said.
On top of his responsibilities as a dentist, Sato also manages the clinic as the leader and business operator.
"My understanding is that dentistry belongs in the service industry. This means I have to train the staff properly so that they will treat the patients with respect, answer the phone courteously and so on. We also have to maintain a clean and hospitable interior to make patients feel relaxed and welcomed," he noted.
Saying this, he looked around at the white marbled floor decorated with fashionable lamps casting warm rays of light at his clinic. "There are so many things to do and think about, so I have no time to waste. But I find it most rewarding to be a dentist each time I am thanked by my patients," he said.
Ultimately, Sato thinks it vital as a human being to maintain a good relationship and be rational at all times toward everybody. "Specifically in terms of my patients, I think I am relied upon at first glance, because I work every day to be fair and just," he said.
This series has been prepared in collaboration with Enjin Co., which produces and operates a video website, kenja.tv, specializing in profiles of up-and-coming Japanese entrepreneurs.
---