Learn what it takes to have a successful future from these company leaders in our new series.
Treating children as painlessly as possible
Nestled in the Kajigaya residential area of Kawasaki in Kanagawa Prefecture, the Kitahama Kid's Clinic has a warm, welcoming atmosphere. Stepping inside the sliding door, a boy is complaining to his father, not because he wants to go home, but because he wants to continue playing at the clinic.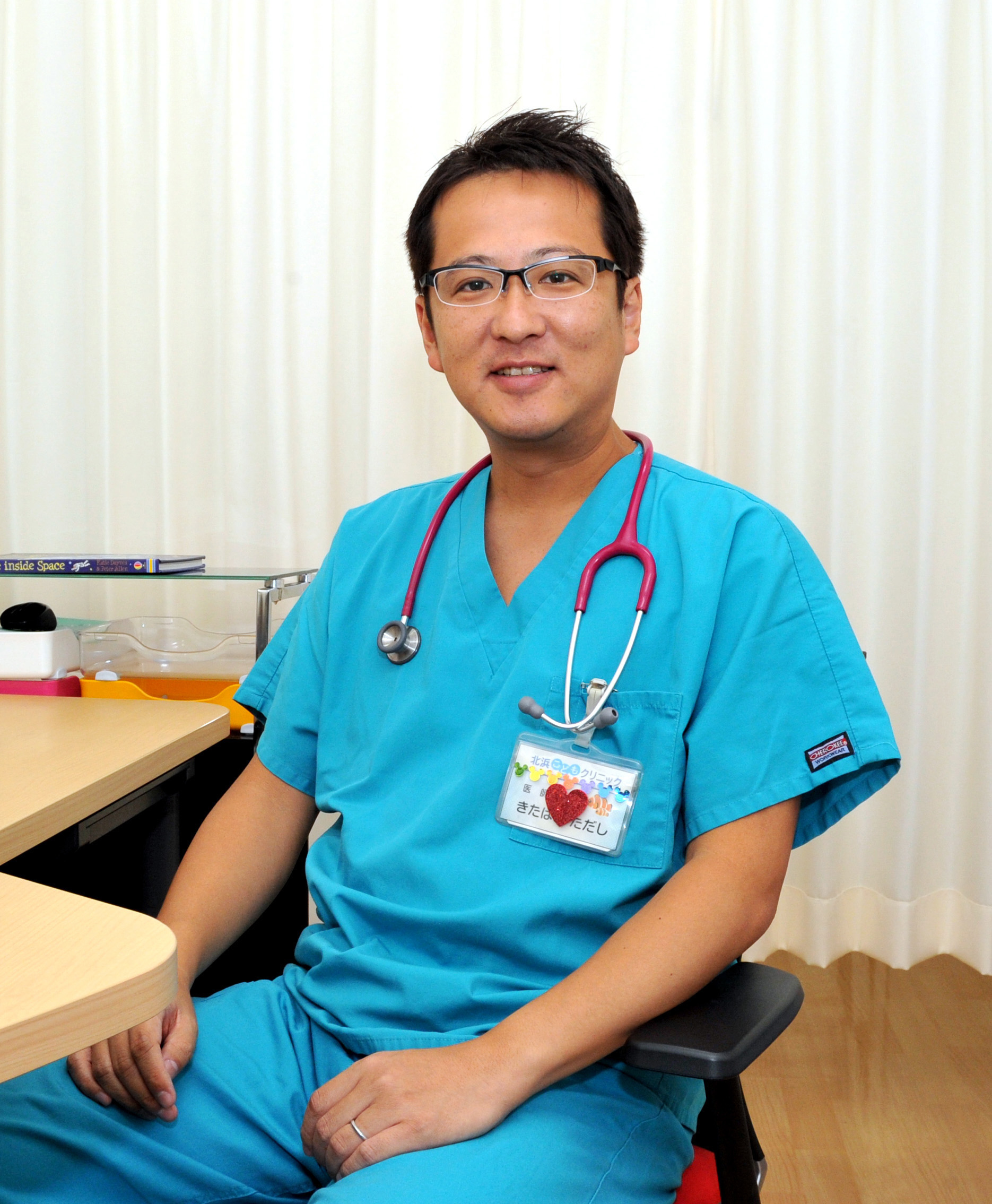 Tadashi Kitahama M.D. is the director of this clinic that sees an average of 100 patients a day. "I opened it five years ago by choosing a location that was within an hour's commute from home and had a lack of pediatricians despite having a large population of children. The municipality also encouraged me to open in this neighborhood," he explained. Kitahama also said that he is content with his work, since he has always loved children and wanted to be a pediatrician ever since he was a child.
Before starting up his own clinic, Kitahama worked for about 10 years at a large hospital. He specialized in the treatment of premature babies and newborns. "Through the treatment of those tiny lives, I came to acknowledge the importance of giving gentle treatment that doesn't hurt," he says. He therefore is against the opinion of some doctors who treat children roughly, saying that children are born to cry so there is no reason to be gentle.
"I diagnose carefully and holistically, and limit painful treatment unless absolutely necessary," said Kitahama. That being said, he points out that top-level treatment that minimizes the pain of a patient requires advanced skill and judgment.
Understanding the stress each child goes through upon sitting in front of a doctor, Kitahama has prepared a small assortment of cute seals on his desk. Each child can have any seal they like after treatment, as a reward for behaving well. "I also have a special prize box for children who have been especially good during a difficult treatment," continued Kitahama, pulling out a big prize box from his "secret" bottom drawer.
The kids themselves, who send him drawings and letters of thanks that cover the entire wall of his consultation room, instinctively recognize his love and affection for children.
Also being popular among the parents who have spread the clinic's reputation by word-of-mouth, the number of patients has grown steadily. "But it takes about 10 years to firmly get established in the area. I want to continue my medical practice as a top-level pediatrician by always remembering my start as a doctor and keeping my studies current," said Kitahama humbly.
Kitahama is confident with his approach in operating a private clinic and said: "A private doctor has to be popular. They have to show what kind of service they can provide to their customers (patients), so they would become your fans and continue coming to you." Kitahama, therefore, hopes other pediatricians throughout Japan share his stance. Specifically, he wants to establish and diffuse the "Kitahama brand" that offers painless medical treatment to kids in an exciting environment that children love. This still remains to be a dream, however, as Kitahama hasn't found any like-minded pediatricians that wish to join his network so far.
On a more practical level, Kitahama is propagating the goodness of being a pediatrician to the up-and-coming generation, and demonstrates what kind of good life you can spend by becoming one. "This is because there is an absolute shortage of pediatricians in Japan. It is true that being a pediatrician is tough, but it is rewarding. I want to serve as a role model for up-and-coming doctors," he explained.
Kitahama is also very concerned with the low birthrate of Japan that currently stands at 1.42 (as of 2015), and is determined to do something about it. "Working mothers are too tired and stressed to think of having a second child. I want to relieve their exhaustion and make them feel it's good to have another baby. This I would like to do by creating a mothers' cafe. I plan to make the cafe a place for them to unwind, have good healthy food and receive spa treatments without having to worry about their kids," he says. There, he would drop by occasionally to give light lectures on mothers' and children's health issues. He also wants to hire retirees at the cafe to babysit the children at the cafe, "just like the keepers of the mom-and-pop candy stores on street corners," he continues.
Kitahama assumes that the success of his mothers' cafe will create buzz, thereby bringing more patients to his clinic. "That is the kind of synergistic effect I would like to pursue from now on in running my own business as a pediatrician," he said.
This series has been prepared in collaboration with Enjin Co., which produces and operates a video website, kenja.tv, specializing in profiles of up-and-coming Japanese entrepreneurs.
---