Learn what it takes to have a successful future from these company leaders in our new series.
Late career change for Buddhist monk
When you get to be 50 years old, you can see the end of your career. Whatever you choose — maintaining your current position and income in your present job, or continuing to climb the corporate ladder for that next promotion — most people would prefer to stay in their present job. It is to protect their family, or sometimes to protect whatever they have earned in life.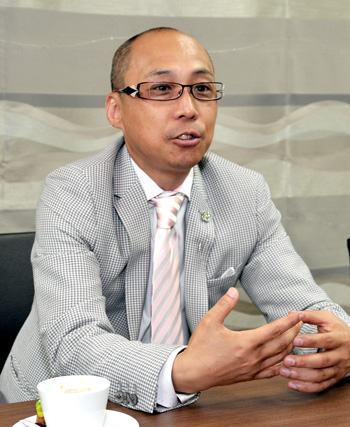 Enko Sakai is an exception. At the age of 52, he is planning to jump off the ladder for the second time in his life. This time, he is planning to walk away from his present position of jushoku (the head priest of a Buddhist temple) of Myojoin Temple, which has a history dating back more than 1,000 years, to jump into a whole new world; founding orphanages in developing Asian countries.
"Over the next two to three years, I'll start wrapping up everything I'm currently engaged in," Sakai, said in an interview in Tokyo. "Within five years, I'll be completely finished."
Myojoin Temple is recorded to have been founded around 968 A.D. in Aichi Prefecture as a temple for the Tiantai school of Buddhism. The Jushoku, as mentioned above, is the highest-ranking person at a temple, and it is viewed very much like a goal line in a Buddhist monk's career.
Sakai has been Joshoku of the temple for 10 years. He could continue up the ranks of Tiantai monks if he wishes, but he chose otherwise. He said he chose this so that he could live his own life.
He had been just another ordinary Buddhist monk until he was in his mid-20's, after becoming one when he was 22 years old at a temple in Kyoto Prefecture, following a grandfather who taught Sakai sutras and Buddhist principles.
Born into a merchant family, he experienced the divorce of his parents at age 7, and lived with his mother and older brother. Daily life was not easy, but he didn't complain about it. After graduating from high school, he landed a job at a food manufacturer, but decided to be a Buddhist monk four years later.
A big turnaround came when he was training at the temple in Kyoto. One of his friends at the temple killed himself, just two weeks after the monk talked to Sakai.
"He was just like me," Sakai remembered. "He didn't express himself much, and wasn't clear on what he wanted to do."
Sakai blamed himself for having missed the signs in the eyes of his friend and he grieved for a long time over the loss.
That shocking incident drove Sakai to abandon everything he had learned to that point. He changed his Buddhism school and decided to retrain. He visited the Enryakuji Temple at Mt. Hiei, the head temple of the Tiantai school of Buddhism, to join their harsh two-year ascetic practices. After completing the practices, Sakai joined the Myojoin Temple when he was 29.
At Myojoin Temple, Sakai managed to turn around the unpopular temple by making the holy space more open to the public. He built a waterfall on temple grounds to give the public the chance to experience the ascetic practices of Buddhist monks. He offered consulting services, as well as courses of Zen study, even memorial services for pets.
But, now he is through. He will give it all to his son and leave it up to him to decide whether to maintain it, or to scrap it all, Sakai said.
"Throughout my life, I've been considerate of other people's feelings," Sakai said in the interview. "I didn't express myself much, just like the monk I couldn't save, and I plan to change it."
The plan, which he said has been in his mind for years, for the latest chapter in Sakai's life is to build small orphanages in Southeast Asian countries such as Cambodia, Myanmar and the Philippines. The orphanages would house about 10 children each and the children would go to local schools to study and area hospitals when sick. Sakai's orphanages will be more like shelters, he said.
To realize the project, Sakai is planning to form a nonprofit organization this year to set up a Zen promotion center in San Francisco, disseminating the real Zen spirit as part of fundraising activities, making the best use of his decades of experience as a monk.
"I've finally reached the entrance and given a chance to realize my dreams," Sakai said. "Given the appropriate circumstances, it's not right to not follow the path."
This series has been prepared in collaboration with Enjin Co., which produces and operates a video website, kenja.tv, specializing in profiles of up-and-coming Japanese entrepreneurs.
---