Learn what it takes to have a successful future from these company leaders in our new series.
Treating gum disease key to healthy smile
Medical Corporation Heartful Smile Dental Clinic Director Yuichi Abe originally specialized in cosmetic dentistry, performing many implants. But he realized he couldn't really achieve oral beauty before first treating gum disease.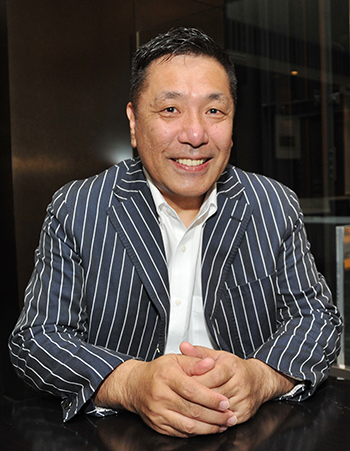 "The gums and bones are the foundation for teeth. If the gums are bad, the bones will be weak. Therefore, I can't be confident in my work unless I treat gum disease," Abe, the director of the dental clinic in Sapporo, Hokkaido Prefecture, said at a hotel in Tokyo on June 17.
"If patients spend a lot of money on expensive implants only to have them ruined by gum disease, what's the point? But if implants last a lifetime, they're worth it," he said.
Caused by germs, gum disease softens the tissue, making teeth unstable.
When a patient comes to him to have implants, he first takes saliva samples and conducts an oral exam. In many cases, patients have gum disease, which he treats before installing implants.
That means patients typically have to wait about a month or six weeks and have about six visits before implants are put in. During this time, Abe cleans their teeth and gums and prescribe tablets of L. reuteri bacterium, which reduces the number of germs causing gum disease. Patients do not swallow the tablets, but suck on them twice a day, he said.
Of course, he recommends people treat their gums regardless of whether they are getting implants as gum disease can cause cavities and future tooth loss. The number of patients in Japan suffering from gum disease is said to be about 80 million, about two-thirds of the population.
Another reason to cure gum disease is that it not only affects oral health, but also the entire body.
For example, gum disease germs can enter blood vessels and form blood clots, which can lead to cerebral or myocardial infarctions, he said. Also, cleaning gums reduces the risk of food or other things getting into the airway, he said.
He recommends that patients check their gums every three months even after completing a round of disinfection. It takes about three months for gum disease germs to develop inside a mouth.
Abe's treatment method became possible only after a British researcher announced about five years ago that gum disease was treatable. Then, the National Institute of Infectious Diseases conducted an experiment and confirmed that the British research applied to Japanese, Abe said.
Before then, it was widely believed that gum disease germs were always present and the disease could never be cured, he said.
Not many dentists practice the same treatments — including prescribing L. reuteri bacterium — because it is considered "prevention," rather than a "cure," and is not covered by national health insurance.
He wants the government to promote preventive medicine, as do Norway, Sweden and other countries.
"Spending money on prevention ends up reducing money spent on treatment. Which makes economic sense, insuring preventive medicine or not?" he said.
He is working to promote these uninsured medical procedures by taking part in dental conferences to spread the word about his method of treating gum disease. He is now allied with about 100 dental clinics, which have agreed to practice his method.
"Japanese have a very high sense of hygiene. Every hotel has toothbrushes in Japan, but it's possible you won't find them in hotels overseas. Everybody brushes their teeth every day in Japan. Still, the fact that two thirds of Japanese have gum disease means something is seriously wrong," he said.
His rebellious attitude may come from his experience of studying abroad.
Born and raised in Sapporo, he went to university in Tokyo, graduating from Nippon Dental University's Tokyo Campus in March 1980. After working as a dentist in a clinic, he went to the University of Southern California to study cosmetic dentistry.
While there, he realized university students study a lot more in the U.S. than they do in Japan. But the biggest difference he found was that dentists in the U.S. conduct oral exams while not all Japanese dentists do.
After working at a USC clinic as a university hospital dentist, he moved to Tokyo to work for the International Dental Academy and other clinics.
His turning point came in July 2008, when he left Tokyo and founded Medical Corporation Heartful Smile Dental Clinic in Sapporo.
"The reason to move back to Sapporo was that my parents live in Sapporo and I wanted to be with them. I thought starting my own clinic would be hard, but I have always wanted to take long-term care of patients," he said.
Now, he has a long-term relationship with patients who periodically come to check their oral condition. He advises them because he wants to enhance their overall health, not just their oral health, he said.
This series has been prepared in collaboration with Enjin Co., which produces and operates a video website, kenja.tv, specializing in profiles of up-and-coming Japanese entrepreneurs.
---