Learn what it takes to have a successful future from these company leaders in our new series.
Helping customers smile with the right fit
Takayoshi Miyano, a dental technician and doctor of science, has fans throughout Japan for producing dentures that fit properly and comfortably.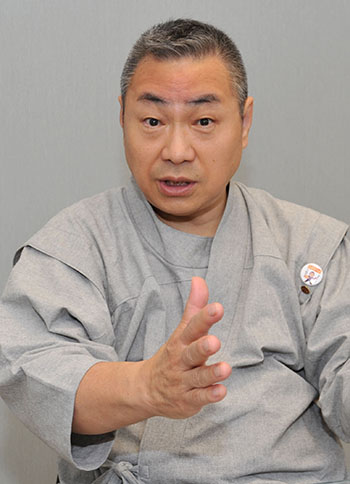 But the start of his career over 40 years ago wasn't that smooth. After taking various jobs without success in his early 20s, he was advised to do something unconventional that others were not doing.
Hence, with much skepticism, Miyano one day visited a dentist who was a friend of his father. There, he saw dentures being made. "This was far from the image of dentists that I had. Moreover, I instinctively thought this was something that I should be doing."
He thus chose to enter a private dental technician training college. After a few months, he ventured into the chairman's office, where he spent his time going over the numerous books on dentures and related topics that the chairman possessed. Thanks to those months, he scored high on the national exam scores and became a dental technician. As the next step, work was already waiting for him at Osaka University's dental hospital.
After three years working there, the hospital chairman suggested that Miyano himself manage the institution. He declined the offer thinking that he was still too young for such a position. As a compromise, Miyano was given an office of his own. There, he started seeing patients who were willing to pay full treatment fees, outside of national health insurance coverage. Work steadily increased, and about six years after becoming a dental technician, Miyano was asked by his alma mater to return and work there.
Deciding otherwise, Miyano went and taught for 11 years at a newly established dental technician school, "preparing everything from scratch, including textbooks," he recalled. But as the years went by, he started questioning himself, wondering, "Is it enough to just teach?"
As an answer to that question, Miyano established the Osaka Shika Center that specializes in molding and clinical testing of dentures. This was successful, and the number of patients steadily increased. "But as debts ballooned, I realized that medical technology and management are different," confessed Miyano.
Hence, in order to become more business-oriented, Miyano, together with the Osaka Health Care Center, established the Miyano Dental Clinic. Beginning operations in October 2013, the clinic has turned into a membership institution from July this year.
The greatest feature of this clinic is that the dentist section is located inside the dental technician laboratory. "It is important to have enough facilities and listen to the needs of the patients at the same time. This means that dental technicians and dentists should work closely, literally hand in hand," stressed Miyano.
One prominent patient-oriented approach of this clinic is its system to implant an artificial tooth the same day as the tooth extraction. Such "no-waiting, speedy implants" are rare, as dentists generally request the patients to wait for weeks until the artificial tooth is made. "But the gum starts to recede in a matter of days if left attended, and its original form cannot be reproduced once it is lost. This is why the professional dental technicians at my clinic are ready to produce the artificial tooth right away," explained Miyano.
Producing each set of dentures carefully, Miyano hopes patients will be able to have the teeth he produced for them for a lifetime. "The fit of your dentures naturally deteriorates though daily wear. This is because the gums and interior of your mouth constantly change. But through regular adjustments and repairs, your dentures can fit comfortably, just like an integral part of your body. If we can do that, people don't have to keep replacing their dentures, complaining that the old ones don't fit any longer," he explained.
Miyano also noted that dentists today in Japan are usually not looking at the occlusion of patients. He warns that bad biting causes harmful physical effects, especially on the brain's nerve cells, which could lead to senility. Miyano thinks such conditions should be overcome, and said, "I think dental care should also proceed in the direction of preventive medical care, just like other medical arenas."
As his main research theme, Miyano is currently probing ways to maintain an even balance between the parasympathetic and the sympathetic nerves. Proper dental occlusion improves the autonomic nerves. If the homeostasis is affected, blood circulation and the skeletal system are ill effected. Put another way, proper tooth alignment even eases shoulder pain and improves eyesight.
Toward the future, Miyano hopes Japan will become more open to and acceptable of up-and-coming new technologies that are genuinely good. "Otherwise, there will be a brain drain of excellent technicians to the U.S. and other countries," he warned.
This series has been prepared in collaboration with Enjin Co., which produces and operates a video website, kenja.tv, specializing in profiles of up-and-coming Japanese entrepreneurs.
---