Learn what it takes to have a successful future from these company leaders in our new series.
Principle looks to become global player
Established in October 2011, by CEO Kenichiro Kusuyama and two other staff, Principle Co., Ltd., is a company that supports the marketing activities of various companies by utilizing big data. "I was already 38 years old in 2011, and very scared of starting my own company, since I had so many things to protect, including my family and my home. I cringed at the thought of throwing away my stable monthly income as a salaried worker, for the unstable position of having no foreseeable income from the coming month."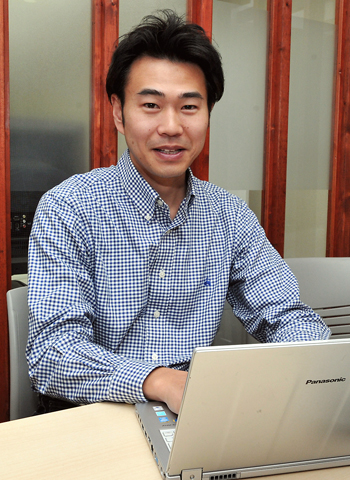 The push then came from President Inc., a highly respected business magazine publisher with which Kusuyama had been doing business. "I was really grateful since they proposed not only to provide capital support, but also actually became our first client." Thanks to such support, the company today has grown to have 25 employees serving such world-class customers such as Google, Yahoo and Amazon.
After founding the company, Kusuyama acted quickly to reinforce the professionalism of Principle by applying for and being accredited as one of the only 15 Google Analytics Certified Partners in Japan.
"In addition to our linguistic ability to make presentations in English to Google, this certification assures our high consultation, technology and business resolution capabilities to our customers. For example, we are capable of setting up key tags in the HTML background browser of a website to clarify the hidden problems thereof," he said. It's just like a highly functional CT scan that detects the complex internal physical problems that cannot be viewed from outside. Our technology allows us to collect invaluable data and analyze it properly, so both the client and us can visualize the problems and take effective measures to increase their sales. Put another way, we don't depend on a marketer's experience or gut instincts."
Two types of tools are used to conduct such hybrid web diagnostics. One is access analysis that mainly compiles data, and another is a "heat map" that analyzes user psychology. "Each augments the performance and compensates the disadvantages of the other, thus creating an innovative diagnostic service that has never existed before in the web analysis industry," Kusuyama added.
In order to take full advantage of the above situation, each Principle staff has a good academic background and enough knowledge to be university professors. Furthermore, Principle is unique for employing those who don't exactly "fit in" to the working environment of big Japanese companies that demand uniformity.
"Although they are extremely capable, my staff tends to be considered a bit eccentric and stand out in a crowd. But here at Principle, each employee comes in contact with a huge amount of high-quality big data and they can learn a lot from the many outstanding professionals around them."
Having the right tools and people still isn't enough, however. Kusuyama thinks that their corporate philosophy is vital for a smooth operation: Respecting the basic rules as a human being and pursuing a win-win condition for everybody; polishing the potential of each individual, taking action, and contributing to Japan's growth through knowledge; and working together in earnest to realize all dreams. Every morning, the staff gets together to make a one-minute speech each related to the credo.
"We also respect the second area that is very important, yet time-consuming such as personal health care, reading and transfer of rights. Among them, transfer of rights is especially important but difficult to do, since a capable person finds it quicker and easier to get things done on their own. However, such transfers actually create win-win situations for both junior staff and management. The staff will be motivated and work harder to do a good job, while the boss accumulates experience to manage people well," said Kusuyama.
Furthermore, the company holds the Principle University, another second area activity, to learn from each other and raise everyone's overall level. Through these activities, Kusuyama says that he has changed and matured as a person as much as the staff themselves. The end result is cohesion among employees and increased overall performance of the company.
Toward the future, Kusuyama seeks to turn Principle into a global player that sticks out, "like a tomboy that is smart, attractive and fun loving. Making the most of IT and bringing together the smartest people in Japan, I want to simplify and customize existing big data to increase the sales of each client around the world. After all, selling hasn't changed whether in the 10th century or the 25th century. In that context, big data should be turned into a human-oriented scale tool is customized to suit the condition of each enterprise."
This series has been prepared in collaboration with Enjin Co., which produces and operates a video website, kenja.tv, specializing in profiles of up-and-coming Japanese entrepreneurs.
---