Learn what it takes to have a successful future from these company leaders in our new series.
Minimizing invasive surgical procedures
Dr. Hizuki Hanafusa of Hanafusa Dermatology Clinic performs about 20 dermatological surgeries per day. Dermatologic surgery is not often seen in general dermatology clinics, where doctors treat common skin trouble such as atopic dermatitis or eczema. "Perhaps not many dermatologists perform surgery," said Hanafusa. "I was one of the first to implement a minimally invasive surgical procedure in the field of dermatology. Since then, the number of surgeries has increased dramatically. By performing these types of surgeries, we can minimize the size of incisions and lessen strain on patients."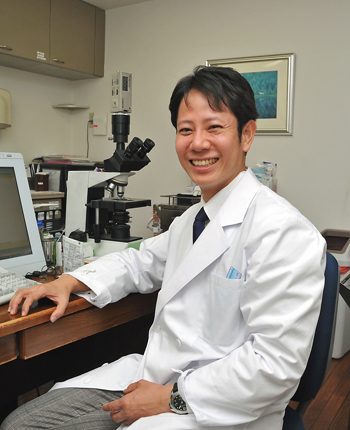 As a child, Hanafusa dreamed of becoming a doctor, an astronaut or an inventor. After graduating from the University of Tokyo, Hanafusa started a surgical residency at the Cancer Institute Hospital. "I wanted to become a surgeon because I thought it was cool. Fighting cancer seemed cool." However, he decided to be a dermatologist and continued his residency at the dermatology department of the University of Tokyo Hospital. Today Hanafusa runs two clinics, one in Mitaka, Tokyo and one in Niiza, Saitama, treating both medical and cosmetic dermatology issues.
"The reason I chose dermatology was because I suffered from atopic dermatitis as a child. It was itchy and I didn't want people to see my skin when we had swimming lessons. My father took me to the dermatologist every week. It was hard to cure," said Hanafusa. Based on this childhood experience, he wondered whether treating dermatological problems should be so difficult and decided to pursue the field.
"The minimally invasive procedure itself has been around but not many dermatologists were using it," said Hanafusa. Minimal incisions resulting in minimal scarring equals "shorter surgical time and shorter downtime. It probably takes only one-tenth of the surgical time compared to the commonly performed method. When I perform an excision of an epidermal cyst, it only takes a few minutes. Other places may take an hour. Patients who've had surgery in other clinics are surprised, with some wondering whether I properly performed the procedure."
Epidermal cysts are swelling under the skin with a firm, white keratin content. Conventional procedures called for complete surgical excision of cyst by cutting the whole cyst out, which means a large scar. Removing a 3 cm cyst, would result in a scar of more than 3 cm. Instead, Hanafusa minimizes scarring by making a small incision to extract the cyst. "I'm all about speed and aesthetics and leaving less visible scarring on my patient. Until recently, doctors were simply treating the problems. In the past, dermatologists did not have their mind on minimizing scarring, but today it is more about aesthetically treating patients."
Clearly there are exceptional cases. "Of course if it's malignant, the cyst needs to be fully removed. However, in benign cases, it is fine to decompress the cyst by extraction from an incision. Same for moles and lymphoma."
Hanafusa's viewpoint on minimizing scarring was also based on his residency experience as a surgeon at the Cancer Institute Hospital where laparoscopic surgery was generally being performed, giving patients reduced scarring, sometimes requiring no suturing.
He also utilizes a similar method on inflamed epidermal cysts, which he says is a revolutionary treatment since inflamed cysts were conventionally treated by excision with many doctor's visits over a span of up to two or three months. Hanafusa believes this only means more pain for patients. "The longer the surgery takes, the longer the wound is exposed which means more damage and longer downtime. Thus I am focused on speed."
According to Hanafussa, his clinics performed 2,864 surgeries during the period between June 2013 and May 2014. He estimates the number will reach around 4,000 this year. As there are cases that can be only treated by dermatological surgery, patients visit his office from all over Japan and Hanafusa believes that this is due to the massive number of cases that he has performed on epidermal cysts, moles, lymphoma and other conditions.
"In the past some doctors used to tell patients they were 'cured' without much concern for scarring. However, surgeons today have to be more concerned about the aesthetics. I think this is an area that is more active with plastic surgeons and dermatologists in private practice. More of a bottom up situation rather than the usual top down from university hospitals," said Hanafusa.
As for his future vision, he wishes to teach his skills to other doctors and achieve something that has an impact on the society.
This series has been prepared in collaboration with Enjin Co., which produces and operates a video website, kenja.tv, specializing in profiles of up-and-coming Japanese entrepreneurs.
---