Learn what it takes to have a successful future from these company leaders in our new series.
Easing patient anxiety essential
Going to a dentist is something many people are reluctant to do. To address this situation, Toshiaki Takizawa, board chairman and a dentist of the Meikeikai Medical Corporation, has a policy of striving to make his clinics less scary for as many patients as possible.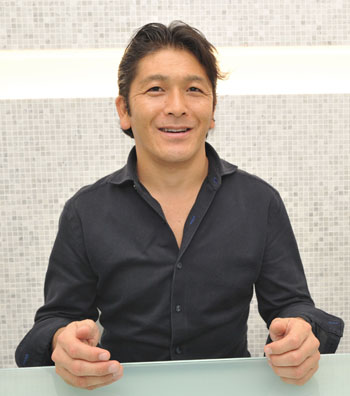 When people have a problem with their teeth, it needs to be treated quickly before it becomes a larger problem. Even if they would be ill-advised to leave it as is, people are often upset no matter what the outcome, thinking that, "The dentist took my tooth."
"Everybody thinks of their own teeth as very important and necessary and having dental treatments can be deeply stressful — both physically and mentally — for patients compared to other kinds of medical treatments," Takizawa, who runs two clinics in Kameido in Tokyo's Koto Ward and in Fujisawa in Kanagawa Prefecture, said. "That's why people often procrastinate to go to the dentist and its also the reason dentists tend to be seen as enemies feared by their patients."
But actually, everyone all already knows that when somebody has a problem with their teeth, they go to a dentist seeking treatment. The dentists then performs whatever work is necessary to maintain oral health based on each patient's symptoms. So, rather than lamenting that the dentist "took" a tooth, patients should say, "I got my dentist to remove my tooth."
"Of course, the main reasons for the differences in perception of the dentist are the fear and anxiety that patients have." Takizawa said. "So what we as dentists should be doing is working hard to try to set their minds at ease."
Takizawa has worked under Sumiya Hobo, who was a guest professor at UCLA's School of Dentistry for more than 20 years and the dentist who brought dental implant technology to Japan. Takizawa, who has extensive experience and many professional qualifications, is recognized today as an implant specialist.
According to Takizawa, although skills and techniques are important, dentists also have to focus on patients' mental care.
"Let's say, there are two dentists who are both equally skilled. If one pays attention and listens carefully to their patients to find the best treatment for them and the other just diagnoses them and explains the treatment they are going to have, it is apparent which doctor will more likely be chosen by patients, right?"
Therefore, Takizawa is careful to focus on counseling and encourages other dentists at his clinics to do so, as well. At monthly staff meetings, he reviews each doctor's patient data to identify patients who never return after counseling or initial treatments.
Also, one way to reduce patient anxiety is to offer as much information as possible. Because of a lack of medical knowledge, most patients rely completely on the doctor. But even if a treatment is medically the best way to treat their teeth, the patient won't be happy if they disagree or doubt it.
Therefore, during their first visit, Takizawa gives patients a detailed explanation of their symptoms and treatment options and gives them informational material to take home to consider before deciding on treatment.
"We can actually offer some treatment choices, even if we know what the best treatment is," Takizawa said. "Although we definitely push the best treatment option, letting patients decide what they want by themselves is very important."
It is said there are more dental clinics than convenience stores in Japan and under such circumstances, many clinics are likely to focus on turning a profit, with doctors recommending treatments that bring in the most money.
On the website for his clinics, there is a lot of detailed information on many topics, including surveys and unedited reviews from clinic patients, providing information that would help patients decide which dentist they will choose.
Today, the Internet allows people to look into their symptoms and various forms of treatment. However, even armed with this knowledge, it does nothing to help ease their anxiety. That is why considerate, honest counseling to find the best way for each patient are such an important task for dentists.
"To run a long-term business, we have to gain trust from patients so they will want to come back. To do that, we should never begin treatment until our patients decide exactly what treatment they want us to do," Takizawa insisted.
This series has been prepared in collaboration with Enjin Co., which produces and operates a video website, kenja.tv, specializing in profiles of up-and-coming Japanese entrepreneurs.
---