Learn what it takes to have a successful future from these company leaders in our new series.
Problems more than skin deep
Yasushi Torii of the Torii Dermatology Clinic is giving advice to patients on their lifestyles because he believes poor habits can be one of the causes of atopic dermatitis.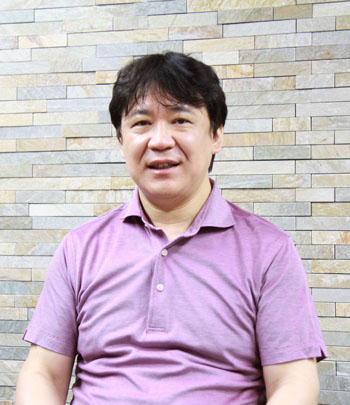 "If applying steroid cream doesn't cure atopic dermatitis, I think there is a problem with something other than the skin," Torii said. "It's possible it's caused by the poor condition of digestive organs."
People with atopic dermatitis all suffer to different degrees and conditions. Reading a book on how to cure the problem works only for those suffering the same situation as the author of the book, he said. "I can explain that to my patients if I have enough time with each patient," he said.
Sleep patterns are also important. The body produces more growth hormones when it is well-rested. These hormones work to cure various illnesses, including atopic dermatitis.
"I like to give my patients this kind of complete lifestyle advice," he said.
Torii strives to have better communication with patients and spend sufficient time with them.
"I constantly try to spend as much time with patients as possible. Getting as much information as possible about my patients is a very basic thing for doctors," he said.
His clinic handles pretty much the usual skin conditions treated by many dermatologists. Additionally, his clinic provides beauty skin treatments and anti-aging treatments, which are not covered by national health insurance.
The number of beauty skin treatment patients is on the rise, he said. For example, acne patients continue to see Torii after their acne has cleared to work on restoring their skin to its original state.
Acne treatments are covered by national health insurance, but whitening post-acne skin and restoring original skin to its former beauty.
"I think it makes a lot of sense for the same dermatologist to treat acne and to take care of the same patient's skin afterward," he said.
In addition to post-acne treatment, his clinic whitens skin using the so-called electroporation method, which is the application of weak electrical shocks to the skin. His clinic, for example, puts vitamin C cream on skin and applies electricity to it.
The number of patients seeking anti-aging treatment is also on the rise.
"The effects of aging are visible on the skin, so I'd like to help patients keep their skin looking good," he said.
For patients with insufficient vitamin C, he prescribes vitamin C supplements, or provides IVs containing vitamin C.
"These treatments may not fall under most dermatologists' duties, but some beauty skin clinics do them," he said.
Torii originally wanted to do offer treatments covered by insurance. However, an increasing number of people have become interested in skin's beauty and the border between medical and beauty treatments has blurred, he said.
Meanwhile, he is equally serious about patients requiring insured treatments as well. He bought a narrowband UV-B machine to treat patients suffering from white skin blotches right after he opened the clinic in 2005. In 2007, he bought another narrowband UV-B machine capable of treating the whole body. The machine cost more than ¥10 million, a big purchase for a clinic with only one doctor.
"My doctor friends advised me against buying it, but I was glad I did because it has enabled me to see many patients," he said, adding that white skin blotches are fairly uncommon.
His desire to become a doctor dates back to his childhood as he was inspired by his father, a psychiatrist.
"I don't remember when I decided to become a doctor, but I remember having the desire," he said. In high school, he clearly knew he wanted to be a doctor as he studied to major in medicine in university. He went to the University of Fukui's Faculty of Medical Science.
He then worked for Toyama Prefectural Central Hospital and the Komatsu Municipal Hospital in Ishikawa Prefecture, right before opening Torii Dermatology Clinic.
"When I was a trainee doctor, I did not only dermatology work but also other things such as emergency medicne. At the Toyama hospital, I was seeing 20 or 30 patients every morning. The experience and pressure were good and helped make me who I am now," he said.
He initially planned on working as a dermatologist at Komatsu hospital until he retired. But he felt staying at the hospital took a certain amount of freedom away from him. For example, the hospital policy was that dermatology was available only in the morning.
He recognizes merits of a hospital, including having beds to admit patients and equipment to conduct thorough examinations. But not every patient needs such extensive facilities.
His passion to treat patients more thoroughly overpowered his fear of leaving the hospital. He knew it would cost money to open his own clinic, but he did not really know how much it would be until he opened it, he said.
"I will try hard to show all the things I have learned to make sure my patients are as satisfied with their treatment as possible," he said.
This series has been prepared in collaboration with Enjin Co., which produces and operates a video website, kenja.tv, specializing in profiles of up-and-coming entrepreneurs in Asia.
---