Learn what it takes to have a successful future from these company leaders in our new series.
President breaks chemical business mold
Johoku Chemical Co., which makes a variety of chemical agents used in metals and plastics, is enjoying some of its best times since it was founded in 1958.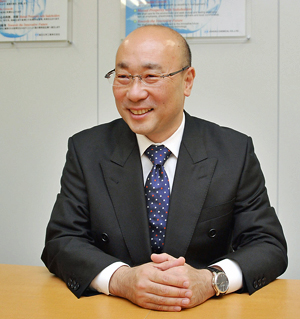 The company posted record revenue for the fourth straight year in fiscal 2013, which ended in March. During the April to June period, the company saw record revenue and profit, with revenue up 7 percent and operating profit soaring 71 percent from the same period last year, thanks to brisk sales of newly developed products.
The newly developed products include chemical agents used in semiconductors, medicinal ingredients and equipment to reduce radioactive elements in water such as that at the Fukushima No. 1 nuclear power plant.
"Our products are similar to food. They are continuously being consumed. Therefore, we don't make huge, one-time sales, but have consistent sales over a long period of time," President Tomoaki Ota said.
Johoku Chemical also produces many kinds of products in small lots. While Ota acknowledges that this is somewhat inefficient, he chooses to do so to be able to fill any customer order.
Similarly, he opts to carry a large inventory. Although the company aims to have two years of inventory on hand, it realistically carries a year to 18 months' worth, he said.
"People say that having excess inventory goes against the standard business school thinking," he said. "But I don't care what they say. I only care about my company."
His philosophy proved successful after the Great East Japan Earthquake and tsunami in March 2011. Thanks to inventory stockpiles, his company enjoyed better-than-expected sales following the disaster compared with its rivals.
Another reason he prefers to carry so much inventory is that his company procures many materials from China, and changes in the geopolitical landscape may lead to embargos or transport disruptions.
"If there is a conflict, trade may stop. If there is an accident (such as at a port), it may take a year to repair. That's why I want to carry a large inventory," Ota said, referring to tensions between Japan and China.
Ota noted that the government's inventory of oil was 111 days in June, according to the Agency for Natural Resources and Energy, while the private sector inventory was 194 days.
"I think the government is too optimistic," Ota said.
About 80 percent of the company's material comes from overseas, and the majority of that is from China, he said. There are some ingredients that exist only in China, he added.
"After all, we are not like Uniqlo or other makers that can shift production from China to Vietnam (or other Asian countries.) We have to stick to the country where our materials are," he said.
Additionally, he did not cut jobs after the global recession in 2008 and 2009, which contributed to his company quickly recovering when customers began resuming orders, he said.
Johoku Chemical's earnings are inevitably influenced by foreign exchange because it relies heavily on imports. To hedge the currency risk, Ota purchases options to trade currency at fixed rates from banks.
"Normally, small and medium-size companies prefer not to buy options (a kind of derivative) because it costs money. But my business philosophy is that it is better to be safe than sorry," he said.
Usually, small and medium-size companies just fix the rate for future trades because they have to pay tens of millions of yen for options, Ota said. But options give the holder the right — but with no obligation — to exchange money at a prearranged rate on a specific date. This is especially valuable if the current rate is more favorable than the predetermined rate specified in the option.
With his policy of carrying a large inventory, retaining employees and using options as a hedge against currency fluctuations, Ota brought Johoku Chemical to prosperity. In 2001, when he became president, the company had annual revenues of ¥2.5 billion, which increased to ¥4 billion by fiscal 2013.
Since 2006, he has researched the industrywide inventory index in Japan as it relates to Johoku's sales and found a correlation between them.
Although he tried looking at the diffusion index and other economic indices, he found the inventory index to be the best indicator of his company's revenue.
The company is currently building a new research and development facility next its current facility in Iwaki, Fukushima Prefecture. The new facility is scheduled to be completed in September, with the total cost of about ¥500 million.
This series has been prepared in collaboration with Enjin Co., which produces and operates a video website, kenja.tv, specializing in profiles of up-and-coming entrepreneurs in Asia.
---